I'm installing the 02J standard transmission on my 05 New Beetle after a clutch change.. I removed the transmission several years ago and then life happened, and I'm just now getting it put back together. When i removed the transmission, I tried to keep the screws with their parts.
The transmission bracket (1J0199117P in case you want to Google images of the bracket itself) attaches to the transmission and to the transmission mount -- that is, it goes between them. I found 3 M10x80 screws together with the bracket, and it looks like they are used to attach the bracket to the transmission. These are numbered 1, 2, & 3 in the photos below.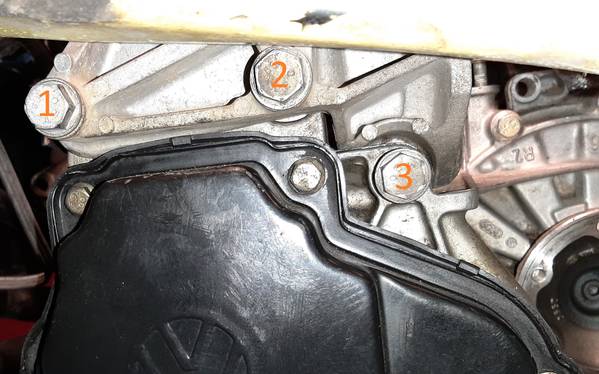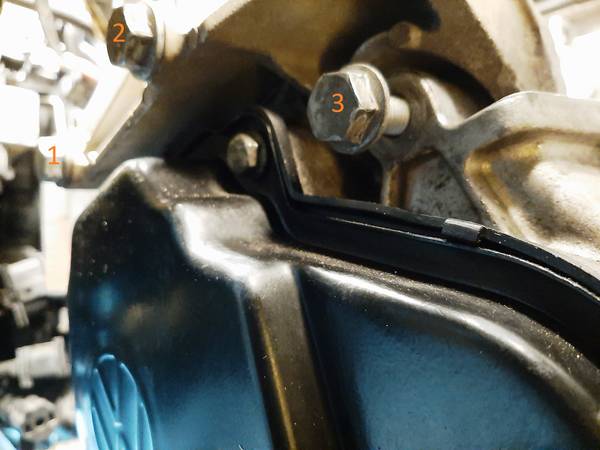 Bolts 1 & 2 pass through unthreaded holes in the bracket and then into threaded holes in the transmission itself. Bolt #3 goes through an unthreaded hole in a transmission tab and then into a threaded hole in the bracket. To be clear, the bracket is in front of the transmission for bolts 1 & 2, but then flips around behind a transmission tab for bolt #3.
Here's my question: The M10x80 bolts work great for 1 & 2. However, it seems too long for bolt #3. The second photo above shows it with about 15mm of theads showing; and it is also sticking out on the other end about a cm. So it seems like 1) there is something that should be installed on that bolt that would take up the extra space on the bolt, or 2) I should be using a M10x55 or M10x60 bolt. What am I doing wrong?
I'm pretty sure the three 10x80 bolts I'm using were came from the original installation because I stored them with the bracket. Also, idparts has a transmission mount and bracket bolt kit
HERE
that provides 3 M10x80 bolts for mounting the bracket to the transmission. In the product photo, the M10x80 bolts are the three in the middle.