Discussion Starter
•
#1
•
Does anybody have any new information on whether the new keyless remotes for >= 2010 Golf TDI can be disassembled beyond removing the battery cover?
I'm afraid I've taken mine in swimming and it's no longer functioning correctly. I'd like to disassemble and dry off the interior. But short of destroying the case I can't figure out how to open it.
This is what it looks like with the battery cover removed: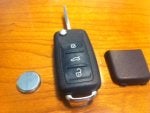 Here are pics from each edge:
I was able (with some mangling) to pry open the end:
But I'm afraid to pry any harder at the middle until I know whether they can come apart. BTW there is no screw underneath the VW emblem. It's just a stick-on with a flat surface underneath.