Discussion Starter
•
#1
•
part 1 of this guide can be viewed here:
http://www.myturbodiesel.com/1000q/a6/2010-2011-VW-Golf-TDI-buyers-checklist.htm
. This is part 2
Some new cars are damaged at the dealer or in transit. It happens. Even though the dealer should have done it, carefully inspect your new car for dents, scratches, misaligned panels, haloing or spiderwebbing of the paint (see
1000q: Polishing car paint
for more details and pictures), or other damage.
Examine the paint for swirl marks and other defects. This is not acceptable on a brand new car. Don't let the happy ether from taking delivery of a new car cause you to overlook defects or damage. A professional detailing will remove any rail dust, sea salt/sand, or road detritus accumulated during transport. Waxing the car will only coat over these paint impurities and seal them in. Browse the detailing index linked above for more details. I recommend washing, claybar, and then waxing your new car yourself. This removes the corrosive railroad dust if they came by rail, salty spray/sand while sitting at the port, and road detritus during transport. See detailing tips at
1000q: washing and wax your ca
r ,
1000q: claybar your car.
Very minor and consistent orange peel (a slight/wavy texturing of the paint surface) is considered normal on most cars. Inconsistent minor orange peel shows a bad paint job and possibly damage cover ups. This can be corrected with a very light wetsanding and polish that can be done by any professional detailer.
Some cars have had spots or defects in the clearcoat. If a hairdryer makes it disappear it's moisture trapped in the clearcoat. Sometimes it goes away and sometimes it causes flaking. Barring that, don't worry about waxing your new Golf. The factory paint is baked in ovens and have had plenty of time to cure when they were being shipped to you. Non factory body shop paint needs to cure for at least a month before waxing because it's slightly different and can't be baked in an oven or else the interior and all the plastics on the car would melt. High quality body shops can do a better paint job than the factory so don't worry that they don't bake the paint.
TRIPLE CHECK what you ordered vs. what you are taking delivery of before singing ANY paperwork. Many people thought they were ordering one car and for various reasons, took delivery only to discover it was missing an option or had some damage. Once you drive off the lot, it'll be harder to get the dealer to cooperate.
Double check your insurance coverage and see if insurance discounts apply for safety. For whatever reason, some insurance companies may think your car is a gasoline car. Golf TDI have 3 sets of airbags standard and optional rear lower side airbags. All modern VW also have immobilizer anti theft, security alarm, shoulder harness seat belts, traction control, and ESP stability control standard in USA.
Make sure the dealer removes the front suspension blockers. These are black or orange colored rubbery bumpers that lock the front springs for shipment. They could get mangled from driving around on them (below left) or dislodge the shock boot. It's on the delivery checklist but the box often gets checked off even though they didn't do it (and may have charged you for the pre delivery inspection). If the front rides hard and high or you hear a clunking noise from the front, check for the blockers.
VW quirks and other misc stuff to know as a new owner
All 2010 VW Golf TDI use the 2.0L 140hp, 236lb-ft torque common rail TDI engine. This engine is comparable in torque to a 6 cylinder engine in daily driving with the fuel economy of a small 4 cylinder engine. See
1000q: direction injection, pumpe duse, and common rail
for a comparison to older TDI technologies. Common rail and emissions filtration system is state of the art for passenger car diesels and results in better emissions, more power, more economy, and a quieter, smoother engine sound than previous TDI. Although diesel fuel prices are higher than gasoline prices, you'll still save money over the long term compared to a similar new car. It also has less CO2 emissions per mile than the base 2.5L gasoline engine.
After you shut off the engine or are stopped at a light: if you hear the engine fan running AND you smell something overheating at the tailpipe, this is the diesel particulate filter (DPF) burning off accumulated soot. If the DPF doesn't get hot enough during a highway run or normal driving, it injects some fuel to burn off trapped particulates. If you shut off the engine in the middle of a filter regeneration cycle you may notice some odor while it burns off. A hot regen cycle occurs about once every 450-600 miles depending on use. More information can be found in the FAQ article:
1000q: DPF and Adblue FAQ for VW.

Because diesel engines are throttled by fuel and run off oil, any diesel engine could have a rare mechanical malfunction called a runaway engine. If the car is in gear it will also accelerate. If the engine races on its own, keep control of the car and shut off the engine as soon as it's safe and practical. Take it to a mechanic before starting it again. Read more about a diesel engine runaway and some causes at
1000q: runaway engine FAQ.
Some TDI have gotten condensation in the intake which settles in the intercooler. In cold weather, this condensation can freeze and cause rough cold running or harder start. The main symptom is that once you start moving, the engine rpm goes up which moves the intake air faster and the engine stumbles. This will not throw a check engine light/malfunction engine light. The danger is that if too much fluid makes it from the intercooler to the engine, once inside the engine cylinder, can hydrolock the engine and bend the engine cylinder rods.
http://www.myturbodiesel.com/forum/f7/cr-cold-weather-inspection-4197/
This is discussed in this thread. The fix is a repair kit which includes a new intercooler, sensor, lines, and what appear to be a valve to blow out water.
The minimum wheel size you can use is 15" because of the 288mm front rotors. Golf wagon (Jetta wagon) require a minimum 16" wheel because they use 312 mm rotors.
You can use the remote key fob to open/close the sunroof and windows if you have comfort windows enabled. See the video below for a demo. This is in addition to the holding the key in the door lock operation. See
1000q: comfort windows
to enable it. All VW relock themselves if you don't open the door after 30 seconds of using the remote to unlock the doors. This is a security feature.
The manual door lock cylinder is hidden under a cover. First, pull the door handle. Then stick the metal key in the slot under the cover and pull it up and towards you to pop it off if you have to use the manual door lock. If you don't pull the door handle open it can break the plastic.
It's normal for speedometers on most German cars to read slightly higher than actual speed. This accounts for build variations like slightly different tire/wheel size and so that they don't read lower than actual speed. The odometer reading should be correct and is a separate display from the speedometer for warranty and maintenance purposes. Most report that the fuel economy meters are pretty accurate. Even still, the best way to calculate fuel economy is to fill the tank all the way, drive, and then fill the tank all the way at the same exact pump. Different pumps may shut off at slightly different points which can change your calculated fuel economy. You can adjust the speedometer with a VCDS tool or if you complain to the dealer, they should fix it. See
1000q: speedometer fix
for more details. It's for a mk5 but the same basic procedure may apply.
The TDI engine must get VW spec 507.00 engine oil
for warranty purposes. Because this is a new spec oil, you must order it from an online seller or the dealer.
DO NOT trust the dealer to comply with this requirement, even under their 3 years/36,000 mile free maintenance program!
Dealer techs are busy and sometimes don't know any better. Sometimes it's just a matter of which bottle is closer. Always check which oil will be used on your car with the exact mechanic who is changing the oil. 507 engine oil is also very low ash. Low ash oil is needed to maximize the life of the DPF exhaust particulate filter. See
1000q: DPF FAQ
for more on this system. Until there's testing and long term evidence for use of engine oils other than 507.00 VW spec, I suggest sticking to the factory recommendation. Don't let them tell you that another oil is OK to use because it's you who has to prove any problem down the road, not them! Also check the receipt for the part number. Some oils that meet this spec are Castrol SLX Professional
LL03
(VW# gvw 052 195 m2), Motul specific VW 507.00,
Total Quartz Ineo 5w30 507.00
, and
Mobil 1 ESP Formula 5W-30
.
Here is a TSB in .pdf format which lists engine oils approved by VW
https://www.myturbodiesel.com/d2/images/pdf/vwoiltsb.pdf
(scroll down to the bottom for 507.00 oils) The part numbers for 5w-30 507.00 engine oil are:
VW# g v52 195 a1 (gv52195a1) for .5 liter
VW# gvw 052 195 m2 (gvw052195m2) for 1 liter
VW# gvw 052 195 m4 (gvw052195m4)for 5 liters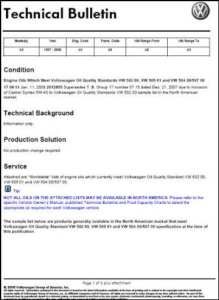 Black cloth sport seats are standard in the US. Only Canadian highline trim have leather seats. If you prefer sport bucket seats they can be swapped from a Golf GTI. If you prefer vinyl (leatherette), they should be available from a Jetta. No 2010 TDI is available with leather seating or power seats in the US although gas 2009 Jettas and the older 2005.5-2006 Jetta TDI may have it optioned. Make sure to check airbag connector compatibility before swapping seats! Katzskin makes aftermarket leather seat skins which will fit your Golf if you really want leather.
The RCD 510 premium 8 radio is touch screen, 6cd in dash changer, color, and accepts SD cards for music.
The RNS510 navigation syste, is touch screen, color, and uses a hard drive.
1000q: RNS 510 FAQ
for more info on the touchscreen headhunt.
All TDI for 2010
get standard bluetooth. For 2010 it was 9w2, for 2011 it was 9w7. With 9w7 from the factory or installed as a retrofit, the overhead bluetooth console's LED does not light up. The
new system for 2011 is the RNS 315.
You can still buy either as parts later and swap them in if you decide you like it. Dual zone climatronic auto climate control and the old steering wheel/cluster is shown because this picture is of a 2009 gas Jetta.
Estimated mileage is not known but real world experience with the 2009 Jetta TDI suggests 35-50 mpg average mixed driving. The coefficient of drag in Jetta (.31) vs. Golf (.32) is almost the same but the Golf 2 door is about 200 lbs lighter. Major factors effecting mileage include individual driving style, car build quality variations, tire/wheel size, tire compound/tread, and fuel quality. Expect mileage to increase during
engine break in by as much as 10-15%.

All 2010 Golf TDI come with head curtain, front, and side airbags. Lower rear side airbags are the only optional airbags. ABS and traction control are standard, stability/yaw control is standard in the US, optional on Canadian comfortline, standard on highline.
Production of VW Golf on the assembly line in Germany. All Golf TDI are built in Germany and shipped over. There's a tag on the driver's side door and/or next to the spare tire with a manufacture location.
http://www.youtube.com/watch?v=9CT1zyXEhII
http://www.youtube.com/watch?v=fdNdWzzpOo4
http://www.youtube.com/watch?v=gfuiGc3SCqM
http://www.youtube.com/watch?v=K6mtIG8Qw_s
Engine testing and assembly (very last part is Touareg specific)
http://www.youtube.com/watch?v=ZgUkzsjNchI
Chassis testing for test cars (reminds me of driving in Boston although I've hit more huge potholes in NYC)
http://www.youtube.com/watch?v=rMni83VZI7Q