Discussion Starter
•
#1
•
Evening all,
I have recently bought a used Body Control Module (BCM) to install fog lights to the Mrs's car ...Never again, what a head ache.
All is now installed but the new BCM will not pair to the existing keys and the electrics are doing strange things (the footwell lights won't turn off when driving and are no longer linked to the MFD... but the fogs work). As the key process is straight forward, I have done this several times, I am assuming the BCM is faulty and/or it works on a different frequency to her keys (434mhz), but as the BCM came from the same model of car, in the UK, I doubt it's that
I have tried to return the item, but the seller is saying the BCM may have been blocked. I've tried researching this, but have hit a brick wall. Think the seller might be trying to pull a fast one.
Can anyone please offer any suggestions, or tell me if the BCM can "block" keys from pairing, for whatever reason.
We have confirmed all the coding is correct, as I've gone through each individual byte. The only thing that differs is #19 measuring block, in VCDS, that relates to the alarm and shows an error (again, i'm thinking this is due to a faulty BCM - pictured below).
I've gone from a 1K0 937 084 F (basic) to a 1K0 937 086 (midline),
Any help would be appreciated
Jono
Original Scan (084F)
New Scan (086)
Original BCM
New BCM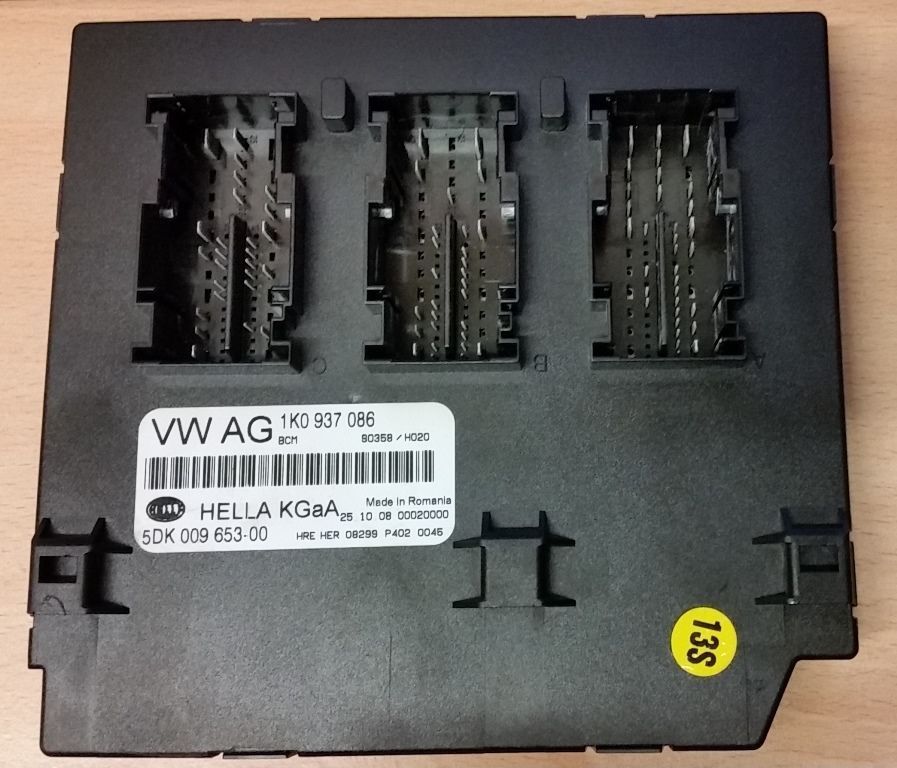 Original VCDS Scan
Code:
Wednesday,09,March,2016,15:44:24:62939

Chassis Type: 1K (7N0)
Scan: 01 03 08 09 10 15 16 17 19 25 2E 42 44 46 52 56 62 72 77

VIN: WVWZZZ1KZCW082118

01-Engine -- Status: OK 0000
03-ABS Brakes -- Status: OK 0000
04-Steering Angle -- Status: OK 0000
08-Auto HVAC -- Status: OK 0000
09-Cent. Elect. -- Status: OK 0000
10-Park/Steer Assist -- Status: OK 0000
15-Airbags -- Status: OK 0000
16-Steering wheel -- Status: OK 0000
17-Instruments -- Status: OK 0000
19-CAN Gateway -- Status: Malfunction 0010
25-Immobilizer -- Status: OK 0000
2E-Media Player 3 -- Status: OK 0000
42-Door Elect, Driver -- Status: Malfunction 0010
44-Steering Assist -- Status: OK 0000
46-Central Conv. -- Status: OK 0000
52-Door Elect, Pass. -- Status: OK 0000
56-Radio -- Status: OK 0000
62-Door, Rear Left -- Status: Sporadic communication error 1000
72-Door, Rear Right -- Status: Sporadic communication error 1000
77-Telephone -- Status: OK 0000
-------------------------------------------------------------------------------
Address 01: Engine (J623-CFFB)       Labels: 03L-906-018-CFF.clb
   Part No SW: 03L 906 018     HW: 03L 907 309 R
   Component: R4 2,0L EDC   H24 7453
   Revision: 42H24---    Serial number: 00000000000000
   Coding: 00190012042500080000
   Shop #: WSC 01357 011 00200
   ASAM Dataset: EV_ECM20TDI01103L906018 003010
   ROD: EV_ECM20TDI01103L906018.rod
   VCID: E7DDDD171E988F26B59-80B2

No fault code found.
Readiness: 0 0 0 0 0

-------------------------------------------------------------------------------
Address 03: ABS Brakes (J104)       Labels: 1K0-907-379-60EC1F.clb
   Part No SW: 1K0 907 379 BJ    HW: 1K0 907 379 BJ
   Component: ESP MK60EC1   H31 0121
   Revision: 00H31001
   Coding: 163B400D092A00FC680C02E590210082310000
   Shop #: WSC 01357 011 00200
   VCID: 7BF51167FA10BBC6C11-802E

No fault code found.

-------------------------------------------------------------------------------
Address 08: Auto HVAC (J301)       Labels: 7N0-907-426.clb
   Part No SW: 7N0 907 426 AM    HW: 7N0 907 426 AM
   Component: AC Manuell    H19 0304
   Revision: 00001015
   Coding: 0000004002
   Shop #: WSC 01357 011 00200
   ASAM Dataset: EV_ACManueBHBVW36X A01010
   ROD: EV_ACManueBHBVW36X_SE36.rod
   VCID: 7F0DE577E608A7E6ED9-802A

No fault code found.

-------------------------------------------------------------------------------
Address 09: Cent. Elect. (J519)       Labels: 1K0-937-08x-09.clb
   Part No SW: 1K0 937 084 F    HW: 1K0 937 084 F
   Component: BCM PQ35  B   110 0651
   Revision: 00110 AC
   Coding: 48180A3A8825F1C0400800C0340081E44B510288536D8160648000200040
   Shop #: WSC 01357 011 00200
   VCID: 3169F34F68DC81962BD-8064

   Subsystem 1 - Part No: 5K2 955 119
   Component: Wischer 25071  26  0512
   Coding: 009795

   Subsystem 2 - Part No: 1K0 955 559 AH  Labels: 1K0-955-559-AG.CLB
   Component: RLS 060811 05  54  0403
   Coding: 0230AD

   Subsystem 3 - Part No: 1K8 951 171
   Component: DWA-Sensor 00  001 0104

   Subsystem 4 - Part No: 1K8 951 605 B
   Component: LIN BACKUP HO  H11 9005

No fault code found.

-------------------------------------------------------------------------------
Address 10: Park/Steer Assist (J446)       Labels: 3C8-919-475.clb
   Part No SW: 5K0 919 475 E    HW: 5K0 919 475 E
   Component: PARKHILFE 8K  H01 0012
   Revision: --------    Serial number: 12561119602011
   Coding: 108001
   Shop #: WSC 01357 011 00200
   VCID: 387FCE6B8BA650DE6C3-806D

No fault code found.

-------------------------------------------------------------------------------
Address 15: Airbags (J234)       Labels: 5K0-959-655.clb
   Part No SW: 5C0 959 655 B    HW: 5C0 959 655 B
   Component: AirbagVW10    013 0613
   Serial number: 003G5RA8J4LR
   Coding: 00003954
   Shop #: WSC 01357 011 00200
   ASAM Dataset: EV_AirbaVW10SMEVW360 A01014
   ROD: EV_AirbaVW10SMEVW360_VW01.rod
   VCID: 3169F34F60DC81962BD-8064

   Crash sensor for side airbag; driver side:
   Subsystem 1 - Part No SW: 5K0 959 354     HW: 5K0 959 354
   Component: S.Sens.Fahr.V  H01 ----
   Serial number: 3572MSME64321263ZZZK

   Crash sensor for side airbag; passenger side:
   Subsystem 2 - Part No SW: 5K0 959 354     HW: 5K0 959 354
   Component: S.Sens.Beif.V  H01 ----
   Serial number: 3582MSME78447461ZZZZ

   Crash sensor for side airbag; rear driver side:
   Component: S.Sens.Fahr.H  --- ----
   Serial number: 3512QSME624C5E1DZZZ5

   Crash sensor for side airbag; rear passenger side:
   Component: S.Sens.Beif.H  --- ----
   Serial number: 3522QSME52545E09ZZZ-

No fault code found.

-------------------------------------------------------------------------------
Address 16: Steering wheel (J527)       Labels: 5K0-953-569.clb
   Part No SW: 5K0 953 507 BC    HW: 5K0 953 549 E
   Component: Lenks.Modul   008 0080
   Revision: --------    Serial number:  90422KH5000CC
   Coding: 1082140000
   Shop #: WSC 01357 011 00200
   ASAM Dataset: EV_SMLSNGKUDS A05001
   ROD: EV_SMLSNGKUDS.rod
   VCID: 72EB3C43A55AFA8E927-8027

   Multifunction steering wheel control module:
   Subsystem 1 - Part No SW: 3C8 959 537 D    HW: 3C8 959 537 D
   Component: E221__MFL-TK6  H06 0022
   Serial number: 40000000000000423311
   Coding: E20000

No fault code found.

-------------------------------------------------------------------------------
Address 17: Instruments (J285)       Labels: 5K0-920-xxx-17.clb
   Part No SW: 5K0 920 972 A    HW: 5K0 920 972 A
   Component: KOMBI         H03 0607
   Serial number: 00000000000000
   Coding: 170B00
   Shop #: WSC 01357 011 00200
   ASAM Dataset: EV_Kombi_UDS_VDD_RM09 A04114
   ROD: EV_Kombi_UDS_VDD_RM09_SE35.rod
   VCID: 2E53E83371E29E6E36F-807B

No fault code found.

-------------------------------------------------------------------------------
Address 19: CAN Gateway (J533)       Labels: 7N0-907-530-V2.clb
   Part No SW: 7N0 907 530 H    HW: 1K0 907 951
   Component: J533  Gateway H42 1620
   Revision:   H42       Serial number: 240711F2002119
   Coding: 350003
   Shop #: WSC 01357 011 00200
   VCID: 3561C75F9CB4ADB6775-8060

2 Faults Found:
01333 - Door Control Module; Rear Left (J388)
            004 - No Signal/Communication - Intermittent
             Freeze Frame:
                    Fault Status: 00110100
                    Fault Priority: 2
                    Fault Frequency: 1
                    Reset counter: 0
                    Mileage: 88264 km
                    Time Indication: 0
                    Date: 2051.14.17
                    Time: 14:14:21

01334 - Door Control Module; Rear Right (J389)
            004 - No Signal/Communication - Intermittent
             Freeze Frame:
                    Fault Status: 00110100
                    Fault Priority: 2
                    Fault Frequency: 1
                    Reset counter: 0
                    Mileage: 88264 km
                    Time Indication: 0
                    Date: 2051.14.17
                    Time: 13:38:37


-------------------------------------------------------------------------------
Address 25: Immobilizer (J334)       Labels: 5K0-920-xxx-25.clb
   Part No SW: 5K0 953 234     HW: 5K0 953 234
   Component: IMMO          H03 0607
   Serial number: 00000000000000
   Coding: 000000
   Shop #: WSC 00000 000 00000
   ASAM Dataset: EV_Immo_UDS_VDD_RM09 A03009
   ROD: EV_Immo_UDS_VDD_RM09_VN35.rod
   VCID: EADBA4230D8AB24EAA7-80BF

No fault code found.

-------------------------------------------------------------------------------
Address 2E: Media Player 3 (J650)       Labels: 5N0-035-342.lbl
   Part No SW: 5N0 035 342 E    HW: 5N0 035 342 E
   Component: SG EXT.PLAYER H13 0240
   Revision: A1001003    Serial number: 7660585278
   Coding: 010000
   Shop #: WSC 01357 011 00200
   VCID: 29591B2F400CF956E3D-807C

No fault code found.

-------------------------------------------------------------------------------
Address 42: Door Elect, Driver        Labels: 1K0-959-701-MIN3.lbl
   Part No SW: 5K0 959 701 B    HW: 5K0 959 701 B
   Component: Tuer-SG         009 2120
   Coding: 0000756
   Shop #: WSC 01357 011 00200
   VCID: 3169F34FA8DC81962BD-8064

1 Fault Found:
00120 - Outside Warning Light/Door exit Light Driver Side
            012 - Electrical Fault in Circuit - Intermittent

-------------------------------------------------------------------------------
Address 44: Steering Assist        Labels: 1Kx-909-14x-44.clb
   Part No: 1K0 909 144 M
   Component: EPS_ZFLS Kl. 70     3201
   Revision: 00H20000
   Shop #: WSC 01357 011 00200
   VCID: 3467FA5B57CEB4BE40B-8061

No fault code found.

-------------------------------------------------------------------------------
Address 52: Door Elect, Pass.        Labels: 1K0-959-702-MAX3.lbl
   Part No SW: 5K0 959 702 C    HW: 5K0 959 702 C
   Component: Tuer-SG         009 2120
   Coding: 0001012
   Shop #: WSC 01357 011 00200
   VCID: 3365F94752C0B386591-8066

No fault code found.

-------------------------------------------------------------------------------
Address 56: Radio (J0503)       Labels: 5M0-035-1xx-56.clb
   Part No SW: 3C8 035 195 G    HW: 3C8 035 195 G
   Component: Radio RCD510  052 0208
   Revision: 00000001    Serial number: VWZ1Z3L6683129
   Coding: 01000400040005
   Shop #: WSC 01357 011 00200
   VCID: 2C57E23B4FFEEC7E18B-8079

No fault code found.

-------------------------------------------------------------------------------
Address 62: Door, Rear Left        Labels: 1K0-959-703-GEN3.lbl
   Part No SW: 5K0 959 703 D    HW: 5K0 959 703 D
   Component: Tuer-SG         007 2101
   Coding: 0000208
   Shop #: WSC 01357 011 1012551
   VCID: 3561C75F5CB4ADB6775-8060

No fault code found.

-------------------------------------------------------------------------------
Address 72: Door, Rear Right        Labels: 1K0-959-704-GEN3.lbl
   Part No SW: 5K0 959 704 D    HW: 5K0 959 704 D
   Component: Tuer-SG         007 2101
   Coding: 0000208
   Shop #: WSC 01357 011 1012551
   VCID: 3663C05341B2A6AE7EF-8063

No fault code found.

-------------------------------------------------------------------------------
Address 77: Telephone (J412)       Labels: 7P6-035-730.clb
   Part No SW: 7P6 035 730 E    HW: 7P6 035 730 E
   Component: TELEFON       H09 2730
   Revision: 1B001001    Serial number: 00007660595977
   Coding: 0A01000000010101
   Shop #: WSC 01357 011 00200
   ASAM Dataset: EV_UHVNA A01015
   ROD: EV_UHVNA.rod
   VCID: 3467FA5B9FCEB4BE40B-8061

No fault code found.

End   ---------------------------------------------------------------------
New VCDS Scan
Code:
Tuesday,08,March,2016,16:09:10:62939

Chassis Type: 1K (7N0)
Scan: 01 03 08 09 10 15 16 17 19 25 2E 42 44 46 52 56 62 72 77

VIN: WVWZZZ1KZCW082118 

01-Engine -- Status: OK 0000
03-ABS Brakes -- Status: OK 0000
04-Steering Angle -- Status: OK 0000
08-Auto HVAC -- Status: OK 0000
09-Cent. Elect. -- Status: Malfunction 0010
10-Park/Steer Assist -- Status: OK 0000
15-Airbags -- Status: OK 0000
16-Steering wheel -- Status: OK 0000
17-Instruments -- Status: OK 0000
19-CAN Gateway -- Status: Malfunction 0010
25-Immobilizer -- Status: OK 0000
2E-Media Player 3 -- Status: OK 0000
42-Door Elect, Driver -- Status: Malfunction 0010
44-Steering Assist -- Status: OK 0000
46-Central Conv. -- Status: OK 0000
52-Door Elect, Pass. -- Status: OK 0000
56-Radio -- Status: OK 0000
62-Door, Rear Left -- Status: Sporadic communication error 1000
72-Door, Rear Right -- Status: Sporadic communication error 1000
77-Telephone -- Status: OK 0000
-------------------------------------------------------------------------------
Address 01: Engine (J623-CFFB)       Labels: 03L-906-018-CFF.clb
   Part No SW: 03L 906 018     HW: 03L 907 309 R
   Component: R4 2,0L EDC   H24 7453
   Revision: 42H24---    Serial number: 00000000000000
   Coding: 00190012042500080000
   Shop #: WSC 01357 011 00200
   ASAM Dataset: EV_ECM20TDI01103L906018 003010
   ROD: EV_ECM20TDI01103L906018.rod
   VCID: E7DDDD171E988F26B59-80B2

No fault code found.
Readiness: 0 0 0 0 1

-------------------------------------------------------------------------------
Address 03: ABS Brakes (J104)       Labels: 1K0-907-379-60EC1F.clb
   Part No SW: 1K0 907 379 BJ    HW: 1K0 907 379 BJ
   Component: ESP MK60EC1   H31 0121
   Revision: 00H31001  
   Coding: 163B400D092A00FC680C02E590210082310000
   Shop #: WSC 01357 011 00200
   VCID: 7BF51167FA10BBC6C11-802E

No fault code found.

-------------------------------------------------------------------------------
Address 08: Auto HVAC (J301)       Labels: 7N0-907-426.clb
   Part No SW: 7N0 907 426 AM    HW: 7N0 907 426 AM
   Component: AC Manuell    H19 0304
   Revision: 00001015  
   Coding: 0000004002
   Shop #: WSC 01357 011 00200
   ASAM Dataset: EV_ACManueBHBVW36X A01010
   ROD: EV_ACManueBHBVW36X_SE36.rod
   VCID: 7F0DE577E608A7E6ED9-802A

No fault code found.

-------------------------------------------------------------------------------
Address 09: Cent. Elect. (J519)       Labels: 1K0-937-08x-09.clb
   Part No SW: 1K0 937 086     HW: 1K0 937 086
   Component: BCM PQ35  M   020 0358
   Revision: 00020000  
   Coding: 48180A3A8825F1C0400800C0340081E44B510288536D8160648000200040
   Shop #: WSC 01357 011 00200
   VCID: EDD1AF3F3464A576CF5-80B8

   Subsystem 1 - Part No: 5K2 955 119
   Component: Wischer 25071  26  0512
   Coding: 009795

   Subsystem 2 - Part No: 1K0 955 559 AH  Labels: 1K0-955-559-AG.CLB
   Component: RLS 060811 05  54  0403
   Coding: 0230AD

   Subsystem 4 - Part No: 1K8 951 605 B
   Component: LIN BACKUP HO  H11 9005

2 Faults Found:
00907 - Intervention load Management
            000 - -
             Freeze Frame:
                    Fault Status: 01100000
                    Fault Priority: 6
                    Fault Frequency: 1
                    Reset counter: 234
                    Mileage: 88660 km
                    Time Indication: 0
                    Date: 2051.14.28
                    Time: 16:05:01

             Freeze Frame:
                        Term 15 On
                    Voltage: 11.75 V
                        ON
                        ON
                        Term 50 Off
                        OFF
                        OFF

01179 - Incorrect Key Programming
            000 - -
             Freeze Frame:
                    Fault Status: 01100000
                    Fault Priority: 4
                    Fault Frequency: 1
                    Reset counter: 234
                    Mileage: 88660 km
                    Time Indication: 0
                    Date: 2051.14.28
                    Time: 16:05:18

             Freeze Frame:
                        Term 15 On
                    Voltage: 11.75 V
                        ON
                        ON
                        Term 50 Off
                        OFF
                        OFF


-------------------------------------------------------------------------------
Address 10: Park/Steer Assist (J446)       Labels: 3C8-919-475.clb
   Part No SW: 5K0 919 475 E    HW: 5K0 919 475 E
   Component: PARKHILFE 8K  H01 0012
   Revision: --------    Serial number: 12561119602011
   Coding: 108001
   Shop #: WSC 01357 011 00200
   VCID: 387FCE6B8BA650DE6C3-806D

No fault code found.

-------------------------------------------------------------------------------
Address 15: Airbags (J234)       Labels: 5K0-959-655.clb
   Part No SW: 5C0 959 655 B    HW: 5C0 959 655 B
   Component: AirbagVW10    013 0613
   Serial number: 003G5RA8J4LR
   Coding: 00003954
   Shop #: WSC 01357 011 00200
   ASAM Dataset: EV_AirbaVW10SMEVW360 A01014
   ROD: EV_AirbaVW10SMEVW360_VW01.rod
   VCID: 3169F34F60DC81962BD-8064

   Crash sensor for side airbag; driver side:
   Subsystem 1 - Part No SW: 5K0 959 354     HW: 5K0 959 354
   Component: S.Sens.Fahr.V  H01 ----
   Serial number: 3572MSME64321263ZZZK

   Crash sensor for side airbag; passenger side:
   Subsystem 2 - Part No SW: 5K0 959 354     HW: 5K0 959 354
   Component: S.Sens.Beif.V  H01 ----
   Serial number: 3582MSME78447461ZZZZ

   Crash sensor for side airbag; rear driver side:
   Component: S.Sens.Fahr.H  --- ----
   Serial number: 3512QSME624C5E1DZZZ5

   Crash sensor for side airbag; rear passenger side:
   Component: S.Sens.Beif.H  --- ----
   Serial number: 3522QSME52545E09ZZZ-

No fault code found.

-------------------------------------------------------------------------------
Address 16: Steering wheel (J527)       Labels: 5K0-953-569.clb
   Part No SW: 5K0 953 507 BC    HW: 5K0 953 549 E
   Component: Lenks.Modul   008 0080
   Revision: --------    Serial number:  90422KH5000CC
   Coding: 1082140000
   Shop #: WSC 01357 011 00200
   ASAM Dataset: EV_SMLSNGKUDS A05001
   ROD: EV_SMLSNGKUDS.rod
   VCID: 72EB3C43A55AFA8E927-8027

   Multifunction steering wheel control module:
   Subsystem 1 - Part No SW: 3C8 959 537 D    HW: 3C8 959 537 D
   Component: E221__MFL-TK6  H06 0022
   Serial number: 40000000000000423311
   Coding: E20000

No fault code found.

-------------------------------------------------------------------------------
Address 17: Instruments (J285)       Labels: 5K0-920-xxx-17.clb
   Part No SW: 5K0 920 972 A    HW: 5K0 920 972 A
   Component: KOMBI         H03 0607
   Serial number: 00000000000000
   Coding: 170B00
   Shop #: WSC 01357 011 00200
   ASAM Dataset: EV_Kombi_UDS_VDD_RM09 A04114
   ROD: EV_Kombi_UDS_VDD_RM09_SE35.rod
   VCID: 2E53E83371E29E6E36F-807B

No fault code found.

-------------------------------------------------------------------------------
Address 19: CAN Gateway (J533)       Labels: 7N0-907-530-V2.clb
   Part No SW: 7N0 907 530 H    HW: 1K0 907 951
   Component: J533  Gateway H42 1620
   Revision:   H42       Serial number: 240711F2002119
   Coding: 350003
   Shop #: WSC 01357 011 00200
   VCID: 3561C75F9CB4ADB6775-8060

2 Faults Found:
01333 - Door Control Module; Rear Left (J388)
            004 - No Signal/Communication - Intermittent
             Freeze Frame:
                    Fault Status: 00110100
                    Fault Priority: 2
                    Fault Frequency: 1
                    Reset counter: 0
                    Mileage: 88264 km
                    Time Indication: 0
                    Date: 2051.14.17
                    Time: 14:14:21

01334 - Door Control Module; Rear Right (J389)
            004 - No Signal/Communication - Intermittent
             Freeze Frame:
                    Fault Status: 00110100
                    Fault Priority: 2
                    Fault Frequency: 1
                    Reset counter: 0
                    Mileage: 88264 km
                    Time Indication: 0
                    Date: 2051.14.17
                    Time: 13:38:37


-------------------------------------------------------------------------------
Address 25: Immobilizer (J334)       Labels: 5K0-920-xxx-25.clb
   Part No SW: 5K0 953 234     HW: 5K0 953 234
   Component: IMMO          H03 0607
   Serial number: 00000000000000
   Coding: 000000
   Shop #: WSC 00000 000 00000
   ASAM Dataset: EV_Immo_UDS_VDD_RM09 A03009
   ROD: EV_Immo_UDS_VDD_RM09_VN35.rod
   VCID: EADBA4230D8AB24EAA7-80BF

No fault code found.

-------------------------------------------------------------------------------
Address 2E: Media Player 3 (J650)       Labels: 5N0-035-342.lbl
   Part No SW: 5N0 035 342 E    HW: 5N0 035 342 E
   Component: SG EXT.PLAYER H13 0240
   Revision: A1001003    Serial number: 7660585278  
   Coding: 010000
   Shop #: WSC 01357 011 00200
   VCID: 29591B2F400CF956E3D-807C

No fault code found.

-------------------------------------------------------------------------------
Address 42: Door Elect, Driver        Labels: 1K0-959-701-MIN3.lbl
   Part No SW: 5K0 959 701 B    HW: 5K0 959 701 B
   Component: Tuer-SG         009 2120
   Coding: 0000756
   Shop #: WSC 01357 011 00200
   VCID: 3169F34FA8DC81962BD-8064

1 Fault Found:
00120 - Outside Warning Light/Door exit Light Driver Side
            012 - Electrical Fault in Circuit - Intermittent

-------------------------------------------------------------------------------
Address 44: Steering Assist        Labels: 1Kx-909-14x-44.clb
   Part No: 1K0 909 144 M
   Component: EPS_ZFLS Kl. 70     3201
   Revision: 00H20000  
   Shop #: WSC 01357 011 00200
   VCID: 3467FA5B57CEB4BE40B-8061

No fault code found.

-------------------------------------------------------------------------------
Address 52: Door Elect, Pass.        Labels: 1K0-959-702-MAX3.lbl
   Part No SW: 5K0 959 702 C    HW: 5K0 959 702 C
   Component: Tuer-SG         009 2120
   Coding: 0001012
   Shop #: WSC 01357 011 00200
   VCID: 3365F94752C0B386591-8066

No fault code found.

-------------------------------------------------------------------------------
Address 56: Radio (J0503)       Labels: 5M0-035-1xx-56.clb
   Part No SW: 3C8 035 195 G    HW: 3C8 035 195 G
   Component: Radio RCD510  052 0208
   Revision: 00000001    Serial number: VWZ1Z3L6683129
   Coding: 01000400040005
   Shop #: WSC 01357 011 00200
   VCID: 2C57E23B4FFEEC7E18B-8079

No fault code found.

-------------------------------------------------------------------------------
Address 62: Door, Rear Left        Labels: 1K0-959-703-GEN3.lbl
   Part No SW: 5K0 959 703 D    HW: 5K0 959 703 D
   Component: Tuer-SG         007 2101
   Coding: 0000208
   Shop #: WSC 01357 011 1012551
   VCID: 3561C75F5CB4ADB6775-8060

No fault code found.

-------------------------------------------------------------------------------
Address 72: Door, Rear Right        Labels: 1K0-959-704-GEN3.lbl
   Part No SW: 5K0 959 704 D    HW: 5K0 959 704 D
   Component: Tuer-SG         007 2101
   Coding: 0000208
   Shop #: WSC 01357 011 1012551
   VCID: 3663C05341B2A6AE7EF-8063

No fault code found.

-------------------------------------------------------------------------------
Address 77: Telephone (J412)       Labels: 7P6-035-730.clb
   Part No SW: 7P6 035 730 E    HW: 7P6 035 730 E
   Component: TELEFON       H09 2730
   Revision: 1B001001    Serial number: 00007660595977
   Coding: 0A01000000010101
   Shop #: WSC 01357 011 00200
   ASAM Dataset: EV_UHVNA A01015
   ROD: EV_UHVNA.rod
   VCID: 3467FA5B9FCEB4BE40B-8061

No fault code found.

End   ---------------------------------------------------------------------