Hey,
My first VW's were a pair of 96 and 97 Passat TDI's I owned about 5 years ago. The 97 was my daily driver for awhile and the 96 was kind of a rough, but running car that I wound up selling after awhile.
Sold the 97 Passat to buy a coworkers 05 Golf TDI with the Tiptronic and proceeded to drive the wheels off of it until I got hit head on coming home from work one night.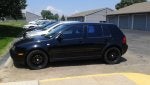 After the accident the Emissions Scandal was in full effect and finding a older TDI was nearly impossible and the newer ones were getting bought up for the recall "fix", so I bought a 2015 Hyundai Sonata Hybrid Limited.
Very nicely equipped car, but I had issues with it that the local dealership either couldn't or wouldn't fix for me so I traded it in after 2 years for a 2013 Passat TDI.
I'm here to learn more about my car and get reacquainted with the TDI engine.