13" 4x100 bolt pattern OEM Volkswagen wheel gallery
back to 1000q: VW and Audi wheel gallery index
Here is a wheel gallery and part numbers for 13" OEM VW wheels.
The bolt pattern is 4x100 which is mostly for mk3 and earlier cars and mk4 cabriolet. Do you have a better picture, see an error, or own the rights to one of the pictures? Please post the correction in the forums or email me at

and I will change it asap for your benefit, thank you! Please note that there are a few wheels which look the same but have different widths/offsets. All wheels on this page are 13", use the 4x100 bolt pattern, and the 57.1mm hub centerbore.
VW zandvoort

Wheel diameter (in.)
13
Wheel width (in.)
5.5
Wheel lug pattern (mm
4x100
wheel part #
#191 601 025 J 091
Wheel offset (mm)
38
center cap #
191 601 149 C
Stock tire size/misc info
from polo golf, also avail in 14x6", named after a town in Netherlands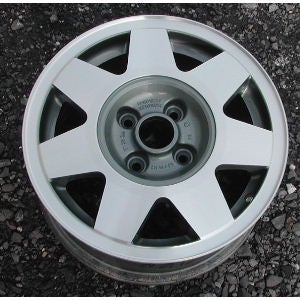 VW "vw design"
Wheel diameter (in.)
13 or 14
Wheel width (in.)
6
Wheel lug patter (mm)
4x100
Wheel part #
#191 071 490
Wheel offset (mm)
33
Center cap part #
Stock tire size/misc notes
from 85-91 golf, 81-89 jetta, spokes look like "VW" symbol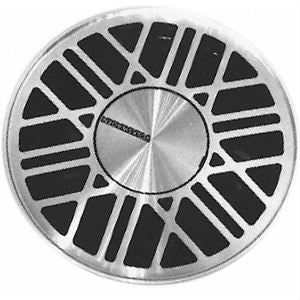 VW Ronal Teddy
Wheel diameter (in.)
13
Wheel width (in.)
5
Wheel lug patter (mm)
4x100
Wheel part #
601 VAG 110
Wheel offset (mm)
38
Center cap part #
Stock tire size/misc notes
from polo golf...unique...also avail in more common 14" (car shown below is a rare Harlequin Golf)
VW 12 spokes in 5" width
Wheel diameter (in.)
13
Wheel width (in.)
5
Wheel lug patter (mm)
4x100
Wheel part #
#321 601 025C, or
531 601 025
Wheel offset (mm)
45
Center cap part #
Stock tire size/misc notes
scirocco mk1 usa, passat, pictured below
VW 12 spokes "sport" in 5.5" width
Wheel diameter (in.)
13
Wheel width (in.)
5.5
Wheel lug patter (mm)
4x100
Wheel part #
#321 601 025C
Wheel offset (mm)
38
Center cap part #
Stock tire size/misc notes
80-81 jetta sport, no longer available, pictured below
VW nine spokes, aka tarantula
Wheel diameter (in.)
13
Wheel width (in.)
5.5
Wheel lug patter (mm)
4x100
Wheel part #
#171 601 025J
Wheel offset (mm)
38
Center cap part #
Stock tire size/misc notes
jetta, mk2 scirocco, mk1 golf gti, discontinued
VW turbine
Wheel diameter (in.)
13
Wheel width (in.)
5.5
Wheel lug patter (mm)
4x100
Wheel part #
321 601 025G
Wheel offset (mm)
38
Center cap part #
Stock tire size/misc notes
81-85 jetta and passat
VW HOCKENHEIM in narrow 4.5
Wheel diameter (in.)
13
Wheel width (in.)
4.5
Wheel lug patter (mm)
4x100
Wheel part #
867 601 025C
Wheel offset (mm)
45
Center cap part #
Stock tire size/misc notes
4.5" size for polo golf
VW HOCKENHEIM in wider 5.5
Wheel diameter (in.)
Wheel width (in.)
5.5
Wheel lug patter (mm)
Wheel part #
191 601 025H
Wheel offset (mm)
Center cap part #
Stock tire size/misc notes
5.5" size for 86-91 jetta and scirroco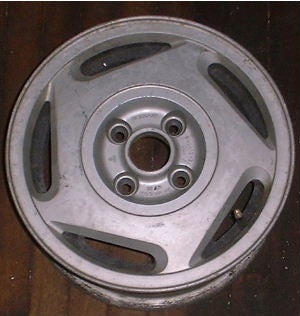 VW Zolder
Wheel diameter (in.)
13
Wheel width (in.)
4.5
Wheel lug patter (mm)
4x100
Wheel part #
57.1
Wheel offset (mm)
45
Center cap part #
Stock tire size/misc notes
from polo golf, named after a racetrack in Belgium
Search the site for more wheels: