2011+ VW Touareg TDI forum, buying guide, FAQ, delivery checklist, and review
Introduction
This FAQ shows pricing, explanations and details of standard equipment and options, review, and differences and revisions for the 2011+ Volkswagen Touareg TDI vs. the 2010.
This buying guide is specific to the newer body style 2011+ VW Touareg TDI. See 1000q: 2009-2010 Touareg buying guide for information on the older body style. The car uses a new chassis which lost 458 lbs and went from a 6 to an 8 auto speed transmission so fuel economy and acceleration have both improved. Towing rating is still the same as the older car at 7,716 lbs (3,500 kg). For 2011 you also have a choice of a Touareg hybrid. Check out the VW Touareg hybrid forum and buying guide at eVWAudi.com if you would like to learn more about it. The V6 3.0L TDI engine and 4motion all wheel drive are carried over but everything else is different including the mpg which increases to 19/28 for 2011. For 2013, it got a new engine with 240 hp.
VW Touareg TDI changes for 2012
Pricing is slightly different but the only material change is a new base trim. The base trim in the US is now Sport. It does not have navigation or rear view camera. You have to get Sport w/nav to get last year's base model. All models get a comfort hatch cover. No models have rear view cameras. Everything else is the same.
VW Touareg TDI changes for 2013
Pricing went up slightly. Engine HP goes from 225 to 240. This isn't just a tuning change, it uses the newer engine that was in Europe for a few years that gives better power, faster warmup, and more efficiency, and simplier engine design. All Touareg, Audi Q7, and Porsche Cayenne use this engine for model year 2013.
Easy liftgate open is now available on executive trim. This is part of KESSY. If you wave your foot under the tailgate with the key in range, the liftgate will open.
VW Touareg TDI changes for 2014
Executive trim level gets LED taillights and area view camera feature. Trailer hitch and rear hatch "easy open" standard on all models.
R-line trim level is based off the Lux and adds 20" Mallory wheels, LED taillights, different front and rear bumpers, side skirts, and R-line badging on the outside. Inside, it adds brushed aluminum trim, stainless steel pedals, black headliner, door sill plates, and R-line steering wheel.
New Touareg X trim level - 10th anniversary based off Lux and adds shiny "piano black" and ebony interior trim, 19" Moab wheels, LED taillights, scuff plates and exterior badging that say Touareg X, aluminum look pedal covers, LED interior and ambient lighting, and Moonlight Blue exclusive color
Touareg TDI changes for 2015
The engine is the same but the car gest a cosmetic facelift with a new bumper, and standard HID headlights and LED taillights, different foglights, and chrome trim in the interior with differnet color choices. You can now option the driver assistance package in the Lux and Executive trim levels. This includes adaptive cruise control, lane departure warning (at 40 mph and above, a cameras sees the lanes and shakes the steering wheel if you cross them WITHOUT using the turn signal), emergency braking (if it sees an oncoming crash via the radar sensor in the front it'll slow the car).
Order guide for VW Touareg TDI (2011 prices)
Canadian cars
The prices below are in Canadian dollars.
Comfortline (base) VW Touareg TDI: $53,190 4motion AWD, 18" "Tacora" alloy wheels, 8 way front power heated seats with manual lumbar (dvr and pass), auto headlights, wipers, and dimming mirror, Bluetooth, "Climatronic" dual zone auto climate control, stability and traction control, halogen headlights, front foglights, leather MFSW (see below for desc.), MDI w/ipod cable, four 12V (cig or radar detector) outlets and one 115V household plug, RNS850 GPS and info system, Sirius radio, tire pressure monitor system, and power liftgate.
Highline trim Touareg adds: $58,645 12 way front seats with power lumbar, 2 piece center armrest, heated, steering wheel, heated power rear seats, real burr-walnut wood trim, homelink, leather interior, memory driver's seat and mirrors, pano sunroof, power rear backrest release, KESSY keyless access (see below for details). (In Canada, highline trim adds tinted rear windows and tailgate window).
Exceline Touareg TDI adds: $63,135 20" "Pikes peak" alloy wheels, sport suspension, dynaudio 620w stereo, manual rear sunshades, power adjustable steering wheel, park distance control parking sensors, rear view camera.
All trim levels options: pano sunroof, tow hitch, or Sport package (20" "Pikes peak" alloy wheels, xenon headlights, and sport suspension).
American cars
While the base price of the Touareg went up about $3000 in the US, they also have a number of standard features that were optional on the last car. For example, most features that were part of the last car's $5000 technology package like nav (now bigger w/more features), VW MDI ipod adapter cable, HID headlights, and larger color MFD, are standard even on base cars. (Unlike the old tech package it doesn't have keyless access KESSY unless you get the executive trim level in the US or the Highline in Canada)
Sport (base): $47,950 - 18" "Tacora" alloy wheels, 4motion, RNS850 GPS and information system, 8 speaker single CD radio, MDI w/ipod cable, rear view camera, HID xenon headlights w/LED running lights, v-tex leatherette interior, 8 way power front and heated seats, Bluetooth, Sirius, Climatronic dual zone climate control, stability and traction control, front foglights, tire pressure monitor system, silver roof rails, power liftgate, homelink.
Lux: $51,800 - in addition to Sport, adds 19" "Everest" alloy wheels, panoramic sunroof, 12 way power front seats w/memory, leather interior, power lumbar, and Burr Walnut interior wood trim.
Executive: $57,500 - in addition to Lux, adds 20" "Pikes peak" alloy wheels, heated multifunction steering wheel, heated rear seats, KESSY keyless access, Park Distance control w/rear view camera, and Dynaudio.
Below is the official order guide from VW (US only, pics are thumbnails, click to enlarge)

2011 VW Touareg TDI tax credit confirmed as $450
The 2011 VW Touareg was approved for a $450 US federal income tax credit. This credit has since expired but this note will stay here for reference. See 1000q: tax credit FAQ for the long explanation on how it was calculated.
Changes and differences between 2010 (T2) and 2011 (T3) VW Touareg
Other than the obvious cosmetic changes, the chassis lost 458 lbs and has 5% more torsional rigidity. The floor is 2" lower and all the interior panels have changed to give more interior room. The steering wheel controls now look similar to the rest of the VW line. The cabin is about 4cm longer and almost all of that is rear legroom. The front elbow and shoulder room grew about 5cm. There's about 7cm more leg room. The transmission tunnel was reshaped to provide greater center legroom. The car now has an electric handbrake. The rest seat backrests are tilt adjustable to 3 positions, have rear seat electric lowering, and can slide forwards or rear through 16cm of travel. The last Touareg's hatch window could open separately from the hatch, the new one cannot. The GPS system now displays lane assist in the MFD (multifunction display) in the instrument cluster between the gauges, more details below. Some thumbnail pictures of the all new Touareg interior are below.




There will be a V8 Touareg TDI in Europe but there are no V8 engine option for North America. All gas and diesel engines no longer have a physical dipstick. It's pretty annoying not to have a dipstick and although retrofitting one was a common mod on some VW-Audi engines, it's not yet known if it's possible on this engine. Mpg and acceleration went up due to the lighter chassis and 8 speed transmission. Because the car lost weight for 2011, the brakes should have increased reserves with the same size rotors. The hybrid has larger front rotors.
2010 Touareg V6 TDI
2011 Touareg V6 TDI
2011 Touareg hybrid
misc notes
length in (mm)
187.2 (4754)
188.8 (4795)
188.7 (4795)
41mm longer
height in (mm)
68.0 (1726)
68.1 (1732)
68.1 (1732)
17mm shorter
width in (mm)
75.9 (1928)
76.4 (1940)
76.3 (1940)
21mm wider, excludes side mirrors
weight lb (kg)
5304 (2406)
4794 (2174)
5104 (2315)
.
ground clearance in (mm)
8.3 (212)
7.9 (200)
7.9 (200)
steel suspension
-w/air suspension min/max
6.3/11.8 (160/300)
max is 11.8 (300mm)
max is 11.8 (300mm)
assume min for '11 is same
wheelbase in (mm)
112.4 (2855)
113.9 (2893)
113.9 (2893)
38mm longer
drag coefficient
.38
.35
.35
US website shows .41 cd for 2010, I am pretty sure this is with air suspension set to highest
max power/torque
225/406
225/406
380/428
.
approx 0-60 sec
8.7
7.8
6.5
.
transmission
6 speed auto
8 speed auto
8 speed auto
.
towing capacity lbs (kg)
7,716 (3,500)
7,716 (3,500)
7,716 (3,500)
braked trailer, tongue 616 lbs
mpg city/highway
18/25
19/28
?
.
L/100 km city/hwy
8/10.4
7.6 combined
8.2
'11 numbers are euro cycle
cargo room cu ft (L)
31.7 (900)
32.1
20.5 (580)
32.1
17.4 (493)
hybrid battery takes up space
See note 1 below
-w/rear seats down cu ft (L)
70.62 (2000)
70.9
58 (1642)
70.9
55 (1555)
See note 1 below
brake rotor size front/rear
330x32/330x28
330x32/330x28
360x32/330x28
mistake on US website (not 350x34mm)
Note 1: the cargo specs for the US vs. UK are different. This is due to a difference in how they measure cargo room.
Details of major features on 2011+ Touareg TDI explained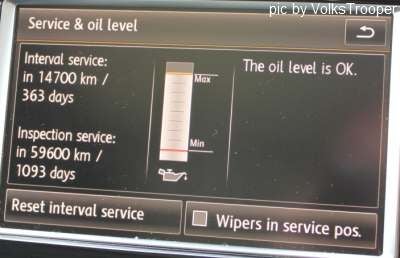 3.0L turbodiesel TDI engine: The 3.0L V6 engine (code CATA) uses common rail injection and a single turbo. There are 2 intercoolers in the front bumper. For detailed specs and info on this engine, see 1000q: CATA engine FAQ. Its 24 valve (4 valve/cylinder) and makes 225 hp and 406 lb-ft of torque at only 1,750 rpm! Also see 1000q: common rail engine vs. pumpe duse and direct injection for some technical details on the common rail injection system. It has an electronic dipstick (thanks to VolksTrooper for the confirmation). There is no physical dipstick although you can retrofit one.
For 2013, the engine gets 240 hp. NOTE: I'm not 100% sure but I believe it actually gets the new engine also used in 2013 Porsche Cayenne and Audi Q7. This engine is lighter, gets more mpg, and is simpler. If you have a model year 2013 Touareg, please post a picture of your engine in the forums!
Clean diesel and Adblue fluid: The Touareg meets meets emissions standards in all 50 states and Canada. It uses a DPF diesel particulate filter, oxidation catalyst, and Adblue NOx reduction system to be "clean diesel". The Touareg DPF filter regenerates by burning out soot during a self clean cycle and the Adblue fluid catalyzes NOx. See 1000q: DPF filter and Adblue fluid FAQ for more details on the system and Adblue like safe fluid storage and Adblue price. 1500 miles before the Adblue runs out, the car will warn you that it's low. If you run out of Adblue, the engine will not restart after you shut it off because it no longer meets emissions. It'll still run but it just won't restart with no Adblue. It's suggested to top off the Adblue tank every 5,000 miles. Tank capacity is 5.5 gallons.
8 speed automatic transmission: This replaces the 6 speed transmission on the older cars. The top 2 gears are double overdrives - this means they are used on the highway to put the engine at 14% lower engine rpm at top gear compared to the older 6 speed. This is actually the first (real) SUV with an 8 speed automatic. The gear ratio for the VW Touareg are below. If you wish to find the engine rpm at a given speed, enter the gear ratios below with your tire size in 1000q: wheel, tire, and gearing calculator. It's rated for up to 627 lb-ft of torque. The transmission is made in Japan by Aisin.
| | | | | | | | | | |
| --- | --- | --- | --- | --- | --- | --- | --- | --- | --- |
| gear | 1 | 2 | 3 | 4 | 5 | 6 | 7 | 8 | final |
| ratio | 4.97 | 2.84 | 1.864 | 1.437 | 1.21 | 1 | .825 | .686 | 3.273 |
Bixenon HID headlights w/LED running lights: These are optional on Comfortline (Canada) but are standard in the US. They're bi-xenon (both low and high beams) and have AFS II. AFSII turns the lights into a corner left or right with the steering wheel and adjusts the range by moving the beam up and down for self leveling. Below is a video of the cornering light function. The T2 Touareg is shown but the lights move the same. The xenon bulb is a mercury-free ds3 lamp. The LED running lights are 15 LED lights shaped like a "u" in the headlight housing.


Dynamic light assist (adaptive headlights): these are optional in addition to xenon HID lights but aren't available in North America due to lighting regulations. They're not listed in the Euro only section because I believe they might be optional in the future.
These are the first "glare free" headlights on a production car (also on Euro 2011 Audi A8). The headlights are always on high beam but when the camera behind the windshield sees another car, the beam moves and changes its pattern to not shine on them. This not switching between high and low beams or gradually adjusting the light down for oncoming cars - it actually changes the pattern of the beam as seen in the demo below. There is a camera in the front bumper that detects headlights from other cars. Again, the lights are always on "high beam". The light module is made by Hella and called "VarioX".


Air suspension: This replaces the steel spring suspension with an air bag suspension. It used to be optional, then special order. The Touareg does not have this option in North America but does have it elsewhere. It works by inflating or deflating the airbags with compressed air to raise or lower the car. It's controlled by a knob next to the shifter. Lowering the car increases handling and lowers drag, raising the car increases ground clearance. It can raise the car up to 11.8" (300mm). The min lowering for the 2011 isn't known but I assume it's the same as 2010 models - 6.3" (160mm). It's continuously adapting so it's helpful if you tow. The system, picture right, is now closed for 2011 models instead of open which lets it use a much smaller air compressor under the car for the air bags. It lost 44 lbs vs. the 2010 system.
Of note: the steel suspension lost 103 lbs vs. the last generation car. The upper suspension arms are aluminum but the lower arms are steel.
4xmotion vs. 4motion and SUV features: 4xmotion was standard on 2010 and earlier cars but 2011 models will only have 4motion. 4xmotion is available on new Touareg outside of North American with the tech terrain package. 4motion uses a torsion limited slip differential and there's no low range. Climb rating is only 31o. 4xmotion adds a stronger transfer case and low range gear (2.69:1) for the differentials with 100% locking and increases climbing range to 45o. The default power split is 40:60 F:R. Some other features:
-Approach and departure angle: 26o. Breakover angle: 21o. Lateral driving angle: 35o. Static angle and max gradient: 45o.
-Hill descent assist: when you lift off the accelerator and the car is at speeds slower than 12 mph, slopes greater than 20%, and ESP is on, descent assist brakes the good wheels if one wheel loses traction to prevent the car from rolling down faster and speeding up.
-Hill climb assist: this is a hill holder which prevents the car from rolling backwards on a hill after you release the brakes and before you press on the accelerator.
-Traction control brakes slipping wheels at a stop or very low speeds to gain traction.
-19.6" fording depth (4xmotion only)
-The locking center differential is a planetary gearset that uses electric locking of the clutch packs.(4xmotion only)
-Deeper oil pan: The engine oil pan is cast aluminum with a steel bottom. The steel bottom is deeper than other engines that use this engine (those models aren't sold in North America) and has an internal baffle. This makes sure the oil pick up tube stays immersed in oil on steep inclines.


Tow rating: All Touareg TDI come with trailer hitch prep. The 2011 VW Touareg towing capacity is 7,716 lbs. The tongue weight is 616 lbs. Interestingly enough, the tow hitch is rated to 770 lbs by the manufacturer, Westfalia. The lower rating could be some design limitation on VW's end or some room for safety after accounting for how raising or lowering the air suspension changes tongue weight. Here is a non-air suspension 2011 VW Touareg TDI towing a boat. See this forum post for more details on the setup and more pictures.

Panoramic sunroof: This is a 2-piece sunroof that measures 57.2 x 39 inches (1452 x 990 mm). This is 3.5x bigger than the old sunroof and long enough to reach behind the rear seats. The front window tilts or slides over the fixed back window. The electric sunshade closes independently of the sunroof so it can be closed with an open sunroof. Below is a thumbnail (click to enlarge) of the sunroof and a video demo of how it works on a VW Sportwagen (same as Touareg).

Safety: TPMS (tire pressure monitor), ABS, ESP (electronic stabilization program: stability, yaw, and traction control), front, side, and head curtain airbags standard.
Dynaudio: This is the "Dynaudio Confidence" system. The system speakers and equalization are tuned specifically for the Touareg's interior. It's 12 speakers with 620w and 12 channel amp (there are some inconsistencies in VW's official information). The center 2 way channel uses a 50mm tweeter and 100mm midrange. The front doors have a 3 way 60mm tweeter, 100mm midrange, and 200mm woofer. The rears have a 2 way 60mm tweeter and a midrange/bass speaker. This option will show Dynaudio badges on the door speakers and reviews of Dynaudio's past work on VW are all very good. Reference at dynaudio.
Smart keyless access (optional with Executive trim): In addition to keyless entry functions using the key fob, keyless access unlocks the doors when you pull the door handle if you're nearby. Once you enter, it enables the start button without removing the key fob from your pocket. The exterior handle also has a button which locks the doors. This lets you enter and start the car without touching the key.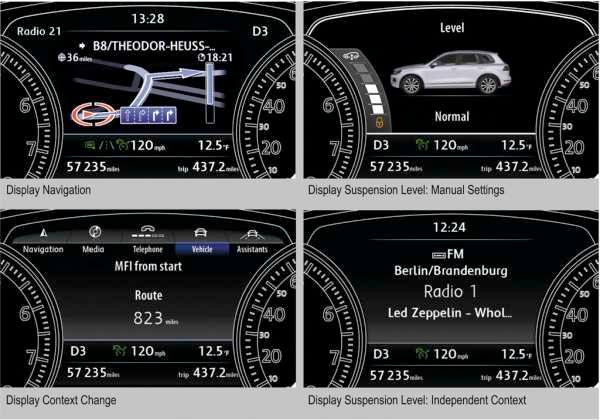 MFSW (multifunction steering wheel): VW restyled the steering wheel for 2011 to look like the rest of the VW lineup. (refer to the below pictures) This lets you control cruise, radio, bluetooth, and the MFI/MFD trip computer (multifunction indicator/display) functions like mpg, fuel range left, odometer, etc. Even if you don't have the leather interior, the steering wheel is leather. With the highline cars (Excelline or Executive) you also get a heated steering wheel.
MFD/MFI/DIS: This is the driver information system. Depending on the model/year/country, VW calls these systems DIS, MFD (multifunction display), MFI (multifunction indicator) but they all refer to the same thing. It's a 7" 15:9 aspect color display. Aside from displaying the stuff controlled by the steering wheel like radio station, it also shows GPS information and lane assist guidance (shows what lane to get in when you get close to the multi-lane junction or turn). Because all North American Touareg TDI have the RNS 850 GPS you'll only see the base MFD, the 5" white/black display in places like Europe. If the car has air suspension, it also displays that info.
RCD 550 radio/CD changer: This is the stock radio on European Touareg and the base Sport trim line. (The 850 was standard on base for 2011). It is a 6.5" touchscreen and integrated 6 cd changer w/mp3/mp4 capability and aux-in. 8 speakers.
RNS 850 GPS system: The RNS 510 GPS system is the stock headunit and GPS system on all North American Touareg for 2011. For 2012, the base car got the 550. It has an 8" touchscreen and also displays car information. Compared to the last RNS 510, its hard drive goes from 30 to 60GB but the music storage strangely goes from 20 to 18GB. You can copy mp3 to the hard drive and rip music directly from audio CD. There are 2 SD card slots and it plays DVD video when stopped. It also have voice control so you can do the entire address in 1 command. You can add a TV tuner or aftermarket DVD-in-motion module. The map now shows terrain, notable buildings, and landmarks in 3-d when in 3-d map mode. This is called the digital terrain model. There is also a 2d map mode. The benefit of touchscreens is that you can display and use much more info in a limited space. The downside is too much light at night = night blindness and the buttons have no tactile feel - you have to look where you're pressing to see where the contextual buttons are. Many functions like radio can be controlled using the steering wheel buttons. As always, the driver's full attention should be on driving! European units have DAB stereo. Below are some demo pics of the system.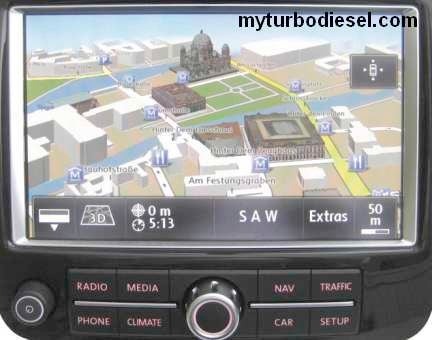 The oil level display is on the RNS 850 if you have a gas engine. It's not yet confirmed but I believe the TDI engine will have a physical dipstick instead of the electronic dipstick.
Backup camera: All VW Touareg for 2011 cars had the backup camera but only the Executive or Excelline have the parktronic ultrasonic parking sensors. The backup guide moves as you turn the wheel. Below is a demo on an older car (same thing except the new screen is larger). This is really handy for hooking up a trailer. The backup camera was removed for 2012.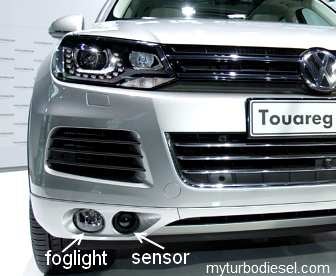 Stuff on European Touareg that isn't coming to North America
Front knee airbags, adaptive headlight beams, V8 TDI engine. Area view parking cameras - this uses four video cameras at each side to give a view of what's around the car. Lane assist (if car is above 40 mph, shakes the steering wheel when you stray out of the lane, the camera is above the rear view mirror). Side assist (blind spot warning indicator on the side view mirror). Adaptive roll compensation (only with air suspension). ACC Adaptive plus Cruise Control - this adjusts the car's speed for traffic up to your maximum set speed. It can even bring the car to a complete stop. Its range is 200 m. US Spec 2011 VW Touareg don't have the 4 "foglights" that Euro cars do because the 2 inner black "foglights" are actually sensors for ACC or self braking (shown right). Comfort seats: these are optional vented seats (they are also heated). The vents are along the seat bottom and back cushions.
All European Touareg except the V8 have battery regeneration mild hybrid capability. This reduces or even decouples the alternator whenever possible and uses it to recharge the batteries during braking. This reduces parasitic engine loss from charging the battery. Start/stop shuts off the engine at traffic lights and restarts it when you take your foot off the pedal. Mild hybrid or and start stop go together because they use a slightly different starter and electrical system and is confirmed to not be on North American Touareg. The transmission also has an electric aux pump to keep ATF pressure up when the engine is off.
2011+ VW Touareg TDI chip tuning and power upgrades
The TDI engine is very responsive to chip tuning. The engine, transmission, and driveline can easily handle the additional power. While the car may feel powerful now, the aditional power is enjoyable since it gives no fuel economy penalty when you're not using the extra power. Power goes up about 40hp and 10-20 torque depending on how aggressive of a tune you want. I suggest KermaTDI because they actively develop TDI tunes and specialize in the TDI market.
...the rest of this content is for our free community members only. If you found anything here useful or would to view the topics below, please join our free community today! The forum post where this article is continued is here.
Using biodiesel in your 2011+ VW Touareg TDI
Delivery inspection
Other misc stuff to know about the Touareg before buying like if you want to use biodiesel and emissions system compatibility
VW quirks/features and other misc stuff to know after taking delivery of 2011 VW Touareg TDI
Can't find your answer on the 2011 VW Touareg TDI? Want to see real world user reviews? Search myturbodiesel.com using the search bar below or ask in the TDI forums