2009 and 2010 VW Touareg TDI forum, buying guide, FAQ, delivery checklist, and review
Introduction
This FAQ shows pricing, explanations and details of standard equipment and options, and review for the 2009 and 2010 Volkswagen Touareg2 TDI (T2 TDI).
This article is specific to the Touareg TDI and is regularly updated as more information comes out. Real world fuel economy reports say 20/28 city/highway range which is excellent for a 5000 lb vehicle with 400+ lb ft of torque. Like many TDI, highway mpg is often slightly better than EPA rated. All VW Touareg TDI 2009-2010 are facelifted first generation T'reg (or just egg). The Touareg was introduced in 2002 and heavily revised for 2008. The 2011 Touareg gets a near total redesign and new chassis. See 1000q: 2011-13 VW Touareg guide for revisions and differences vs. the 2010. The first generation Touareg had a V10 TDI engine option 2004 and 2006-2008 but these are hard to find and still expensive. The "T2" face lifted Touareg raised reliability, road refinement, and the V6 diesel engine has more than enough power while returning good fuel economy. Towing capacity is 7,716 lbs.
Pictured right is a Cranberry metallic Touareg. (paint code LD3X). See below for all the paint codes and color samples.
Why get the 2009-2010 Touareg over the new body style 2011? You have to read both articles to really appreciate all the differences but long story short, the 09-10 is a better off roader. They came standard with 4xmotion in North America while the new 2011 only comes with 4motion with the "x" not available. The car is heavier so while mpg suffers, it's more stable for towing very heavy loads like a car trailer. It also has an all steel suspension whereas the new style has a partial aluminum suspension which handles better but may not be as durable under heavy off road use. Read on for detailed explanations.
---
Pricing matrix for 2010 VW Touareg TDI with MSRP and dealer invoice
There are 4 basic factory installed options packages on the 2010 VW Touareg TDI. You can add any of the 4 packages below to a base car by itself or combine one of the lux packages with one of the technology packages. Detailed explanations and reviews of these are below. The dealer can install options like body kits, all weather floor mats, or the trailer hitch after it leaves the factory. Destination fee of $800 included in the price.
| | | | |
| --- | --- | --- | --- |
| package or option | MSRP in US$ | invoice price in US$ | more info |
| Base model | 44,350 | 40,830 | |
| Lux | 2,600 | 2,296 | see details below |
| Lux limited w/wood or w/metal | 5,100 | 4,504 | see details below |
| Technology | 5,200 | 4,592 | see details below |
| Premium Technology | 6,300 | 5,608 | see details below |
| | | | |
| trailer hitch | 500 | 442 | class III, 7,716 lbs rated |
| all weather floor mats | 140 | 95 | rubber mats instead of carpeted |
| mat package | 390 | | adds plastic trunk mat and side cargo nets |
| trunk mounted 6-cd changer | 110 | 80 | |
| stainless steel pedals | 75 | | brake, accelerator |
| air suspension | 2,750 | 2,429 | special order only, not on vw's site |
Option packages on VW Touareg TDI explained
Base Touareg TDI: The base car has 4x4, 17x7.5" "Maluku" alloy wheels, locking center differential, silver roof rails, rear spoiler, power rear liftgate (opens and closes), and sunroof. The interior has walnut wood trim, "v-tex" leatherette vinyl interior, heated power driver seat with manual heated passenger seat, front and rear park distance control, Siruis sat radio with 6 month subscription, aux-in jack for mp3 player like iphone or ipod (does not control or charge ipod), and multifunction steering wheel. The standard radio is a single disk, 10 speaker, "premium 6" headunit. There is a 6cd changer preparation (wiring ready) in the trunk and the cd changer is extra. It also has auto headlights/wipers, cold weather package (heated front seats and windshield wiper nozzles), dual zone auto climate control (Climatronic), homelink (garage door opener), bluetooth w/voice control.
Lux ($2600): adds Vanova wood trim with cricket leather interior, front power seats, heated steering wheel.
Lux limited w/poplar wood interior ($5,100): adds Poplar wood trim with white/tan leather, 20x9" "Mountain" alloy wheels, front power seats, heated steering wheel, body kit (front + rear bumper lips and side skirts), and chrome tailpipes. Only avail with black magic, galapagos metallic, or campanella white.
Lux limited w/dark engine spin interior: same as above but with dark turned metal interior trim instead of wood. Instead of white/tan leather seats you get white/anthracite (light black) leather. Only avail with sapphire blue.
Technology ($5,200): adds RNS 510 GPS navigation, 300w "delta 6" radio system (8 channel, 11 speaker stereo with 6cd changer in trunk) rear view camera with park distance control, MDI multimedia socket w/ipod adapter (gives ipod control using the radio/steering wheel and charges it), HID, keyless access, color MFD (multifunction display). The tech packages can be added to the lux packages. Below is the color MFD vs. the regular red MFD. The tech package also moves the odometer and small screen on the tachometer into the larger color MFD.


Premium technology ($6,300): adds technology package but with 600w (or 640w) dynaudio stereo. It's a 10 speaker system: 4 tweeters, 2 mid, 4 woofers.

---
Details of major features and options on 2010 Touareg TDI
Bluetooth: The standard OEM bluetooth on the 2009 and 2010 Touareg TDI is 9w3 with voice control. If you have a RNS 510 GPS system it can even display the phonebook, recent calls, or dial pad on the touchscreen display. It will work with the iphone. For more on bluetooth functions and differences between modules, see 1000q: VW bluetooth FAQ.
Xenon HID headlights: Bi-xenon (both low and high beams) are optional. The HID come with AFS II which turn the lights (left right) into corners and adjust the range (up down) by self leveling the headlights. Below left is a demo of AFS II and below right is a demo showing the headlights cornering.


There is also a halogen wide-angle corner light which comes on at lower speeds. This is separate from the HID headlight which swivels at higher speeds.

Air suspension: This replaces the steel spring suspension with an air bag suspension. It is special order only. It uses a hidden air compressor and a knob next to the shifter to inflate or deflate the air bags to adjust the car's height lower or higher. A lower car gives handling advantages while a higher car gives more ground clearance. It also has CDC continuous dampening control which constantly adjusts the air bags within 3 modes. This is nice if you tow. Below is a picture from spearo showing a 6,455 lb trailer with a tongue weight of between 600-775 lbs depending on the ride height setting.


V-tex Leatherette vs. leather: v-tex is vinyl leatherette. If the seat has little perforated holes it's leatherette. If the seat surface is solid it's leather. V-tex is pretty decent and most people wouldn't be able to tell the difference. However, there are some differences: it doesn't breathe as well as leather which is why it needs the holes. It doesn't have any odor whereas leather has a leather smell. V-tex leatherette is more durable than leather because most people don't take care of their leather interior - without regular cleaning and conditioning, leather will dry out and crack. Sun exposure ages leather more. Both get equally hot if you let it sit in the sun. When leatherette moves it feels a little more bouncy than leather.
Keyless access with Engine Start/Stop button (technology package): In addition to keyless entry functions using the key fob, keyless access unlocks the doors when you pull the door handle if you're nearby. Once you enter, it enables the start button without removing the key fob from your pocket. After you exit, you press a button on the exterior handle to lock the door. This lets you enter and start the car without touching the key. There's still a manual lock cylinder and ignition switch even if you have keyless access (aka KESSY).
One quirk of KESSY is that if you leave the car without shutting the engine off, the engine will continue running. If a first driver goes somewhere else with the key, the second driver won't notice that they don't have the key until they try to restart the car (won't start). Also, if the key is inside the car, the doors won't lock from the outside.
Dynaudio: Only on the premium technology package, this is a 10 speaker 600w (or 640w) system. Reviews are very good. You know a Touareg has dynaudio if you see the speaker badges.

iPod cable: The ipod adapter cable is in the glovebox and will also work with an iphone. It connects to the MDI (multimedia device interface) and can be exchanged for an aux-in jack, USB, or mini usb adapter for something like a droid. Unlike older ipod cables which just substitute the cd changer cable for an emulator, the MDI can display track, artist, or playlist information over the MFD and control the ipod from the radio. Newer ipods which use 5v charging will charge off the cable. It only comes as part of the tech package but if you decide to add it later you need both the RNS510 GPS and the MDI to retrofit the iPod adapter. See 1000q: VW ipod, aux in, and mp3 cable adapter compatibility for more details.
If you don't get the tech package you only get an aux-in. This is a 3.5mm jack and will not control or charge the iPod.
On a side note, the rotary knob switch for the glovebox AC duct is visible. When open, it will chill the glovebox.
MFSW (multifunction steering wheel): This lets you control cruise, radio, bluetooth, and the MFD trip computer (multifunction display) functions like mpg, fuel range left, odometer, etc. Even if you don't have the leather interior, the steering wheel is leather.

3.0L turbodiesel TDI engine: The 3.0L V6 engine (code CATA) uses common rail injection and a single turbo. There are 2 intercoolers in the front bumper. For detailed specs and info on this engine, see 1000q: CATA engine FAQ. Its 24 valve (4 valve/cylinder) and makes 225 hp and 406 lb-ft of torque at only 1,750 rpm! Also see 1000q: common rail engine vs. pumpe duse and direct injection for some technical details on the common rail injection system.
The 6 speed conventional automatic transmission gear ratios are listed below.
| | | | | | | | | |
| --- | --- | --- | --- | --- | --- | --- | --- | --- |
| gear | 1 | 2 | 3 | 4 | 5 | 6 | reverse | final |
| ratio | 5.39 | 3.02 | 1.85 | 1.31 | 1 | .8 | 4.89 | 3.27 |
Clean diesel and Adblue fluid: It's advertised as a clean diesel because it meets emissions standards in all 50 states and Canada. You must use VW 507.00 engine oil because it's very low ash and will maximize the life of the diesel particulate filter. The filter self cleans to burn out trapped soot. The filter is why the car is not recommended if you only take very short trips and never go on the highway. The NOx filter also catalyzes NOx using Adblue fluid. See 1000q: DPF filter and Adblue fluid FAQ for more details like safe fluid storage and pricing.. Adblue fluid is a water/urea solution that breaks down NOx emissions into water and CO2. The car gives 3 warnings before you run out of Adblue and once the warning comes up, the MFD screen will only show the warning. If you run out, the car will not restart again after you shut it off. A tank could last up to 10,000 miles but it's suggested to add a few liters every 5,000 miles. Tank capacity is 17 liters.
RNS 510 GPS system: The RNS 510 GPS system has a 30 GB internal HD for music (20 GB) and map data (10 GB) and a video DVD drive (will only play video while vehicle is parked). It also serves as the radio headunit. Interface is touchscreen. For detailed info on the system, see 1000q: RNS 510 VW GPS system FAQ. The Touareg's RNS 510 system trim is slightly wider than the Passat/Tiguan RNS510 systems so it has a different part number. Below are some screenshots - one showing the split screen function (useful if you retrofit it later) and another showing radio function. While touchscreen is nice, there is no tactile feel of buttons so you always have to look at the radio to see where the buttons are. Luckily, the radio can also be controlled by the MFSW (multifunction steering wheel).

Backup camera: the GPS is required because it needs the display. The backup guide moves as you turn the wheel. Below is a demo. The camera is above the license plate and turns on whenever you go into reverse.

4x4/SUV features: 45o climbing rating, traction control (brakes the wheels to gain traction from a stop), 4xmotion permanent all wheel drive, 19.7" fording depth, 8" ground clearance, 7,716 lb towing capacity. The locking center differential is a planetary gearset that uses electric locking of the clutch packs.
-Approach and departure angle: 28o. Breakover angle: 22o. Lateral driving angle: 35o. Static angle and max gradient: 45o.
-Hill descent assist: when you lift off the accelerator and the car is at speeds slower than 12 mph, slopes greater than 20%, and ESP is on, descent assist brakes the good wheels if one wheel loses traction to prevent the car from rolling down faster and speeding up.
-Hill climb assist: this is a hill holder which prevents the car from rolling backwards on a hill after you release the brakes and before you press on the accelerator.
-Deeper oil pan: The engine oil pan is cast aluminum on the top with a steel bottom. The steel bottom is deeper than other engines that use this engine (those models aren't sold in North America) and has an internal baffle. This makes sure the oil pick up tube stays immersed in oil on steep inclines.
-All Canadian and US Touareg TDI have 4xmotion. Other markets may have 4motion (no low range gearing and regular differential)
Tow rating: All Touareg TDI come with trailer hitch prep. A class III receiver and 7 pin connector is optional ($500). The Touareg2's towing capacity is 7,716 lbs. Tongue is 616 lbs. Here is a 4700 lb boat on a 2011 Touareg (next generation 2011 body style but tow specs are the same) TDI without air suspension. See above for a picture of the air suspension. See this forum thread for more information on this setup and more pictures/explanation.

Safety: TPMS (tire pressure monitor), ABS, ESP (electronic stabilization program: stability, yaw, and traction control), front, side, and head curtain airbags standard.

Color choices in plain English and VW Touareg paint color codes
Interior: Pure beige or anthracite (anthracite is lighter than satin black aka., black. In strong light it appears grayish.) If you get lux limited you can have white/tan or white/anthracite seating.
Exterior: (sapphire blue or black magic are only available with lux limited). Cranberry red is pictured at the top of the page.
campenella white (LR9A)- black uni (non metallic, L041), (black magic, LC9Z, is metallic black)

white gold metallic (L47L half tan-gold metallic, similar to wheat beige) - reflex silver (LA7W)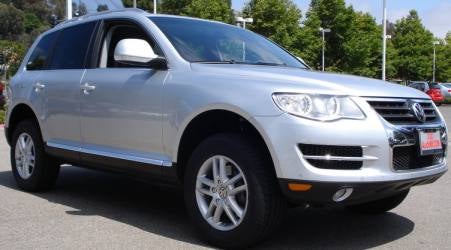 Alaska gray (LR7P) - Galapagos metallic (darker gray LR7M) - Thumbnail picture below of all modern VW paint colors (click to enlarge)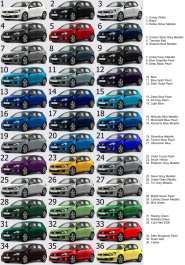 Tax credits and sales tax exemptions with the VW TDI
The Touareg2 TDI has a mpg of 17 city/25 hwy and qualifies for a $575 federal income tax credit until the end of the 2010 which has since passed. The article 1000q: Tax credits and exemptions with the TDI will stay up for reference.
Other features and misc stuff to know before ordering your 2010 VW Touareg
Your dealer can "order" as many cars as they want but they are only allocated a certain number of cars to sell. Whenever the new TDI come out this always happens. However, if you wait until the end of the year there are always good deals to be found.
The coming home and leaving home setting turns on the headlights and interior lights when you lock or unlock the car.
The rest button on the center stack recirculates engine coolant to keep the cabin heater supplied with warm engine coolant. This lets you keep the cabin warm after the engine is shut off until the coolant is cooled down. It runs down the battery so if your battery isn't holding a charge it could cause a dead battery.
If you have memory seats, if the side mirror switch is set to passenger, the passenger side mirror tilts down when you shift into reverse. This lets you see the curb better. They can also fold in for clearance.
There are puddle lights under the side mirrors that illuminate the ground near the doors.
The rear view mirror has red LED ambient lights on the bottom that point down at the radio.
There are 6 power outlets: 2 in the front console, 1 on the rear center, and 3 in the rear. The rear has one household inverter plug (115V) and two 12V (cig lighter outlet) plugs.

The auto headlights and wipers work off a rain/light sensor in the rear view mirror base that looks out at the windshield. If your car has auto headlights you know you have auto wipers as well.

Homelink lets you program 3 remotes. It does work with rolling code remotes. It's in the overhead console. There is also a compass and clock there. Consumer reports complained that the sunroof doesn't open all the way - it does but it has 2 "fully open" positions. You can partially open the sunroof using the dial but when you dial the switch to the last dot, the sunroof still has a lip visible. This is to quiet the car due to wind buffeting. Turn the dial beyond the last dot and the sunroof will open fully.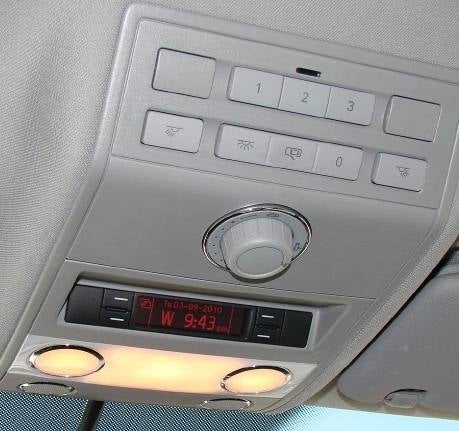 Our free community members can see many more features and quirks in the buying guide, part 2. Everything here is free, just join us and register to view.
Biodiesel in the 2009-2010 VW Touareg TDI
The 3.0L TDI CATA engine will run on biodiesel but VW's official limit is a maximum of 5% biodiesel (B5). The concern vs. older TDI engines is the emissions system and engine oil dilution. The exhaust traps particulates in a diesel particulate filter (DPF) and burns them out in a self clean cycle (post combustion injection). During a post combustion injection cycle, the engine injects a little extra fuel after the engine combustion cycle. The concern is that some biodiesel will get into the engine oil and dilute it. Petrol diesel evaporates easily out of the engine oil but biodiesel tends to accumulate. A little biodiesel can be easily tolerated but the long term effects aren't known on the new common rail TDI engines. Poor quality biodiesel could also shorten the life of the filter. For more basic information about biodiesel and VW, see 1000q: intro to biodiesel. For details of the emissions system, read 1000q: DPF filter and Adblue fluid FAQ.
Some states like Illinois have biofuel mandates so if your TDI is regisered in Illinois VW will allow up to B20 (20% biodiesel). See the thumbnail to the right for the letter sent out Feb 2013 to TDI owners.
Power upgrades like a chip tune for VW Touareg TDI
The TDI engine is very responsive to chip tuning. The engine, transmission, and driveline can easily handle the additional power. While the car may feel powerful now, the aditional power is enjoyable since it gives no fuel economy penalty when you're not using the extra power. Power goes up about 40hp and 10-20 torque depending on how aggressive of a tune you want. I suggest KermaTDI because they actively develop TDI tunes and specialize in the TDI market.
Complaints and common problems with the 2009-2010 VW Touareg TDI
No in-dash CD changer. The CD changer is in the trunk. There's an MDI ipod connection in the glovebox but many people still use CDs.
One person complained that the center armrest was loose enough to rattle when going over bumps.
The space saver spare tire.
As shown in 1000q: Adblue and DPF FAQ, the adblue fill port is inconveniently placed under the spare tire. The tank should be topped off every 5-7,000 miles (conservatively) which requires you to lift out the spare tire. Other cars like the Mercedes have a special port. The BMWs usually have the adblue fill port on the side of the rear bumper. The Audi Q7 port is next to the fuel filler opening. Even though they use the same basic chassis, the Q7 is longer which lets them place the port there. The 2011 Touareg has a different spare tire with wider spokes so it's possible to fit the bottle through the spokes and fill the tank without removing the tire. You would still have to reach through the spokes to remove the cap.

---
Delivery inspection
The biggest complaint of the delivery process is.....
...the rest of this article is in our members only section. Please join our free TDI community to continue reading. All for free!
Can't find your answer on the 2009-2010 VW Touareg TDI? Want to see real world user reviews? Search myturbodiesel.com using the search bar below or ask in the TDI forums