2009-2015 Audi Q7 TDI forum, FAQ, and features explained - page 2
3.0L turbodiesel TDI engine: The engine makes 225 horsepower/406 lb-ft engine. The amazing thing is that it generates that peak torque at only 1,750 engine rpm. This means that even at low engine rpm, the TDI engine is making peak torque. Most gas engines make their peak power at high engine rpm. US engines get engine model "CATA". This is a 24 valve single turbo engine V6. For detailed specs on this engine, see 1000q: CATA engine FAQ. Also see 1000q: common rail engine vs. pumpe duse and direct injection for some technical details on the common rail injection system. A dyno chart showing wheel horsepower and torque is shown right. If drivetrain losses are a conservative 20%, power at the engine for the test engine under those test conditions was actually around 250 hp and 450 lb-ft.
For 2010, European Audi Q7 TDI get an all new 3.0L engine. Other than a total 240 hp, The engine is 55 lbs lighter and reduces the 4 timing chains down to 2 which should increase reliability. The engine is UV laser and plate honed which reduced piston ring friction. The engine intake manifold flaps were also changed and the turbo got lower friction bearings. One state of the art feature is an electric water pump with separate cooling circuits for the engine head and block and an oil cooler bypass. This helps engine warm up times which reduces emissions and increases fuel economy. All European engines also come with start/stop. Combined with the 8 speed transmission, it reduces fuel consumption by 19% in the Euro test cycle (31.8 mpg average) vs. the old engine w/6 speed transmission.
For 2013, North American Q7 TDI get the new engine. US fuel rating is 19/28 mpg city/highway.
The Audi Q7 TDI diesel particulate filter and Adblue diesel exhaust fluid: The TDI uses a diesel specific emissions system which requires an exhaust fluid refill every 10,000 miles. No, this is not a joke like turn signal fluid. The emissions system catches particulates in a filter (DPF) and burns the particulates out during a DPF self clean cycle. NOx emissions are greater in a diesel partially due to running very lean (more air than fuel). To meet emissions, there's an Adblue fluid injector that sprays Adblue (urea solution) to reduce NOx into water and CO2. For detailed pictures and description of the system and other handy info like Adblue part numbers and handling safety, see 1000q: DPF filter and Adblue fluid FAQ.
Some Audi dealers actually sell Adblue fluid at a reasonable price (around $14/2.5 gal) but you'll still find it cheaper at any truckstop. 1,400 miles before you run out of fluid, the instrument cluster shows the first of 3 warnings. If you run out you can't restart the engine once you shut it off. This is to ensure emissions compliance. Each Adblue tank should last 10,000 miles so just top it off when you have the oil changed. Below is a picture of the refill port. You open it with the lug bolt wrench.

6 vs. 8 speed transmission. From 2009-2010, the Q7 had the 6 speed tiptronic automatic. This is a conventional automatic transmission with tiptronic, the ability to change gears using the shifter lever. From 2011, all Q7 use an 8 speed tiptronic automatic made in Japan by Aisin. The 8 speed transmission's top two gears are double overdrives - this means they are used on the highway to put the engine at a lower engine rpm. If you wish to find the engine rpm at a given speed, enter the gear ratios below with your tire size in 1000q: wheel, tire, and gearing calculator. The transmission is rated for up to 627 lb-ft of torque so there's plenty of room in the transmission for a power chip tune in your Audi Q7 TDI.
| | | | | | | | | | |
| --- | --- | --- | --- | --- | --- | --- | --- | --- | --- |
| gear | 1 | 2 | 3 | 4 | 5 | 6 | 7 | 8 | final |
| ratio | 4.97 | 2.84 | 1.864 | 1.437 | 1.21 | 1 | .825 | .686 | 3.273 |
Tow rating: All Q7 TDI come with trailer hitch prep. The standard towing capacity is 5,500 lbs and 550 lbs of tongue weight. The tow package increases this to 6,600/660 lbs and you get a bigger radiator.
Yakima base roof bars will not work with the sunroof. Thule fit. The factory base bars are relatively tall but will let you use practically any attachments.
Adaptive cruise control (optional on Prestige): This uses radar sensors to monitor the distance of the cars in front. In the Q7, it will slow down the car all the way to a full stop if the minimum safe distance is not met and will increase speed up to your set speed if it's clear. You can adjust the following distance between 1-5 which is more like seconds because it varies according to speed. Below is an actual demo (shown on A4, Q7 may be slightly different) and Audi's explanation video. This is a well liked option but it requires trust in the system. It will not apply full braking force or detect parked cars/objects in the road.

Front and rear foglights: Front foglights are self explanatory but I wanted to explain what rear foglights are. Rear fogs are often found on European cars because I guess Europe gets really foggy. It's a bright red light in the taillight that increases your visibility to the cars behind you. WARNING: Make sure the rear foglights are off except in low visibility conditions. It's extremely annoying to drive behind a car that has rear fogs on in clear conditions because the red light is so bright! It's distracting and degrades other people's night vision. Do not leave them on in clear conditions because they create a hazard to cars behind you.
Audi advanced key (on prestige only): If the key is near the car when you pull on the door handle, it unlocks the doors and activates the engine start button. This lets you enter and start the car without removing the key fob from your pocket. The exterior handle has a button which locks the doors or you can use the key fob. This lets you enter and start the car without touching the key. Below is Audi's explanation.

Audi side assist (on prestige): This is a blinker in the side view mirror which detects cars in your blind spot or fast moving cars up to 150 ft (only if you're moving faster than 19 mph). Caution - this uses K band radar sensors in the rear bumpers to work and will set off your or other radar detector that look for pop or K band frequency. The V1 Valentine seems to be worst but it has a pop radar disable function.

Park assist: The standard base parking assist system beeps when you are backing up and get close to another car. With plus or prestige, you also get a rear view backup camera and front parking sensors. Below is a demo of the backup camera and how to use it. The guide lines move as you turn the wheel.

Panoramic sunroof: This is actually 3 sunroof panels: the front sunroof is extra long and can slide back 19". Both the front and rear panels can tilt. It's standard on Plus and Prestige but you can delete it at no cost when ordering (does not reduce the price of the package). Below is a demo. I believe that it's a separate option in Canada.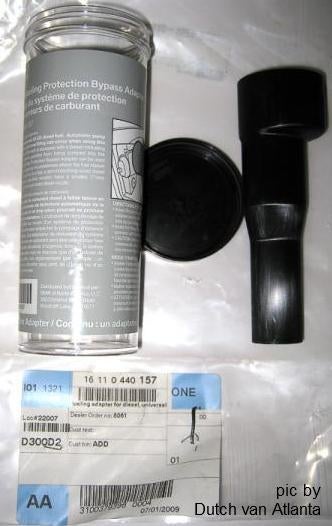 Minor features explained and other misc stuff to know before ordering
The fuel tank opening has a misfueling restrictor. Pelican parts sells a BMW part number (16.11.0.440.157) misfueling adapter that will work on your car for nonstandard or truck sized fuel pump nozzles. It comes with a pair of rubber gloves. Many thanks to user Dutch van Atlanta for the picture and the tip!
I carry paper towels in the car when handling the diesel fuel pump. If there's diesel fuel on the handle it will make your hand smell. Diesel fuel is an oil so it doesn't evaporate as quickly as gasoline (solvent). I always use a paper towel when fueling gasoline too because I don't like the odors that are on them either.
Your dealer can "order" as many cars as they want but they are only allocated a certain number of cars to sell. This is a problem with TDI since they're normally in high demand.
The running boards are footsteps along the sides of the car. The jack that comes with the car will not fit if you have the OEM running boards. This could also be a problem if you're planning to install aftermarket running boards. (thanks to kristatos for the tip!)
All Audi Q7 come with quattro AWD. The normal power split F/R is 40/60 but it can change according to conditions up to a maximum of 65% front and 85% rear.
The option for 21" wheels makes it difficult to drive in the snow and will limit your options on tires. (thanks to arU4ic for the tip!)
The auto wipers work off a rain/light sensor in the rear view mirror base that looks out at the windshield. The auto dimming rear mirrors work off a light sensor in the central rear view mirror.
The Q7 has 6 windshield washer nozzle jets.
If the side mirror switch is set to passenger, the passenger side mirror tilts down when you shift into reverse. This lets you see the curb better. They can also fold in for clearance. There are also puddle lights under the side mirrors that illuminate the ground near the doors.
Homelink lets you program 3 remotes. It does work with rolling code remotes. You may notice the two lights in the overhead console that point at the radio and are always on - this is ambient lighting.
The optional Alcantara headliner is shown below left (I believe it was discontinued for 2011 for North America). Alcanata is a synthetic suede and covers the side pillars, sunvisors, and the roof liner all the way to the rear. The standard cloth headliner and overhead console is shown below right.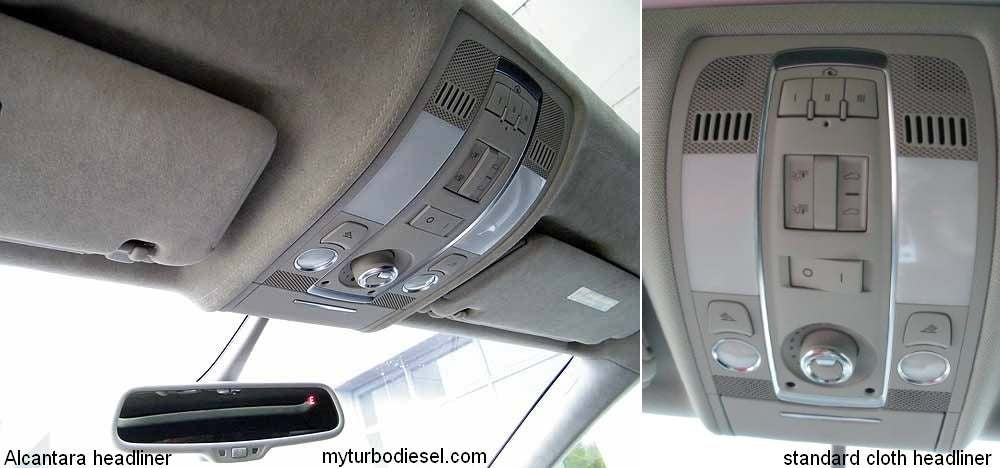 Comparison to VW Touareg TDI, BMW xDrive35d (X5 diesel), Mercedes ML 350 Bluetec, or GL 350 Bluetec
Here is a quick comparison table of current diesel SUV for sale. The Audi Q7 is unique in that the base car is 7 passenger and still well equipped but it's heavy. The Touareg has the most off-road capability (when equipped with 4xmotion otherwise the standard 4motion is the same as Audi Quattro) and tow rating but adding options like Excelline trim level and the air suspension makes it as expensive as a base Mercedes GL 350.
Audi Q7 TDI
VW Touareg TDI
BMW X5
ML 350
GL 350
approx. price range US$
51-73,000
44-64,000
52-63,000
50-65,000
60-75,000
engine (all V6 diesel)
225hp/406 lb-ft
225hp/406 lb-ft
265hp/425 lb-ft
210hp/400 lb-ft
210hp/400 lb-ft
EPA mpg
17/25
19/28
19/26
18/25
17/21
curb weight lbs (kg)
5,567 (2,525)
4793 (2174)
5,192
4,974
5,423
c/d drag w/std sus.
.37
.35
.35
?
N/A
c/d drag w/air sus.
.34-.37
?less than .35
N/A
?
?
seat rows/seats
3/7
2/5
3/7 (3rd row optnl)
2/5
3/7
length in. (mm)
200 (5089)
187.2 (4754)
191
188
200
width in. (mm)
86 (2177)
75.9 (1928)
76.1
83.7
83.7
ground clearance in (mm)
9.4 (240)
6.3-8.3 (212)
?
?
?
max luggage cap. cu ft (L)
71.87 (2035)
58 (1642)
72.5
72
83.3
F/R brake rotor size
13.8"/13"
330x32/330x28
?
13"/13"
14.7"/13"
F/R brake caliper
6 piston/4 piston
?
?
?
2/1
seating/power?
standard leather/front power
leatherette on base,
optnl leather/optnl power
leatherette on base,
optnl leather/optnl power
leatherette on base,
optnl leather/optnl power
leatherette on base,
optnl leather/optnl power
maintenance
optional
3yr/36k mi. inc
inc.
optional
optional
tow/with tow pack
5,500/6,600
7,716
6,500
7,200 Class III
7,500 Class IV
emissions
Adblue
Adblue
Adblue
Adblue
Adblue
.
.
.
.
.
.
transmission
8 speed transmission
8 speed transmission
6 speed transmission
7 speed transmission
7 speed transmission
sunroof
pano sunroof
pano sunroof
pano sunroof
reg. sunroof
reg. sunroof
nice feature
std. power tailgate, optnl air suspension
optnl power tailgate, optnl air suspension
optnl power tailgate
optnl power tailgate
trailer sway assist, std. air suspension
premium stereo
bang olufson/1000w
Dynaudio/620w
16 spkr/600w
H/K stereo
H/K stereo
systems interface
MMI
RNS850 GPS
iDrive
COMAND
lighting
LED running lights, turn signals, taillights
LED running/taillights
"Corona" headlight light rings
LED running/taillights
LED running/taillight
Using biodiesel in your Audi Q7 TDI
The 3.0L TDI CATA engine will run on biodiesel but Audi's official limit is a maximum of 5% biodiesel (B5). The concern is......
......The rest of this article is for our free forum members and can be viewed here. Please join our free community today to see the following topics:
Power upgrades like an Audi Q7 TDI chip
What kind of chip tunes are there for the Audi Q7 TDI?
Tax credits and sales tax exemptions with the Audi Q7 TDI
These expired Dec 31, 2010
Audi Q7 TDI video reviews
What to cover in the car delivery inspection
The engine oil technical service bulletin
Only use one spec oil if you have a DPF TDI.
Can't find your answer on the 2009-2011 Audi Q7 TDI? Want to see real world user reviews? Search myturbodiesel.com using the search bar below or ask in the TDI forums