Removing wax stains from the car trim
Difficulty: 1/5
back to 1000q: car detailing index
Introduction
This shows how to remove white wax stains from the black trim on your car
If you regularly wash and wax your car, you have probably gotten some wax or polish on the trim. Once it bakes in the sun, it will set into the trim and cause a white stain. Good detailing is all in the details, so restoring the trim will make a big improvement in the appearance of your car. The below picture is an example of trim that has been half restored. This cannot be achieved by just washing or scrubbing the trim. To prevent wax stains in the first place, wipe off wax if it gets on trim or tape ff the trim before polishing/waxing.
As trim ages, I've noticed that it gets dried out and the micro scratches cause trim to become more susceptible to wax stains. If it's really bad, replacing the trim with brand new trim will make a big difference in the appearance of the car. Below is an example of white wax stains on trim and an "after" of restoring the trim to black.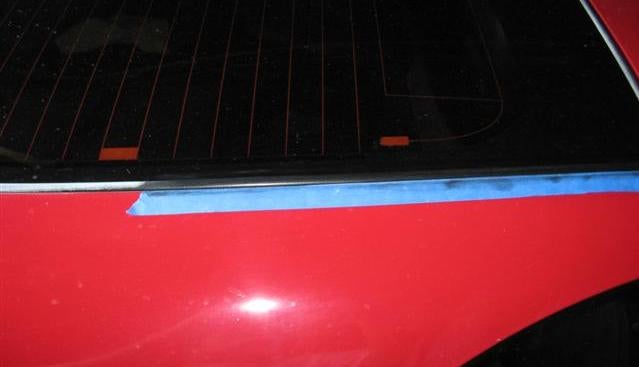 Parts
paper towels
wax remover - gr-40 from topoftheline works well (I haven't tried wax blaster or peanut butter as wax remover but I hear it works - the oils soften the wax. 3M also sells adhesive and wax remover for cars.)

painter's tape
black restore or black forever (optional)
Procedure
Tape off all the paint next to the trim. Do not skip this step, you don't want the black dye to get onto the paint!
Clean the trim with wax remover and a paper towel. Repeat as necessary.
Let dry and see if it's dark enough. If you want it darker, apply black restore or black forever. Because you taped off the paint, it lets you apply the black color safely to the edges of the trim.
Let dry and remove the tape. Let the black color set in and well after it sets, you can wipe down the trim with a paper towel to remove any black color that didn't adhere properly.
Before - the soft rubber trim here was vulnerable to wax stains because it gets baked by the sun.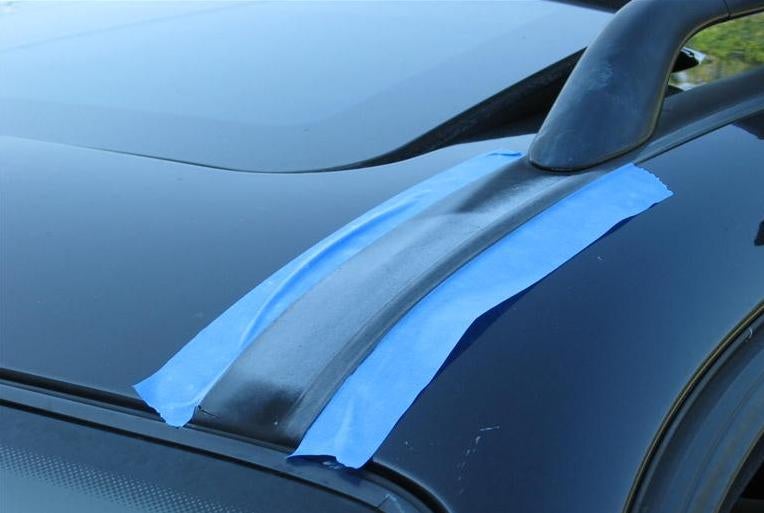 After - not 100%, but much better. Since the trim is on the top of the car it gets the most sun exposure and is weather worn. Additional coats of black applied later can helped.