RNS 315 GPS radio navigation system FAQ - head unit and comparison to RNS 510 GPS and the stock RCD radio
back to 1000q: mk5 FAQ and "how to" list
back to 1000q: mk6 Golf-Jetta DIY index

Introduction
The RNS315 head unit is the optional color touchscreen GPS navigation system for Volkswagen Golf TDI and VW Jetta TDI
This article compares features of the RNS 315 vs. RNS 510 navigation systems with the stock RCD 510 6 CD changer radio standard on TDI. If you buy a Golf, Jetta, Sportwagen, Tiguan, or Passat without it, you can also retrofit the RNS315 or RNS510 after you buy the car by buying it as a part and swapping the radio out. The part numbers for the RNS315 are VW# 3c0 035 279 or VW# 1k0 035 274 a. For more info on the RNS 510 system, see 1000q: RNS 510 FAQ. The RNS510 used to be optional on Jetta-Golf but it's now found only on Passat, CC, or Tiguan with higher trim levels.
The biggest reason for the change was price - as a standalone option, the RNS-315 (option code p71" navigation system") costs about $600 instead of about $1800 MSRP for the RNS 510. As of this writing, it's only available as part of the navigation or tech package, depending on the model. See 1000q: VW Sportwagen buying guide, 1000q: mk6 VW Jetta TDI sedan buying guide, or 1000q: 2012+ VW Passat buying guide for more info on the cars like details of the packages and trim.
You do get less features vs. the RNS510 for paying less but the navigation system works well, the menus are stylish, and it works well overall. The interface is also faster than the RNS510. The knob interface and menu designs are the same as Audi's RNS-E interface but with a smaller, lower resolution screen. I personally prefer the interface vs. the 510 because the knob and two contextual buttons next to it greatly reduces the number of touch screen presses. The disadvantage of a touch screen is that you have to always look where you're pressing. My one complaint with the display is that it should be the same size as the standard premium 8 radio, not smaller. The Audi A3 TDI system has the knob interface w/5" high resolution screen but it uses a DVD for map data instead of a hard drive or flash memory.
Another difference is that the RNS510 uses a hard drive for map data. The 315 uses SD cards to load new map data onto 4gb of internal flash memory. Disclaimer: do not illegally buy, sell, or copy any copyrighted licensed map data! After loading an SD card with map data, the copy protection will permanently assign that SD card to that head unit. It can only load 1 region of map data at a time. For example, it can load North America but not Europe at the same time. The maps are loaded at the factory but you can now buy map updates from Navteq. Warning - if you buy it as a new part (not with your car), make sure it has a map loaded, otherwise it'll be another $200 to buy the map data!
Note - the RNS315 radio navigation will work fine in all mk5-mk6. However, the MFD and steering wheel controls will not work on early mk5 red instrument cluster cars because they use DDP communications. This isn't a factor if you have a base car without MFSW or a highline MFD. Because the RNS315 was only equipped on cars with the white instrument cluster, only the white mk6 type display will guarantee that the MFD and steering wheel buttons will work with it because the RNS 315 uses BAP communications. The demo video below shows it being used in my 2006 Jetta - it works fine except for the instrument cluster display and steering wheel buttons. The 2009 Jetta TDI appears to be the exception - the MFSW will work with the RNS 315 even though it has a red display (confirmed with video on a 2/2009 build car, thanks for the tip bzhpedro!)

The stock radio has some value because non TDI have the RCD 310 base radio standard and you can sell it to them. The main reason over getting an OEM VW GPS vs. a handheld GPS is because it displays directions on the instrument cluster multifunction display (full screen MFD+ or MFI only) and speaks over the stereo speakers. It can play mp3 on the stereo while you use the GPS function. The screen is also bigger than most handheld GPS and there are no wires or mounts hanging off it. It goes into night mode (can disable this) when you turn on the headlights instead of being calculated with a handheld GPS like a Garmin or Tomtom. Another advantage is that the OEM bluetooth module will display things like voice mail button, missed calls, phonebook, and keypad on the screen. See 1000q: OEM bluetooth FAQ for more info and comparisons between the different modules available. If you currently don't have a bluetooth module you can activate the internal bluetooth module to get this feature (you have to wire in the microphone).
Below is my review showing the features on the US-Canadian spec RNS 315. Below that is another review by VW Mico.
Common complaints with the RNS 315 GPS
-One lost feature vs. the RNS510 is map panning using the touchscreen. You can still zoom in-out using the knob.
-No HD radio as of 2012. The RNS510 and RCD510 radio have HD radio.
-Phone, GPS, and radio all have different volume settings and it can be confusing which one you're adjusting.
-Early specs and the brochure said that the RNS315 does sirius traffic but this is not the case. The 315 does not have sirius navtraffic capability whereas the RNS510 does.
-Points of interest are visible even if they're behind your current position and the phone can't directly dial the POI from the POI details screen.
-The guidance voice says to follow road straight but it doesn't say how far (it's visible in the MFD nav screen)
-More details on these can be found in this forum post, feel free to add or make a counterpoint and your comment may be added to this article.
Here's a table with the differences and comparison of OEM VW GPS navigation systems with the standard RCD 510 radio in the TDI.
RNS 310 GPS (Europe)
RNS-315 GPS (North America, ?=guess)
RNS 510 GPS navigation system
RCD 510 radio
screen size (inches)
5" touchscreen
5" touchscreen
6.5" touchscreen 16:9
6.5" touchscreen
resolution (pixels)
400 x 240
400 x 240
800 x 480
400 x 240
cd/dvd
single cd
single cd
single CD/DVD
6 cd changer in dash
plays video DVD
no
no
yes
no
SD card slot?
yes
yes
yes
yes
internal data storage?
no
4gb flash memory
SD cards and
<2011: 30 GB hard drive (10GB nav, 20GB music)
>2011: 45 GB hd (15 nav, 25 music)
no
iPod interface
internal aux and MDI compatible
internal aux input and MDI compatible
aux input and MDI compatible
MDI interface, external aux
bluetooth call from phone book on the screen?
unknown
yes, internal bluetooth and external compatible
yes, when equipped with high bluetooth
Europe yes, North America yes after late 2012.
mp3 compatible
yes
yes, WMA, AAC, Ogg Vorbis
yes, WMA (not copy protected)
yes
HD radio support
N/A in Europe
no
yes
<2012 yes
>2012 no
can you retrofit backup camera
yes
yes
yes
no
satellite radio
not same in Europe
siruis
siruis
sirius
amplifier power
4x 20 watt
4x 20 watt
4x 20 watt
4x 20 watt
displays information on the instrument cluster
if you have highline cluster
if you have highline cluster
if you have highline cluster
if you have highline cluster
GPS 3d and bird's eye view
yes, both
yes, both
yes, both
N/A since it's a radio
split screen GPS?
no
no
yes
N/A - radio
made by:
Blaupunkt
Technisat
VDO Continental
Delphi
Euro unit is made by Blaupunkt
A highline MFD+ is a full screen MultiFunction Display. All TDI 2009-2010 have it, after that, only Jetta don't have it. If you have a gasser and don't have the highline cluster, you must add one or else the GPS won't display information on MFD+. The half screen MFD cannot display nav information on it.


"Text+turn arrow" navigation instructions and song/artist name or radio station are displayed on the Multi Function Display (MFD+) on the instrument cluster as well as on the main display. An example is shown below (new cars have white/black displays). The display brightness and colors also automatically go into "night" mode when you turn on the headlights vs. calculating it from GPS location and time as with some aftermarket navigation systems.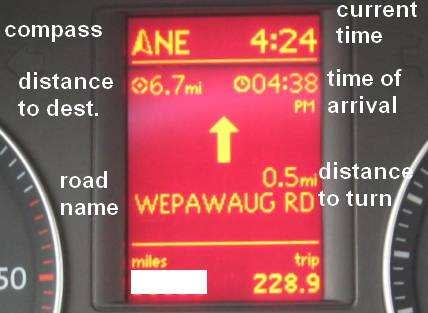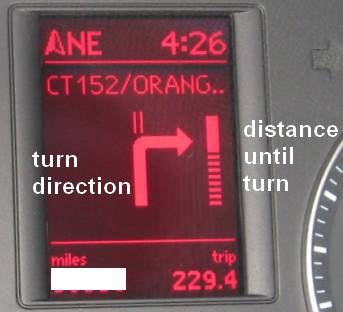 If you buy one for retrofit, make sure to buy a North American one since Euro head units don't have the same AM or satellite radio signals. If you don't get the security code you bought a nice paperweight. All Euro add-on accessories should work. Note that the Jetta Sportwagen is called the Golf Wagon in Canada and Golf Variant or Golf Estate in Europe.
How to retrofit, swap, and DIY install procedure for the RNS 315 GPS
You can retrofit the RNS 315 or 510 GPS to your VW after buying the car. The wiring is 100% compatible with 2010 and later models. If you have a 2009 or earlier model, see 1000q: mk5-mk6 style radio conversion on the required wire adapter. If your car currently has the compass in the instrument cluster display it has a compass module that must be unplugged and coded out of the CAN BUS. The reason why is because it would otherwise get 2 navigation signals (one from module, one from head unit) and get confused. This is what the compass module looks like: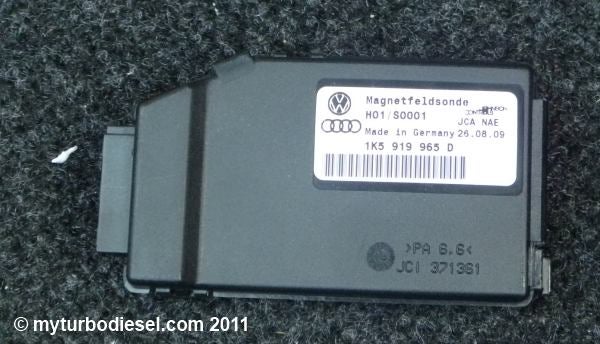 See the below videos for the procedure in a mk6 Golf. See the above link for earlier cars.


On the mk5 Jetta, the compass module is above the roof of the trunk. Remove the 10mm nut and slide it out. Unplug it. Click the thumbnails to enlarge.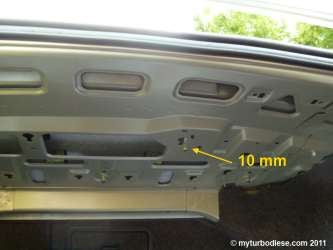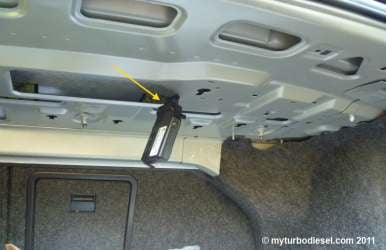 For all models, the necessary coding is through the CAN BUS module. Plug in your cable and start the VCDS software and go to CAN BUS. Click the checkbox for Navigation and uncheck the box for Position Sensing. Save and Exit.
The part numbers for the North American RNS315 are: VW# 3c0 035 279 (3c0 035 279) or VW# 1k0 035 274 a (1k0 035274a) (includes the note: to be used for 1k0 035 274, not sure what that means). The part numbers for the Euro head unit should be different. If you decide you like the RNS-510 navigation more, see 1000q: RNS 510 system for more details on that.
The new parts cost is around $1800 retail. The reason why it's only a $590 option is because you don't get the stock radio and because retail is always much higher. The street price is roughly $800 if you buy it as a take off part. Caution: when you buy it as a new part from the dealer, it does not come with maps! The maps cost about $200 more. If it's a take off part it will have maps loaded from the factory.
If you have a 2005.5-2009 model, you have to use a radio antenna adapter and satellite radio extension cable. The GPS antenna can be hidden under the front-central air vent. If you have a 2010 or newer model, it's plug play with the GPS antenna. You do have to tell the car computer that you added the unit though and disable the existing compass module.
As a reminder, the 2005.5-09 use DDP communications so the 315 won't work with the highline MFD or MFSW. The 315 uses BAP communications so you must have a white display instrument cluster 2010 or newer for it to work as factory. If you don't have the highline steerint wheel or display it's a moot point and the head unit itself will still work fine as shown in my demo video.
RNS 315 pinout
Below are the pin out and diagram showing the back of the RNS 315. The green plug is for the Sat radio, the white dual plug is AM/FM, and the blue plug is for the GPS antenna. If you are retrofitting it into a 2009 or earlier radio, see the link above for the required radio antenna adapter.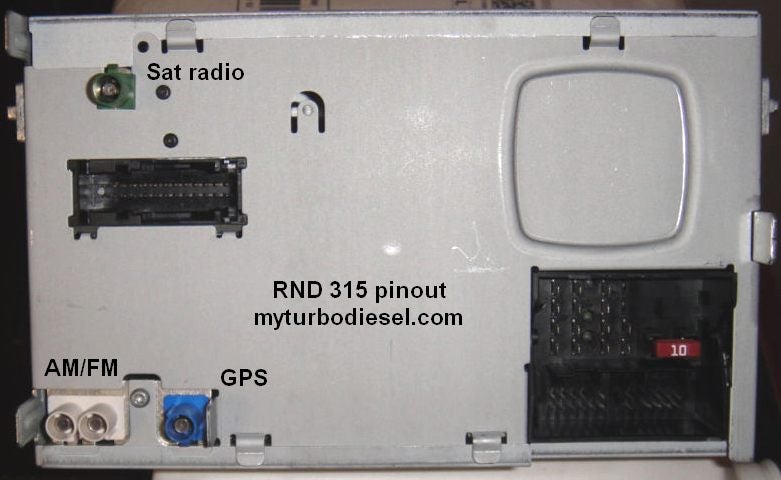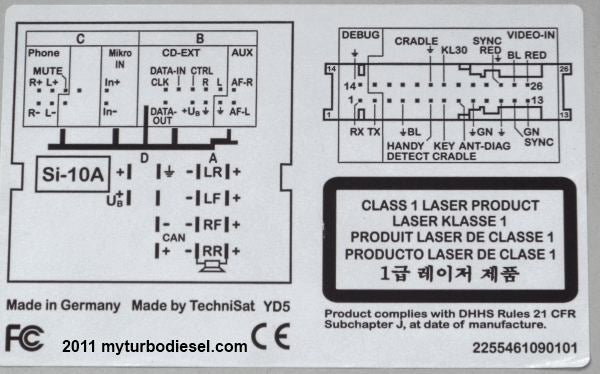 ---
RNS-315 GPS system specs:
Make sure you get the security code or else you bought a paperweight!
Manufactured by TechniSat
screen resolution: 400 x 240 pixels
3.5mm aux input on the front
SD card slot for playing mp3s or loading new map data
internal flash memory for GPS map data (about 4 GB)
GPS Navigation specs:
day color/lighting switches to "night" color/lighting with headlights on
ability to play music and use GPS at the same time
map and 3d view
point of interest and address book navigation
RNS-315 part numbers:
VW# 3c0 035 279 (3c0035279)
VW# 1k0 035 274 (1k0035274)
Manufacturer's product spec sheet (.pdf file)
NOTE: revision a (the part number ends in "a") plays bluetooth audio but has no control from the headunit or song info. Revision d (part number ends in "d") has more control with bluetooth audio. Below is a picture from user soulbarn showing the part number sticker with revision suffix.


VCDS Coding options for RNS-315 GPS
The first few bytes are self explanitory.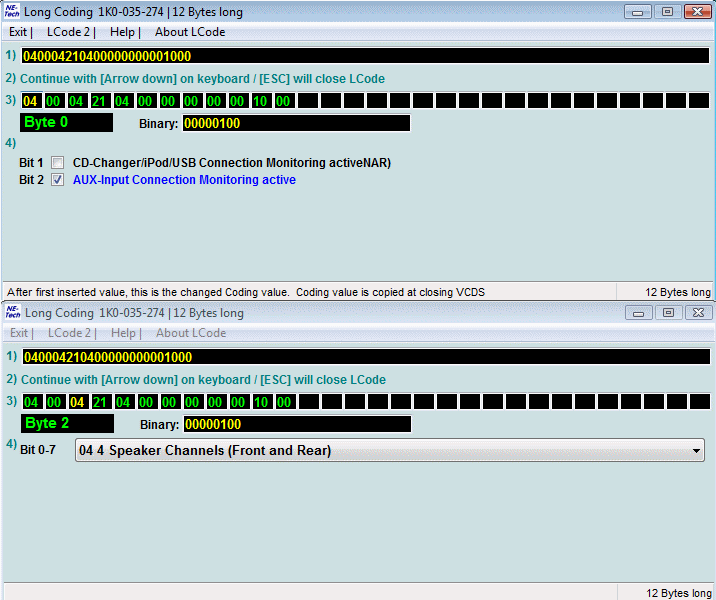 Byte 3 has the coding option for the internal bluetooth module and rear view camera. If your car already has bluetooth, the internal bluetooth should be inactive. If your car doesn't and you want to activate it, you still need to add a microphone.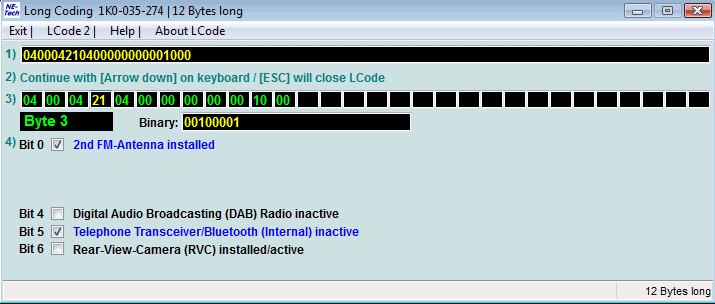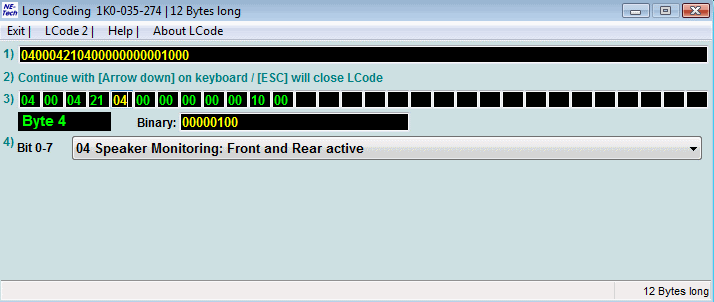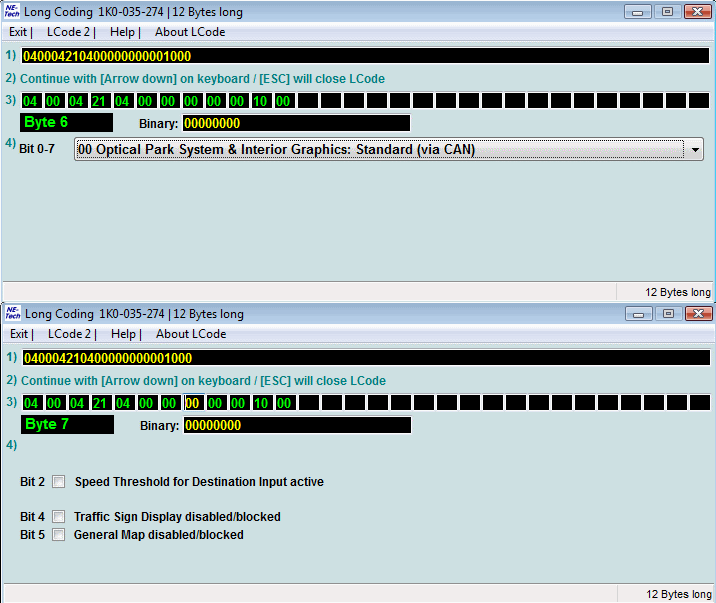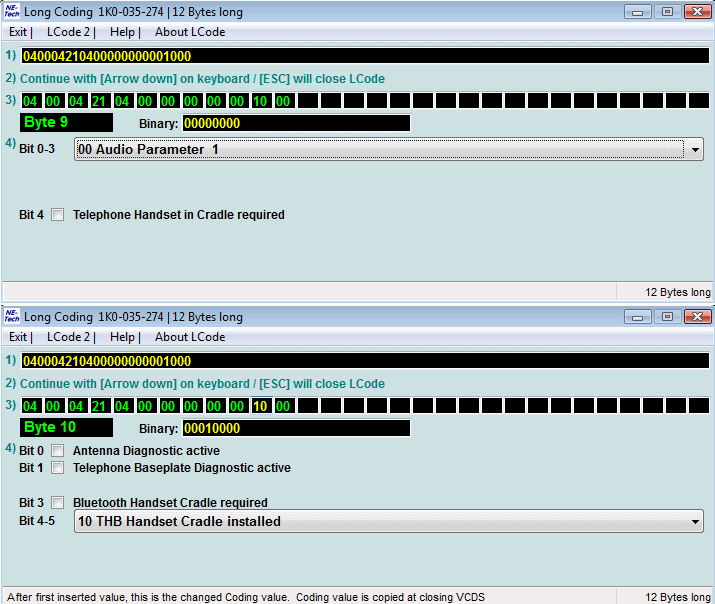 ---
Related links:
1000q: 2010-12 VW Golf TDI FAQ and buying checklist
1000q: 2009-2012 VW Sportwagen (Jetta or Golf wagon) TDI buying checklist
1000q: 2009-2010 mk5 VW Jetta TDI buying guide
1000q: 2011-2012 new mk6 VW Jetta TDI buying guide

Find more info: