2009-14 VW Sportwagen TDI buying guide-Page 2
back to page 1 with features explained and year by year differences, 2009-2012
Pricing for 2011 VW Jetta sportwagen station wagon TDI in US (Canada below)
Add $770 destination to car price (mandatory) (prices for US only)

VW changed the ordering process. There are now 2 packages that you can add to a base car: [pano sunroof and 17" alloy wheels] or [pano sunroof, 17" alloys, RNS 315 GPS, MDI ipod cable]. All cars now have full featured 9w7 bluetooth with voice control, phonebook, and more.
MSRP
invoice price
notes
2011 sportwagen VW Jetta TDI manual
$24,730
$?
2011 VW Jetta TDI sportwagen DSG
$25,830
$?
DSG is automatic, see 1000q: DSG FAQ for more details
Packages
sunroof + 17" alloy wheels
1,750
?
option code p75
sunroof+17" alloys, GPS, ipod cable
2,550
?
option code p72
rear lower side airbags
350
310
option code 4x4, head rear curtain airbags standard. Can order as a standalone option.
Factory options (not sure if you can order as standalone options)
panoramic sunroof
1300
1148
option code 3fe, see below for a demo
Media Device Interface for ipod integration
199
176
option code uf8
17" alloy wheel
450
398
option code pji
RNS-315 GPS navigation system
590
?
see 1000q: RNS 315 FAQ for description and functions
Port or dealer added options
rubber mat kit + trunk liner
235
?
option code jwm, 4 mats+trunk liner
roof spoiler
499
?
option code jws
mud flaps (splash guards)
220
?
option code jwg,
protection kit
350
?
rubber mat kit + splash guards option code jwc (changed code for 2011)
body kit
2,299
(F+r valence, side sills, exhaust tips), code jwb
Canadian pricing for 2011 VW Golf wagon TDI
Comfortline includes: 16" Atlanta alloy wheels with wheel locks, chrome window trim, engine block heater, front fog lights, floor mats, chrome on the front grille, cold weather package (heated seats and windshield wiper nozzles), leather steering wheel, shift knob, and parking brake lever. It includes things from the base trendline like aux-in, black roof rails, ESC (e-stability control), RCD-310 radio.
Highline adds driver's seat power recline, leather seats/steering wheel, pano sunroof, multimedia pack (compass, bluetooth, MDI ipod cable, MFSW, RCD 510 (premium 8 radio) w/in dash 6cd changer and sirius), rear side airbags.
Note - the highline or the comfortline multimedia package come with "Bluetooth mobile phone Connectivity". It's not known what model bluetooth this is. US cars had 9w2 for 2010 and 9w7 for 2011. The difference is phone book and voice control capability. If the button on the steering wheel activates the bluetooth voice control instead of muting the radio, it's 9w7 with the additional features.
| | | | |
| --- | --- | --- | --- |
| | MSRP | invoice price | notes |
| 2011 Golf wagon TDI comfortline | $26,875 | ? | manual transmission |
| 2011 Golf wagon TDI comfortline DSG | $28,275 | ? | DSG is automatic, see 1000q: DSG FAQ for more details |
| 2011 Golf wagon TDI highline | $24,730 | ? | manual transmission |
| 2011 Golf wagon TDI highline DSG | $25,830 | ? | DSG |
| Packages | | | |
| panoramic sunroof | $1,780 | ? | comfortline only |
| multimedia package | $1,380 | ? | RCD 510 (premium 8 radio) and sirius, MDI ipod cable, bluetooth (unknown module type), MFSW, compass, for comfortline only |
| rear side airbags | $450 | ? | comfortline only |
| RNS315 GPS navigation system | ? | ? | highline only |
2012 VW Jetta Sportwagen TDI MSRP and invoice pricing (US only)
base pricing:
$25,260
add $1750 for sunroof pack (17" wheels and sunroof)
add $830 ($2580 above base) to sunroof package for sun+nav pack (adds RNS315 and KESSY)

Add $1100 for optional DSG and $770 for destination charge.

Invoice pricing:
base: $24,250
base w/DSG: $25,306
sunroof:$25,929
sunroof w/DSG:$26,985
sun+nav:$26,726
sun+nav w/DSG:$27,782

Difference between msrp and invoice:
base: $1,010
base w/DSG: $1,054
sunroof:$1081
sunroof w/DSG:$1125
sun+nav:$1114
sun+nav w/DSG:$1158
General stuff to know
The wagons qualified for tax credits and exemptions for 2009-2011 on new purchases. These have since expired but I have left the article with full details up for reference 1000q: Tax credits with the TDI
Here is a discussion of roof racks and hitches that will fit the sportwagen with panoramic roof.
Here is a discussion of hitches that will fit a Sportwagen TDI.
All cars come with 3 years/36,000 miles of "free" maintenance in the US. Free just means the cost is shifted into the purchase price.
Make sure to tell all drivers of your car to put only diesel in the fuel tank! If you accidentally put gasoline in it, immediately stop and tow it to a mechanic! VW added a misfueling adapter to 2013+ cars and a retrofit to earlier cars to prevent this but if someone is determined, they can still mess up your car.
There are some cases of engine no-start and hydrolocking due to intercooler icing. A little moisture condenses in the intercooler and freezes in the winter. If there's enough ice it will choke the engine and possibly get ingested and cause hydrolock (major engine damage). Read about it in this forum thread. VW fixed engines as needed and added a modification as shown in their technical service bulletin.
DSG transmission is the only "automatic" transmission available. It's often called tiptronic but almost all non-manual transmission mk5 TDI are DSG. The exception is the Tiguan (if they release a TDI version in the US). A DSG is an automatically shifting manual-like transmission. Towing is limited to 1000 lbs in the TDI, 200 lbs tongue weight. For unknown reasons, the original weight limit for towing a trailer without brakes (wagon only) was 1650 lbs but was lowered. The gears inside a DSG look somewhat like a manual transmission instead of an automatic transmission's planetary gears and torque converter. Compared to a manual transmission, everything else being equal, expect slightly lower fuel economy due to greater weight, DSG fluid parasitic losses, and other factors. Ultimately, the difference in fuel economy will probably only cost about $12/month more for the DSG, so don't let a small mileage difference dissuade you from state of the art transmission technology. See a video explanation and pictures of the DSG transmission at 1000 answered questions: DSG FAQ. It needs a fluid+filter change every 40,000 miles to stay happy. See 1000q: DSG DIY fluid service for the how-to article.
The panoramic sunroof lets light in even if the shade is closed because the shade has tiny perforation holes in it. It measures about 54" x 34. Below is a demo of the panoramic sportwagen sunroof in action. The front half tilts up or slides back to varying degrees over the rear half. The shade can be open or closed even if the sunroof is open to let some breeze through.


Out of the thousands of cars sold, there have been a few cases where the sunroof spontaneously shattered. The size of the pano sunroof increases the chance that there might be an imperfection in the tempered glass. The roof is a structural element and although the car feels stiff to you, it's actually flexing. In a few cases, the sunroof shattered and so far, they have been covered under warranty as a factory defect. (click to enlarge)

As mentioned on the last page, if you have a 2012+ with the sun+nav package you have keyless access KESSY. Some quirks to be aware of with KESSY: if you leave the key inside the car and lock it, it will unlock if someone pulls the door handle. If you leave the car and give the car to another driver with the engine running, it will continue to run. It will flash a message that the key is out of range and will not restart once they shut it off since the key is with you, not them. When locking the doors you press a button on the door handle. Don't put your hand inside the handle, just touch the button on the outside of the handle.
The Jetta sedan and wagons are made in Puebla, Mexico.
All diesel engines use glow plugs to help compression ignition when the engine is cold. When ambient conditions are below 48oF, you'll see the "wait to start" glow plug light on the dashboard when you turn the key to ON. It normally takes a second to go out and could be on as long as 4-5 seconds when it's well below freezing. After it goes out, immediately turn the key to START to start the engine or turn the key back to OFF to recycle the glow plugs. You'll also hear a chime when ambient conditions drop below 39oF to warn of possible ice on the road. See 1000q: MFD menu FAQ for other stuff that is on the instrument cluster display.
The biggest change on the 2009+ TDI vs. earlier TDI is the new 2.0L 140hp, 236lb-ft torque common rail TDI engine. This engine is comparable in torque to a 6 cylinder engine in daily driving with the fuel economy of a small 4 cylinder engine. See 1000q: direction injection, pumpe duse, and common rail for a comparison to older TDI technologies. This common rail and emissions technology is state of the art for passenger car diesels and results in more power, more efficiency, better emissions, and quieter, smoother engine sound than ever before. Although diesel fuel prices are higher than gasoline prices, you will still save money over the long term compared to a similar new car. See 1000q: DPF FAQ for information on the emissions system.
All VW come with head curtain, front, and side airbags. Lower rear side airbags are the only optional airbags. ABS, stability and yaw control are standard.
Estimated mileage by third party testing is 38 city, 44 highway for the TDI. Over 50 mpg highway has been confirmed in real world driving but don't expect this unless you do all highway driving and drive slowly and smoothly. EPA testing is rated at 29/40 but has always proven low on previous TDI. Expect about 40 mpg in mixed real world driving and as always, your mileage may vary! Major factors effecting mileage include individual driving style, car build quality variations, and fuel quality. Also expect mileage to increase during engine break in by as much as 10-15%. Part of the lower expected mileage compared to earlier TDIs is heavier weight, emissions treatments, and a more powerful/thirsty engine. EPA testing methods were also changed but this penalized real world vs. EPA est. diesel car mileage.
VW Jetta TDI chip tuning and power modifications
Some chip tuners who specalize on TDI engines are KermaTDI. They do chip tuning for the neweset CRD 2.0L TDI engines 2009 and newer models. These engines all use the 2.0L CBEA-CJAA engine. Stock power is 140 hp, 236 lb-ft at the engine. Chip tuning has been tested on these models with great results. While high altitude, build variation, and dyno variables will cause small variations in actual and measured power, your average engine will make about 170 hp and 320 lb-ft torque after a chip flash. While the hp increase doesn't sound like that much, a 20% increase is quite a lot. The total torque of about 320 lb-ft is more torque than many 6 cylinder engines. Everything else being equal, a chip tune will not lower the fuel economy either, although you may find yourself using that extra power (fuel more) while you enjoy the car! In most cases, the ECU must be sent in to be chipped. The precense of a chip cannot be confirmed by a dealer unless they put the car on a dyno or do datalogging far beyond the scope (and ability) of normal checkups.
The big difference vs. 2006 and earlier TDI is the diesel particulate filter. See the DPF FAQ for VW and Audi linked earlier for more details on this system. If you have a DSG transmission it can limit the torque from a chip tune. For best results, a DSG transmission software flash will raise these limits.
Biodiesel use in a VW Sportwagen TDI (JSW or GSW)
The engine itself will run fine on biodiesel in all years of TDI. However, VW has never allowed greater than B5, or 5% biodiesel fuel. They cannot void your car's warranty because of biodiesel use! Laws vary but generally speaking, if they refuse a warranty claim on the engine or exhaust system claiming the fault was caused by biodiesel, you would have to fight them and prove that it wasn't caused by bad fuel. A legal battle would be very expensive.

The 2009+ Sportwagen TDI common rail engine and emissions system has not had long term real world tests with high percentages of biodiesel and the main concern is compatibility with the emissions system and engine oil dilution. Regular diesel easily evaporates out of the engine oil whereas biodiesel tends to accumulate more. After combustion, a little extra fuel is injected during the "self clean" post injection regeneration cycle which is burned up in the exhaust filters and catalytic converters. Burning this fuel in the exhaust filters raises their temperatures and burns up the captured emissions. This is one of the reasons why the new TDI has very little diesel odor and low emissions. It's possible that biodiesel use could cause excess regeneration cycles and the higher flash temperature could effect the effectiveness of the self clean DPF regeneration cycles. For more basic information about biodiesel and VW, see 1000q: intro to biodiesel. Some states have bio fuel mandates and in response to Illinois having some biodiesel in the fuel, VW will cover up to B20 in TDI registered in Illinois. To the right is a thumbnail of the letter they sent out Feb 2013.

This post combustion injection will also slightly lower fuel economy. It's hard to tell exactly how much fuel economy is lowered but it does occur every 400-600 miles, or about once a fuel tank. Future aftermarket modifications will most likely include disabling this injection and installing a DPF delete kit for the VW Sportwagen. Check your state and federal emissions laws before modifying your emissions equipment. Again, see 1000q: DPF FAQ for detailed information on the emissions system.
VW 2.0L TDI engine fuel line recall in Oct-Nov 2011
There was a fuel line recall during late 2011 to replace the fuel lines and/or install dampers on all the unaffected engines. The fuel injectors induced a harmonic in the fuel lines which weakened the metal. In a few cases, the lines split or leaked. As a result, all lines were replaced or had dampers installed to change the vibration of the metal. Here is what it should look like if the recall was done. All later cars had these installed from the factory. If you remove these, the fuel lines may weaken and leak over time.

Extended warranty on the fuel pump June 2015
In June 2015, VW extended the warranty on the high pressure fuel pump (HPFP) to 10 years or 120,000 miles. Click the thumbnail below to read the letter.
Adding a HID xenon headlight retrofit to your VW Jetta Sportwagen TDI:
If you have 2009, you use Jetta headlights. See 1000q: HID swap for detailed HID retrofit and swap instructions. VW changed the electronics modules for 2010 and revised the wagon to look like a Golf so if you have a 2010, 2011, or 2012, you need to use Golf headlights. Installation is similar.

Reviews

Review of the Jetta sportwagen TDI vs. the sedan.



General Jetta TDI reviews


Color samples and color paint codes for VW Sportwagen TDI (candy white LB9A /B4 not pictured - it's just white)
platinum grey-LD7X /2R---graphite blue w/tinted windows ( LC5F /W9, 2009-2010 only color, greyish-blue)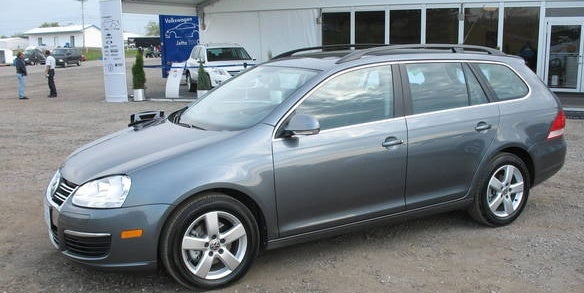 Salsa red LA3H /4Y w/optional 17" avington wheels----laser blue (Lc5f /W9, 2009 exclusive color) w/16" bioline wheels


reflex silver w/tinted windows-LA7W /8E---uni black (non metallic black, L041 /A1) (Canada had Black pearl metallic LC9X)

tempest blue-(LC5F /W9, pic from mico at royal motor vw)-toffee brown-(these are 2011 and newer only colors)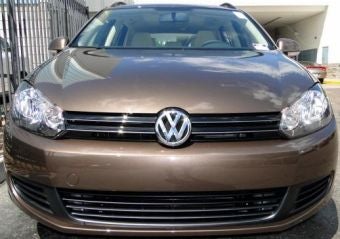 ---
Delivery inspection and other things to check or know
The number one driver error problem is misfueling with gasoline....
....did you find anything here useful or informative? To view the rest of this article, please join our free community today. The rest of this article can be viewed in this forum post and includes some of the topics below:
Removing the shipping blocks
The engine oil technical service bulletin
Power modifications like a chip tune for your JSW TDI
Cargo hook and floor divider tricks
Have another question about the VW sportwagen TDI? Post your question at the VW TDI forum. Can't find what you are looking for here? Search the myturbodiesel.com FAQ and forums: