2010-2014 VW Golf TDI FAQ, forum, and buying checklist
with dealer invoice price, MSRP, options explained, video reviews, and chip tuning info for VW Golf TDI
For the new style 2011+ Jetta, see 1000q: 2011+ VW Jetta buying checklist.
For the 2009-2014 VW sportwagen TDI, see 1000q: 09-11 Jetta wagon TDI buying guide.
For the 2010-14 Audi A3 TDI, see 1000q: Audi A3 TDI buying checklist
Introduction
This article shows the most up to date invoice pricing, available options, and other misc info specific to the 2010-14 VW Golf TDI hatchback. Because there are many other diesel VW models and trims available in Europe and Asia, this article is written with a focus on the North American market and the TDI. Canadian differences are noted. The Golf was revised for 2010 and will be all new in Europe for 2013. The mk7 generation VW golf will arrive in North America as a 2015 model year in calendar year 2014.
The basics
The 2010-14 Golf TDI is the most luxurious, safest, and most powerful Golf TDI that VW has offered. It was chosen as World Car of the Year at the New York auto show 2009 and reliability of VW Golf TDI has improved. They are 50 state emissions legal and available in Canada. However, the added weight and features slightly decrease fuel economy compared to earlier TDI. You should expect average fuel economy to be high 30s-high 40 mpg depending on loading, driving style, and tires/wheels. Although the 2010 Golf TDI gets the all new mk6 body, the engine/transmission are shared with the Jetta TDI. The chassis, suspension, and most interior/exterior panels are improved vs. the mk5 Golf/Rabbit. One example are the new, quieter side view mirrors (shown below). In the past Jetta and Golf were almost identical except for different bumpers and a trunk. Starting with the 2010 Golf, the Golf no longer shares the same body with the Jetta.

Compared to a 2011 VW Jetta TDI, the Golf has optional xenon headlights, an independent rear suspension, and standard 17" alloy wheels. The hatchback body style is also useful for loading bulky items.
Make sure to tell all drivers of your car to only put diesel in the fuel tank! If you accidentally put gasoline in it, immediately stop and tow it to a mechanic!
The TDI costs about $4300 more than the 2.5L gas engine base Golf because of additional trim level features and the engine. The TDI also had a $1300-1700 income tax credit. If the car was purchased in CT and other places that had sales tax exemption for high mileage cars, it could have saved about $1400 in sales tax. (The tax exemptions have since expired). This made the TDI premium as low as $2000 vs. the 2.5L Golf. The higher price also includes bluetooth, touchscreen 6cd changer radio, foglights, leather multifunction steering wheel, and more. TDI models have also held their resale value much better than identical gas models.
If you find the tips on this page helpful, please use the donation button at the top so that I can continue to keep publishing great articles for free. I do not receive any compensation from VW so you'll get the honest truth in these reviews. If nothing else, it should help you know what to look for when buying a Golf TDI. Thank you in advance!
---
2010-2014 VW Golf TDI differences and revisions
See 1000q: mk5 Jetta vs. mk6 Golf updates for a detailed list of differences between the mk5 and mk6 Golf and Jetta for 2010. The Golf is all new for 2010.
For 2011, Golf TDI now get 9w7 bluetooth standard. This is a major upgrade since the old 9w2 bluetooth did not have phonebook, menu control, or voice activation through the car. 9w7 adds all of these features while still retaining AD2P streaming music capability like from an iphone or android. For more on bluetooth differences, see 1000q: mk5-mk6 VW bluetooth FAQ. For specifics on 9w7 bluetooth, see 1000q: 9w7 features and retrofit. Also see 1000q: 9w7 install #2 for a video.
There is an upshift light on the cluster for 6 speed manual cars.
The optional RNS 510 GPS navigation is no longer available on Golf. The new optional GPS is the RNS315. The difference on the RNS 315 GPS and RNS 310 are a 5" touchscreen instead of 6.5", half the pixel resolution as the 510, no internal hard drive for storing music (you use SD cards), and a CD player instead of CD/DVD. The biggest difference will be the price - at $590 in 2010, it's much cheaper to equip than the $1750 MSRP for the 510. If you still wish to install the 510 you can buy it as a part and install it yourself. For detailed info on the RNS315, see 1000q: RNS 315 GPS system FAQ. For detailed info on the RNS 510, see 1000q: RNS 510 FAQ. As a final note, both the 315 and 510 touchscreens will display phone book, keypad for dialing, voice mail button, missed calls, etc., if you have high bluetooth.
The TPMS system now works off the ABS sensors by calculating rotating diameter instead of using temperature and pressure sensors in the wheels. The ABS based TPMS system isn't as accurate but because there are no sensors, it never needs sensor replacement due to dead batteries and you don't need another set of sensors for winter wheels. The sensors cost about $80/each and can last 5-8 years depending on use. (It's legal to drive with the light on but you cannot disable the system, see 1000q: TPMS light on 2010 Golf for more details.)
2011 VW Golf TDI pricing:
2 door 6 speed manual: $22,810
2 door automatic DSG: $23,910
4 door 6 speed manual: $23,435
4 door automatic DSG: $24,535
destination is now $770.
The rest of the options were about the same as 2010 pricing.
2012 VW Golf TDI updates for US and Canada
The major material changes are: KESSY (keyless entry and start), see the pic below, the new standard Salamanca wheel instead of Porto (different style, see below, 17x7.5" instead of 17x7"), addition of HD radio w/tagging to the standard radio and the addition of LED daytime running lights if you have HID headlights (requires tech package). For the US, the change in ordering is the end of ala carte options. You now must order the Golf in the packages below.
Here is a list of minor changes with thumbnail pictures by scooter617:
- The dash light now says "PARK" instead of "BRAKE" when the e-brake is applied.
-The hill hold feature *does* work in the 6M and is something I never knew I could use. (see 1000q: hill hold feature to disable or enable on earlier cars)
- Bluetooth LED/buttons in the front headliner (between the map lights) has been deleted.
-Climatic "semi-automatic" controls no longer work by temperature. It's just hot and cold now. If you see numbers on the dial the air coming out of the vents will be that temperature. (No fan speed, dual zone, or direction control so it's not Climatronic full climate control). If you only see blue/red on the dials the air coming out of the vents is not set to a specific temperature and is affected by ambient conditions.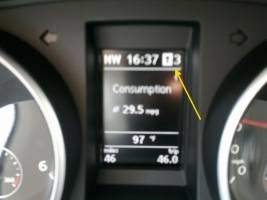 '
A running change for late 2012 build cars is the addition of phone functionality to the RCD-510 standard radio. This lets you see and use the phonebook, calls, keypad, etc on the touchscreen. If you have a phone button you have it, if you don't you don't. See this thread in the TDI forum about rcd510 changes for more details and discussion on this topic.
Another running change is the removal of the 9w7 bluetooth module if you have the RNS-315 GPS system. This is because the RNS315 has an internal bluetooth. Changing the headunit will require retrofitting the 9w7 if you wish to maintain bluetooth functions.
Canadian changes for 2012:
Highline now has 17" wheels instead of 16" wheels standard and climatronic (dual zone auto climate control) instead of climatic semi-manual knobs.
2012 VW Golf TDI MSRP and (invoice) pricing:
2 door 6 speed manual: $23,995 ($23,025)
2 door automatic DSG: $25,095 ($24,091)
4 door 6 speed manual: $24, 695, ($23,707)
4 door automatic DSG: $25,795 ($24,763)
2013 VW Golf TDI changes
For 2013, all TDI now have misfueling adapters on the fuel tank filler neck (the metal tab and flaps). Narrower gasoline nozzles won't move the flaps and open the tab to allow you to insert the nozzle. You can now use truck stop high flow nozzles but because they have a fast flow rate, only use them at half speed or else you'll get a lot of foam.

Base: 17" alloy wheels, cold weather pack (heated seats, side mirrors, and windshield nozzles), cloth interior, fog lights, leather multifunction steering wheel, shifter, parking brake, premium 8 RCD 510 radio (color touchscreen, 6cd changer), sport suspension, 9w7 bluetooth.
Sunroof and Navigation pack $1,700 over base ($1,632): adds sunroof, RNS 315 radio navigation system

Tech Package $3,370 over base ($3,235): includes sunroof and navigation and adds Bi-Xenon head lamps w/ AFS (cornering) and LED DRL, KESSY (keyless entry and start), and Dynaudio premium sound. Note: there have been some questions if the 2012 Golf w/HID got the LED DRL and it 100% does. See this thread for confirmation and pictures, below is a thumbnail.

2014 VW Golf TDI changes
The 2 door model is not available. The tech package is not available. There's also a fairly limited supply because the production year stopped early for mk6 models. The mk7 Golf was already being produced as a model year 2014 in Europe.
---
Invoice price and MSRP for 2010-2011 VW Golf TDI
prices below do not include $750 mandatory destination fee (prices for US only) Foglights, ipod connector, leather MFSW steering wheel/parking brake handle, bluetooth, and floormats are standard on 2010 VW Golf TDI.
| | | | |
| --- | --- | --- | --- |
| | MSRP in US$ | invoice price in $ US | notes |
| 2 door VW Golf manual | $22,354 | $20,966 | |
| 2 door VW Golf TDI DSG | $23,454 | $22,065 | DSG is automatic, see 1000q: DSG FAQ for more details |
| 4 door VW Golf manual | $22,959 | $21,534 | |
| 4 door VW Golf TDI DSG | $24,059 | $22,633 | |
| Factory installed options | | | |
| HID xenon headlight w/AFS | 700 | 618 | great price, option code p83 |
| RNS 510 navigation system (2010) | 1750 | 1546 | option code p71, see 1000q: RNS 510 FAQ for description and functions |
| RNS 315 GPS navigation (2011) | 590 | ? | Introduced in 2011, see RNS315 FAQ for description and functinos. |
| sunroof | 1000 | 883 | option code 3fe |
| cold weather package | 225 | 199 | heated seats/windshield washer nozzles, option code w79 |
| Dynaudio optional high stereo | 476 | 420 | option code 9ve |
| rear lower side airbags | 350 | 310 | only on 4 door, head rear curtain airbags standard, option code 4x4 |
| Port installed options | | | |
| mudflaps (splashguards) | 220 | | option code ggg |
| chrome exhaust tips | 160 | | option code gte |
| rubber mats (set of 4) & chrome exhaust tips | 210 | | protection plus - option code gtm |
| rubber mats (set of 4) & trunk liner | 235 | | mat kit - option code gkm |
| rubber floor mats (set of 4, trunk linker, mudflaps | 430 | | protection kit - option code gkp |
| roof edge spoiler | 499 | | Roof Edge Spoiler - option code ghs |
| front valence, side sill extensions, & roof edge spoiler | 1,999 | | Ground Effects Kit - option code gka |
EPA fuel economy rating for the 2010 Golf TDI is 30 city, 41 highway(manual)/42 highway (DSG transmission). This is the same as the Jetta TDI for 2010 and slightly better than the 2009 VW TDI EPA rating because of a small engine tuning change and slightly taller transmission gearing for 2010. Real world fuel economy is typically better with manual. The Jetta TDI is getting high 30s, low 40s average mpg per tank and the Golf TDI can be 100-200 lbs lighter with the same engine. Manual transmission TDI also weigh less than DSG transmission. My best conservative guess of real world fuel economy with the Golf TDI is about 40 mpg per tank, assuming the average driver and after engine break in. Expect fuel economy to increase after engine break in by 10-15%. Diesels take longer to break in and because of their high fuel economy, see a greater fuel difference after engine break in.
Why not a hybrid?
TDI are most compared to hybrids like the Prius because of fuel economy. However, handling, highway manners, looks, and size (with the station wagon) are very different. For more details on why a VW Jetta or VW Golf TDI is a good choice over a hybrid, see 1000q: general TDI buying guide and checklists. If you are totally new to diesels and would like the basics on the differences from a gasoline car, see 1000q: how a diesel works. Real world experiences since the introduction of the TDI in 1996 have shown that the EPA fuel economy ratings for TDIs tend to be lower than real world results but diesels aren't all about the best fuel economy or lowest cost per mile! I believe that VW TDI are excellent choices combining fuel economy, resale value, safety features, handling, and cost. In the end, the best car for you is a car that matches your needs, not mine. It comes down to your values of what you want in a car and purchasing economy. For some more opinions, see below. Autoweek magazine said, "For comfort, quiet and highway handling, our drivers found the TDI had significant advantages over every other car in the test. It would have been our choice, in other words, for an easy daytrip on the interstates, regardless of fuel economy. And we topped the hybrids by driving with just a little attention to fuel economy, not making it an obsession." Ultimately, your mileage and experience may vary depending on your driving style and other factors. If your choice of car were based solely on money, buying a well maintained, used, compact car like a Civic will cost far less in depreciation, sales tax, and lifetime fuel costs compared to buying any new car! And if fuel economy were everything then ride a bike!
Below is a video review of the Jetta TDI and Audi A3 TDI vs. the Insight and Prius.

Below is a table comparing MSRP of the various VW TDI models with the 2010 Audi A3 TDI. The MSRP of the Audi includes the $825 destination fee. The Golf is offered in 2 door and the others have manual transmission option so to make the comparison even, all VW MSRP are 2010 models, 4 door, DSG transmission with $750 VW destination fee included.
Comparison of 2010 VW Golf TDI vs. 2010 Jetta sedan, VW Jetta sportwagen TDI and Audi A3 official pricing (4 door, DSG transmission, destination included)
2010 Golf TDI
2010 Jetta TDI sedan
2010 Jetta TDI sportwagen
2010 Audi A3 TDI
MSRP
$24,809
$24,680
$26,465
$30,775
Golf TDI vs. Jetta sedan Jetta wagon TDI vs. Audi A3 TDI
Why the Golf instead of the Jetta sedan or wagon? (jetta wagon is called Golf wagon in Canada) Why not pay a little more for the Audi A3? The biggest reason is because the Golf was all new for 2010. It's the first VW/Audi product to use the new mk6 body. This means that in addition to cosmetic changes, it also gets the following that are not on the 2010 Jetta sedan or station wagon:

-All new chassis has more laser welding and simpler assembly modules.
-The new chassis is stiffer yet rides firmer and quieter. 10% thicker glass, new windshield seals and dampening layer, new door seals, additional soundproofing in the -A-pillar and firewall, and additional engine soundproofing all make the car quieter. Combined with the quieter common rail engine, the Golf TDI is 20% quieter than the old mk5 pumpe duse Golf TDI (not available in US but pretty much the same as the Jetta that were). After personally testing a number of new Golf, I can state the mk6 Golf chassis is noticeably quieter than the mk5 chassis.
-Xenon HID headlights optional on the Golf TDI in the USA, not optional in Canadian Golf TDI or on earlier TDI.
-All Golf TDI in the US will have black cloth seats only, all Jetta TDI will still have leatherette vinyl. The only TDI to get leather are Canadian highline trim cars. -Interior looks very similar but is different under the surface. More details on next point.
-Optional Dynaudio "Excite" 300w stereo with 8 speakers, no subwoofer in Golf. All TDI with the standard stereo get the new premium 8 touchscreen stereo. Part of why only the new mk6 Golf gets the new Dynaudio is because while the interior door trim looks similar, underneath, the new mk6 door panel is different due to new assembly modules. You know if a car has Dynaudio if it has the tweeter trim and badge by the side view mirrors. Reviews of the Dynaudio are very good. The main criticism is that it doesn't have a subwoofer.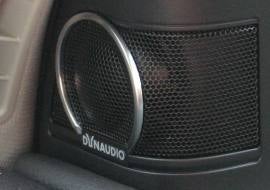 -2 or 4 door TDI option in the US, Jetta is 4 door only. (Canada has 4 door Golf TDI only, no 2 door option w/TDI engine)
Comparison of Golf vs Jetta sedan, Jetta sportwagen, and Audi A3 dimensions
2010 Golf TDI
2010 Jetta TDI sedan
2010 Jetta TDI sportwagen
2010 Audi A3 TDI
curb weight (lbs)
2994 (2 door manual)
3041 (2 door auto)
3110 (4 door manual)
3230
3230
unknown, maybe 3450?
length (in)
165
179
179
169
width (in)
70
70
70
70
max cargo room (cu ft)
46
16 (trunk only)
67 +roofrack
56
drag coefficient
.304
.31
.31
.33
The VW Golf got more features from the change from the 2009 mk5 body to the 2010 mk6 body. The 2011 mk6 Jetta lost features compared to the 2010 mk5 Jetta. There are a number of features on the Golf that you can't get on Jetta like optional HID headlights, the standard independent rear suspension, or no sunroof (if you don't like sunroofs). However, the Jetta has standard vinyl leatherette interior whereas the Golf has only black cloth (leather available in Canada).
2010 Golf TDI have 9w2 bluetooth mounted on the overhead console. For 2011 they got 9w7. The Jetta gets 9w3 high bluetooth with outgoing call, phone book, and voice control. (If you want voice control over bluetooth and phone book functions, you have to get an aftermarket bluetooth or retrofit 9w3. See 1000q: VW Bluetooth FAQ for more details. See 9w7 bluetooth and 1000q: 9w7 bluetooth install #2 for more information and quick video showing how easy they are to install) Multifunction steering wheels (MFSW) to control the multifunction display and it's display (MFD+) are standard in the US. These show temperature, mpg, distance traveled, radio settings, GPS directions, etc. For Canada only: the MFSW is standard on highline trim only. All Golf will have a black interior only, Jetta have a choice of interior colors.
Comparison of other misc features
2010-11 Golf TDI
2010 Jetta TDI sedan
2010 Jetta TDI sportwagen
2010 Audi A3 TDI
body style
new for 2010
same since 2005
cosmetic refresh for 2010
refreshed for 2008
interior
black cloth only in USA
leatherette (vinyl) only
leatherette (vinyl) only
leather
standard radio
premium 8 touchscreen RCD510
premium 8 touchscreen RCD 510
premium 8 touchscreen RCD-510
Concert Bose w/sub and noise compensation
CD player
6cd in dash standard in USA
6cd in dash standard
6cd in dash standard
single, 6cd in glv box optional
optional radio
300w Dynaudio Light advanced, no sub
/
/
/
optional navigation
RNS 510 touchscreen
RNS 315 touchscreen
RNS 510 touchscreen
RNS 510 touchscreen
RNS 315 touchscreen
Nav+, no touchscreen, uses MMI knob dial to control
wheels
17" in US, 16" in Canada
16" std, 17" optional
16" std, 17" optional
17" std
US specific info: All Volkswagen Golf TDI will sport seats and 17x7.0" porto alloy wheels. All cars come with 3 years/36,000 miles of free maintenance in the US. Just remember that nothing is free, this cost is shifted into the purchase price.
VW 2.0L TDI engine fuel line recall in Oct-Nov 2011
There was a fuel line recall during late 2011 to replace the fuel lines and/or install dampers on all the unaffected engines. The fuel injectors induced a harmonic in the fuel lines which weakened the metal. In a few cases, the lines split or leaked. As a result, all lines were replaced or had dampers installed to change the vibration of the metal. Here is what it should look like if the recall was done. All later cars had these installed from the factory. If you remove these, the fuel lines may weaken and leak over time.

Extended warranty on the fuel pump June 2015
In June 2015, VW extended the warranty on the high pressure fuel pump (HPFP) to 10 years or 120,000 miles. Click the thumbnail below to read the letter.
Chip tuning and flash power modifications for VW Golf TDI
The greatest and best bang/buck power modification available for the 2.0L TDI CBEA / CJAA engine is chip tuning. There were small changes in engine mangement 2009-2010+ so they need different programs. VW also changed the Jetta-golf engine code from CBEA to CJAA in 2010 but the engines are nearly identical.
A basic chip tune for the VW TDI engine is producing an estimated 170 hp and 320 lb-ft torque at the engine. There are more powerful chip tunes available but the DPF system can interfere with them. See 1000q: DPF FAQ for 2.0L TDI engines for more information on these systems. If your car is a DSG, the chip tune will be torque limited to protect the transmission. Although it's possible the fuel economy may go up slightly, many find it goes down because they are enjoying the additional power frequently! Basic and custom chip tuning for the 2.0L TDI engines is available from Malone tuning and KermaTDI.
Further reviews
Here are some video reviews of the new golf vs. old rabbit/golf.
UK review of the new Golf TDI vs. older Euro market Golf TDI-----Fifth Gear Golf 6 test drive

More reviews





See page 2 of the Golf TDI buying guide for common problems, current recalls, HID cornering demo, and delivery inspection.
Can't find your answer on the 2010 or 2011 VW Golf TDI? Search the myturbodiesel.com FAQ and forums: