How to update your firmware version in your MFD2 GPS
back to 1000q: mk5/mk6 FAQ and "how to" index
Introduction
This article shows how to update your OEM VW GPS MFD2 software - firmware version with a flash CD.
The latest version of the MFD2 software that I have is version 50, North American DVD version only. It corrects some bugs and removes the "Accept" screen when you first start the radio. You can also remove the Accept screen by changing the instrument cluster coding to Great Britain instead of US. This also eliminates the door chime and lets you do the 4-headlight mod if you have OEM HID headlights. See 1000q: 4 high beams on headlight for details.
First check what software version you currently have. Do not load the software update if your head unit software version is newer than the update. This update will not update your map. You need a new map DVD or map CD for that. The European maps are by TeleAtlas. The North American maps are by Navteq.
The firmware flash DVD can be downloaded from our premium content forum here. Please join our community and upgrade your account to premium for only $2 http://www.myturbodiesel.com/account/upgrades to gain access. Thank you for your support!
Note - this firmware version 50 DVD is for North American DVD head units only. The latest DVD for European head units is version 30. The number ranges are different for Euro vs. North America.
From the radio screen, go to settings. Then system settings.

Press and hold "Factory set" until the screen changes. Click on system info.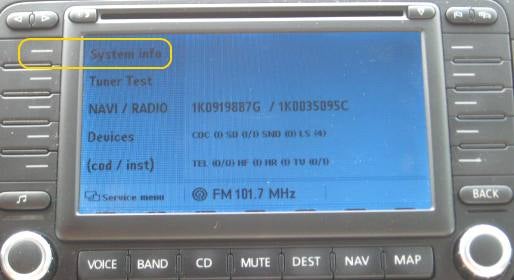 Here you can see the part number for your GPS outlined. Press the down arrow to go to the lower screen.

The last two digits in the highlighted listing is the software version number. In this case it's 28. I couldn't play audio CDs in the DVD headunit. You need version 47 and newer to do this. *NOTE: My screen shows Germany/Europe/Europe because I set my instrument cluster to Great Britain. This is a North American headunit.

Insert the update CD into the slot and press load if the cd is newer than the version you have. Otherwise, press cancel. In my case, it took a little while for the CD to load and get to this screen.

Make sure the battery stays charged during the update.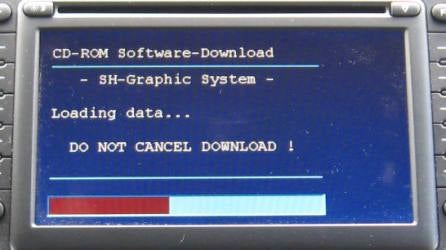 It's successful if you see that the new software is the same version as the update CD. Hit cancel to exit.