VCDS (vag com) tweaks and modification settings in the comfort module on mk5 -mk6 VW Jetta TDI and VW Golf TDI
difficulty: 1/5

back to 1000q: mk5 Jetta TDI "how to" list
Introduction
There are a number of settings which are adjustable on your car even if you don't have a highline instrument cluster. A highline instrument cluster is on all package 2 2005.5-2006 VW Jetta TDI and 2009 and newer VW Jetta TDI, Golf TDI, and Audi A3 TDI in the US and highline trim cars in Canada. Many Canadian comfortline (midlevel) trim cars don't have the highline cluster.
After 2010 the display became white/black instead of red.
An example of a lowline cluster is below left. The highline cluster has a full MFD/MFI multifunction display/indicator with a convenience menu to adjust car settings like the compass, horn honk when you lock or unlock the doors, footwell lighting, single vs. all door lock/unlock when you press the remote buttons. If you have a highline cluster, see 1000q: multifunction display settings. If you don't have a highline cluster you must use VCDS to adjust any of these as shown in the procedure section.


From what I understand, many US spec Tiguans with the full screen MFD are not enabled to access the convenience menu even though it's equipped. Use a VCDS to change the code to enable it.
For a full list of vagcom tweaks, modifications, or adjustable settings, please refer to 1000q:2005-2010 VW Jetta TDI "how to" index or ask in the forums.
A vag com cable from ross tech is now called VCDS and can be found here.
Procedure for vag com (VCDS) tweaks and modifications on VW Jetta TDI, or other similar models
Plug the VCDS cable into the obd2 port and look for the green LED to light. Start the software and click "Select" to enter the control modules.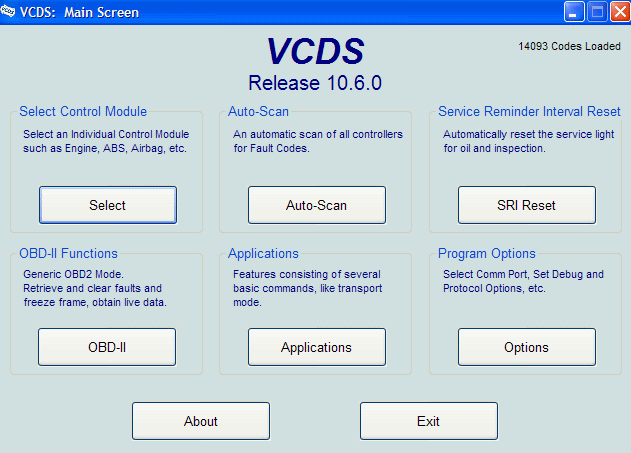 Click on "Central Conv." This is the central convenience module.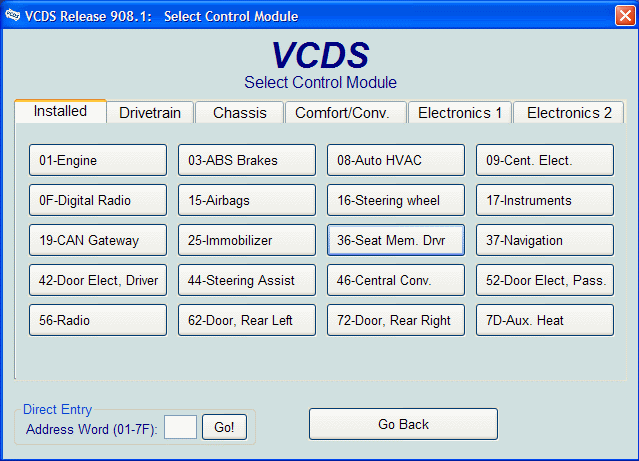 You will now see this screen. Most settings are either in Coding or Adaptation. The most common modifications are shown below.

To make all doors open with one button press vs. driver's door on first press, all doors on second press, go under adaptation channel 3. Enter a "New value" of either 0 or 1 depending on what you want. 0 is all doors with one button press.

Channel 4 is shown below. It will lock the doors when the car goes faster than 10 mph.

Channel 5 unlocks all the doors when you remove the key from the ignition switch. Changing and saving the channel to 0 shuts it off.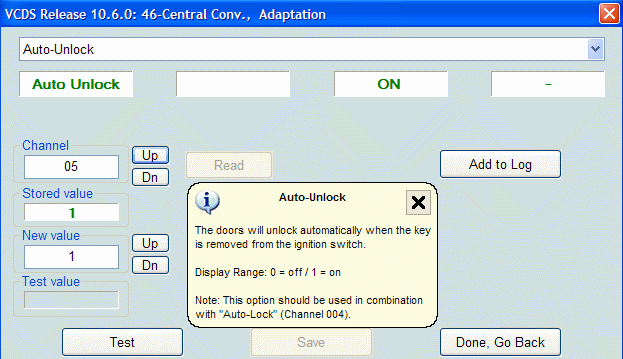 Channel 7 in the central convenience module on a VW Jetta TDI or similar module flashes the lights when you unlock the car using the remote. You can shut it off.

I think channel 8 does the same thing but with the key.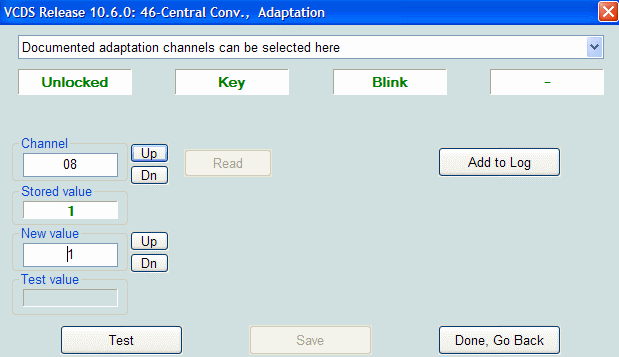 There are a few more functions that are available under the "Coding" menu. Click "Long Coding Helper" and it'll bring up some helper checkboxes. Below is Byte 0. Click the boxes to change the settings. Go right to access the other menus (bytes). When you're done, close the long coding helper and it'll copy/paste it into the previous screen under "New coding". Click "Do it!" to save. Not all options can be saved or will work depending on your module part number and car equipment.
Caution: Do not copy the code numbers/letters you see here because they are for the demo car only! VCDS will automatically change the codes for your car in the software as needed. Write down your original code before modifying anything.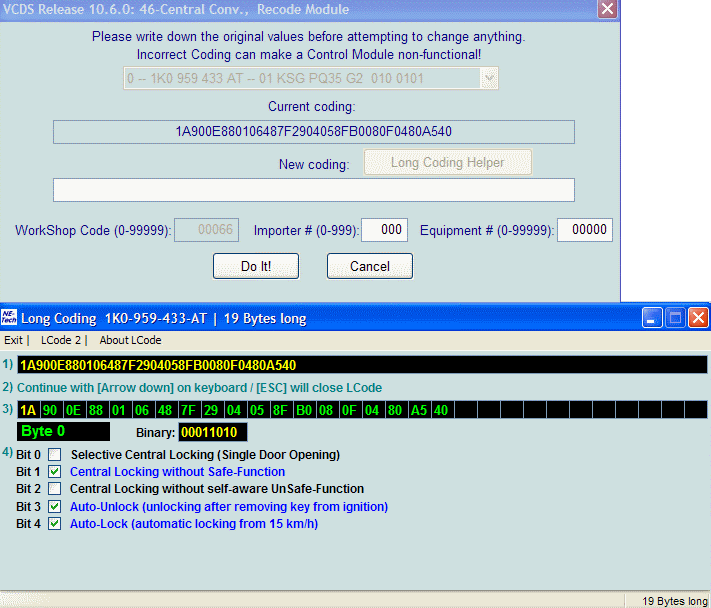 For 2010 and newer cars, your menu may look like this. It's still in byte 0 but the bits (checkboxes) are a bit different. They're labeled anyways (there were a few mispellings in the labels).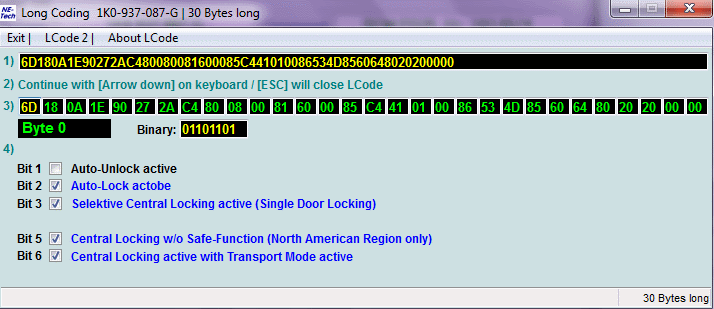 Byte 10 and 11 let you choose to turn on/off the lock/unlock blinks or horn honks.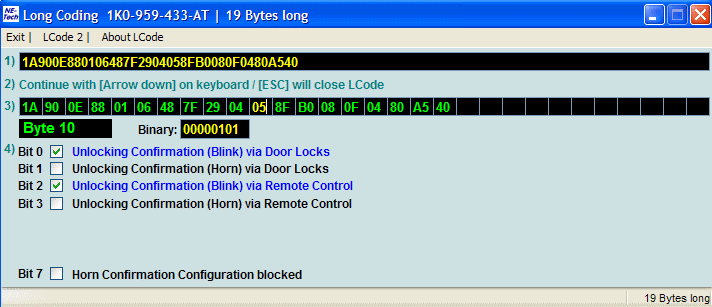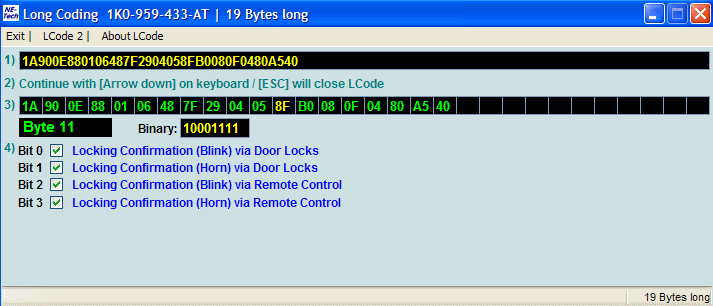 Comfort closing is when you turn and hold hold the key in the lock OR use the remote to open/close the windows and sunroof. See 1000q: activating comfort windows for more details and a demo. You can adjust wether the horn or lights activate when you use comfort closing.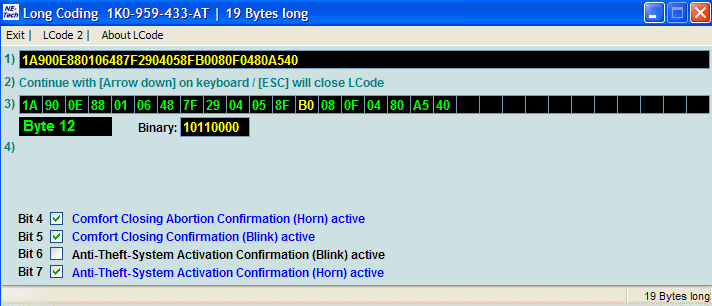 Look through the menus for other options and go back to the mk5 Jetta "how to" list for more handy mods. You can also search the forum using the bar below or ask your question in the myturbodiesel.com forums.