OEM VW RNS 510 VW radio navigation system FAQ and comparison to RCD 510 and RNS 315
back to 1000q: 2009-2010 VW Jetta TDI buyer's guide

back to 1000q: 2010-12 Golf TDI buyer's guide and FAQ

back to 1000q: 2012+ VW Passat TDI guide

back to 1000q: mk5 FAQ and "how to" list

back to 1000q: mk6 FAQ and "how to" list
Introduction
The RNS510 radio navigation system is the optional color touchscreen GPS on Passat SEL. It was also found on older Jetta, Golf, and Sportwagen and Touareg and Tiguan.
For 2012, the RNS system adds a larger hard drive, voice control of some functions, and HD radio tagging.
For 2011, the RNS-510 was replaced on Golf, Jetta, and Sportwagen (Golf wagon) with the RNS-315, a less expensive system with a smaller screen and less features. See 1000q: RNS315 GPS system for information on that system. You can still buy either as parts later and swap them in any 2011 or newer VW TDI (except Touareg because the faceplate is different). The RNS 510 will continue to be optional on the Passat CC or higher models, and outside North America.
Here is my video review of the headunit.

The main benefit of ordering it instead of an aftermarket system is that it has a large screen integrated into the car and can be controlled through your Multi Function Steering Wheel (MFSW). "Text+turn arrow" navigation instructions and song/artist name or radio station/sat radio channel are displayed on the Multi Function Display/Indicator (MFD+ or MFI+) on the instrument cluster as well as on the main display. The display brightness and colors also automatically go into "night" mode when you turn on the headlights vs. calculating it from GPS location and time as with some aftermarket navigation systems. It stores songs on a 30GB HD (upgraded to 40 GB for late 2011), has color touchscreen control, has bluetooth control (if equipped w/high bluetooth) and has USB/ipod functions through external adapters. It also plays DVD-A (audio DVDs) and shows CD text info if the CD has that data. Diagnostics can be done through a VCDS (vag com) since it's CAN Bus. It can be retrofitted into any mk5 or mk6 car but can't be easily retrofitted into non CAN bus cars. You can also retrofit a backup camera.
If you retrofit one, make sure to buy a North American one since Euro units doesn't have the same AM, Sirius XM, HD radio signals and the maps are different! Make sure you get the security code or else you bought a paperweight! All add-on accessories for Euro headunits work. Note that the Jetta sportwagen station wagon is called the Golf Variant or Golf estate in Europe.
It has traffic capability through Sirius and because new cars come with a few months worth of satellite radio, traffic comes with new units too (traffic subscription is in addition to radio subscription). It does do all the regular GPS functions like bypass part of a route, multiple stop trips (tour), route preferences, 2d/3d mode. Below are some screenshots showing the basic nav screen, the CD changer (if equipped) selection screen, and maps. The iPod control (if equipped) and SD card input screens look similar. Topography can be removed from 2d mode.


As seen above, you can also adjust it to show North at top or direction of travel at top. If you don't have a highline MFD (multifunction display) on the instrument cluster you can bring up a split screen showing that information on the navigation screen. You can adjust it to show directions or next turn. The bottom menu can also be hidden. The map scale is adjusted with the right knob and you can pan the map by touching and dragging. Map panning is one feature the RNS 510 has that the 315 does not.

In comparison to the older MFD2 in dash GPS system, the 510 has video capability, a touch screen, SD input, bluetooth dialing/phone book capability. For more features of the older MFD2 GPS navigation system, see 1000q: MFD2 GPS FAQ. Below are some screenshots of some main functions.
The main dislikes: Early versions only receive the main HD-audio channel and not the sub channels. *Later versions can select any of the HD channels of a station by first going to the station, waiting for it to start playing in HD, and then opening the stations list which will then show all of the HD channels for that station. Once you have selected an alternate HD station you can then set it as a favorite in the unit so you don't have to navigate to it like that again. You cannot select or see any of the alternate HD channels of a station though unless your actually listening to that station on the radio; only then it will display the alternate HD channels in the stations list for that station. It could also be a version or firmware difference. I also don't like that adjusting screen brightness requires a number of button presses. I like to have the screen on medium during the daytime and darkest at nighttime. There is a light sensor in the corner and you can select night colors for the map but it's still too bright at night for my preference.
If you have a 2005.5-2007 and retrofit it, you might need a new CANBUS module if it won't go into sleep mode correctly. If the battery gets drained overnight or 2 days, you know you need a new CAN BUS module. Some early mk5 don't have this problem, nobody seems to know why. See 1000q: mk5-mk6 style radio swap for details and how to install the RNS 510.
Adding bluetooth with the RNS 510 lets you view phone book on the screen but only with a high bluetooth module like the 9w3, 9w7 (see 1000q: bluetooth FAQ for more on these). It cannot store custom points of interest in the GPS. Currently, the only way to add custom points of interest is to hack the map using your computer and load it as a newer map onto the GPS. I don't know how hackable the maps are. Since the data is stored on an HD, you must have the map DVD if leaving the home map area and loading another map. I'm sure the DVD also have some copy protection to deter downloading maps or torrents from hacked navteq maps.
Although maps are stored on the internal hard drive, you can insert another map region DVD for temporary use without overwriting the hard drive map data.
Note - since this is a TDI site, all 2009-2010 Jetta/Golf come with the highline cluster MFD+ (aka MFI). Many early mk5 Jetta had lowline displays and all mk6 Jetta have lowline displays and electrics except the hybrid and GLI which use highline electrics. If you have a highline cluster, adding a RNS 510 is plug-play. If you have a gasser and don't have the highline cluster, you must add one to have the nav display on the MFD+. Here's a picture showing the difference between the half screen cluster and the highline full screen MFD+ cluster.


It displays the phone book and screenshots if you have high bluetooth. See 1000q: Bluetooth FAQ for more details on the bluetooth differences. (pics by 71sbeetle)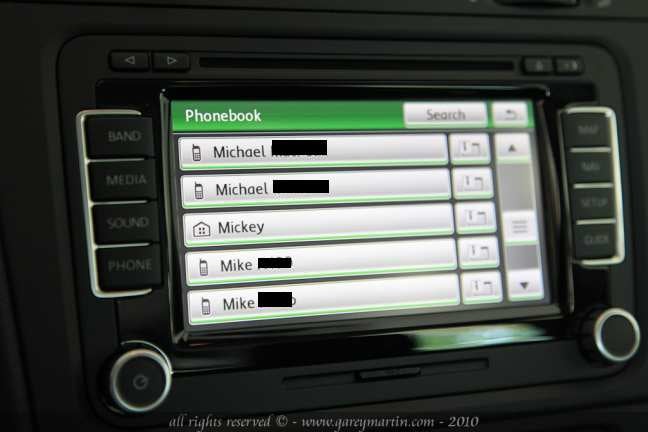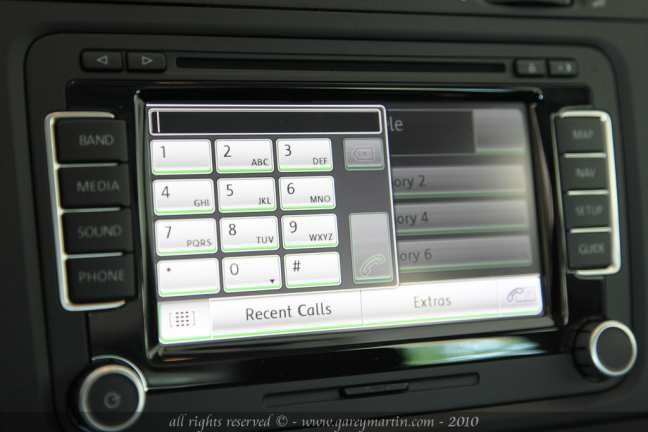 Comparison to RCD 510 (the stock radio in a 2010 VW Jetta or Golf TDI) and RNS 315
Why pay $1750 MSRP for the RNS510 vs. $590 for the RNS315? They're both touchscreen but the RNS-510 has many more features, the most obvious being the hard drive for music and map data plus the larger, high resolution touchscreen. Below is a table. Other known advantages of the RNS are tested add-ons like backup cameras. Reviews of the GPS function are good.
RNS-315 GPS
RNS 510 GPS navigation
RCD 510 radio
screen size (inches)
5" touchscreen
6.5" touchscreen 16:9
6.5" touchscreen
resolution (pixels)
400 x 240
800 x 480
400 x 240
cd slot
single cd
single cd
6 cd changer in dash
plays video DVD
no
yes
no
storage for music/navigation maps
SD cards for music and new maps
4gb internal flash memory for current map data
SD cards and
<2011: 30 GB hard drive (10GB nav, 20GB music)
>2011: 45 GB hd (15 nav, 25 music)
SD cards for music
iPod interface
aux input and MDI compatible
aux input and MDI compatible
MDI interface
bluetooth call from phone book on the screen?
yes, when equipped with high bluetooth
yes, when equipped with high bluetooth
Europe yes, North America not until 2012
mp3 CD compatible
yes, also WMA, AAC, Ogg Vorbis
yes, WMA (not copy protected)
yes
HD radio support
no
yes
2012 and later, yes
traffic subscription available?
no
yes
N/A since it's a radio
can you retrofit backup camera
yes
yes
no
satellite radio
siruis
siruis
sirius
amplifier power
4x 20 watt
4x 20 watt
4x 20 watt
displays information on the instrument cluster
since all TDI have the highline cluster, yes
since all TDI have the highline cluster, yes
since all TDI have the highline cluster, yes
GPS 3d and bird's eye view
yes, both
yes, both
N/A since it's a radio
split screen GPS mode
no, too small
yes
N/A since it's a radio
made by:
Technisat
VDO Continental
Delphi
Euro unit is made by Blaupunkt
RNS 510 version differences
There were a few versions. The earliest version will need current software updates to work with the latest MDI (media device interface - iPod controller) to work correctly. They and can be upgraded up to version 380. The newer ones can be upgraded to newer firmwares.
3C0 035 684 - first version. These came with firmware - software version 210 and can be upgraded up to 0380. These are not compatible with SDHC cards so they can only take up to 2gb cards. They can't be upgraded like the later versions to one that will accept SDHC cards bigger than 2 GB.
3C0 035 684 with suffix a or b are the second versions.
3C0 035 684 c is a newer RNS510 part number. The most current firmware as of this writing is 1040, can use 32GB SD cards, and boots up faster. One nice feature is the ability to turn off the screen while still on (useful at night). North America version C also has an LED backlight (not Euro).
The latest RNS 510 being equipped on most late 2011 models has an increase of the 30gb up to a 40 gb hard drive. The map and music space each get 5 GB more.
3C0 035 684 e is the newer 2012 model. It comes with voice control of some radio and navigation functions. For example, after pressing the voice control button, you can say navigation -> destination -> and then a number corresponding to a preset. The available voice options changes according to the menu. For example, if you're in the navigation menu and say home, it thinks you're saying phone and will take you to the phone menu. To go home you would have to say navigation ->destination -> home.
If you buy a Euro unit, note that they don't have HD radio or satellite radio. A Euro unit will work in the US but there are some GPS function bugs like zip code search. Some have said that you can't input addresses but this may be due to a firmware/software incompatibility. You will also have to find a map. In other words, I would avoid it.
How to DIY install the RNS 510 GPS head unit to your Volkswagen
You can retrofit the RNS510 GPS to your VW after buying the car. For 2005.5-2009 models, you may need a wiring adpater. See 1000q: mk5-mk6 style radio conversion and navigation installation for more information on this. The wiring is 100% plug-play with 2010 and later models. Below are some installation videos showing some of the steps on a mk6 Golf. Your car may be slightly different.

If your car has a compass showing up in the MFD, it means it has a compass module. Use VCDS software to uncheck the CAN BUS bos for "Position sensing" and unplug the compass module. If you don't do this, the car's computer will get an additional compass signal from the GPS head unit which causes too much traffic over CAN BUS. Your compass module is similar to this. Below is a video showing how to remove it in Golf. On the mk5 Jetta, the compass module is above the roof of the trunk. Remove the 10mm nut and slide it out. Unplug it. Click the thumbnails to enlarge and refer to the install link for more details.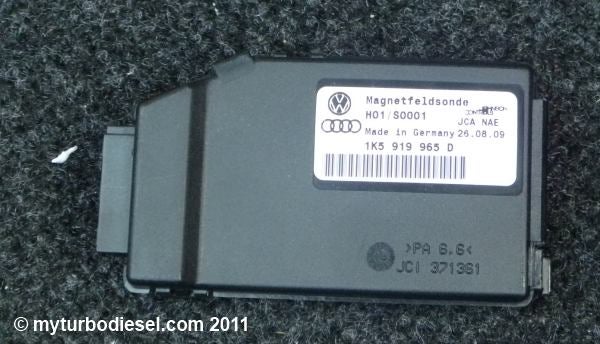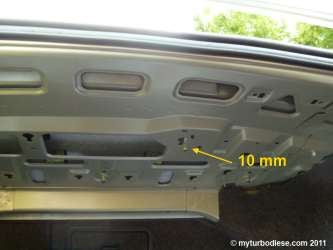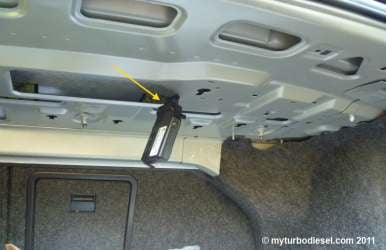 VW RNS-510 GPS specs:
Below is a pin out diagram.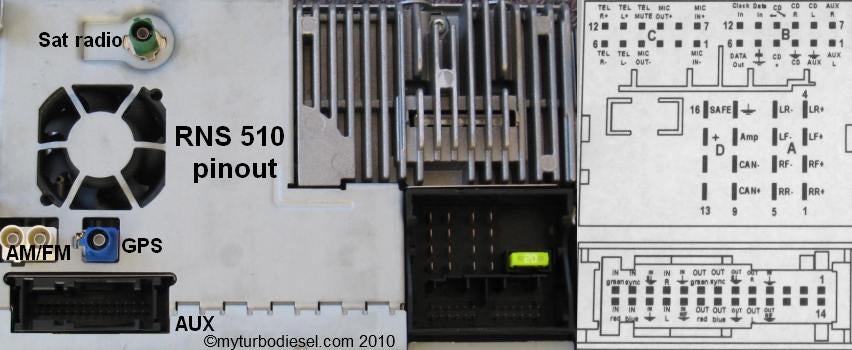 retail price: $1990
invoice price: $1758
North American part number for Jetta, Golf, wagon VW# 3c0 035 684 available as new unit from MFD3.com (or as previously owned unit)
North American part number for Touareg VW# 7L6 035 684 b (touareg specific part)

Manufactured in the Czech republic by VDO-Siemens
maps by Navteq, US catalog number: U0022-0075-805, vm midline v(version) 1m, north american dvd package, vw# 7L6 919 859
30 gb hard drive (better than SD cards), 10 is reserved for GPS, 20 is reserved for music
unit by Siemens, hard drive by Hitachi
screen size: 6.5", 800 by 450 pixels high resolution
aux input for ipods/other
SD card slot for mp3s or data
Radio specs:
radio presets: 24 stations
adjustable fader and balance
siruis satellite radio
mp3/wma play on SD card
ability to play music and use GPS at the same time
can play dvd-audio and dvd video while stopped, can use this TV in motion add-on to play while in motion (Observe all laws while using it. The driver must give full attention to driving at all times)
GPS Navigation specs:
day color/lighting switches to "night" color/lighting with headlights on
split screen display - compass/3d map view, gps stats/map, bird's eye map view/3d map view, etc.
ability to play music and use GPS at the same time
maps by Navteq, US catalog number: U0022-0075-805, vm midline v(version) 1m, north american dvd package, vw# 7L6 919 859
CAN gateway
1K0 907 530 R - supports panoramic sunroof on the sportwagen, any gateway after N should work.
MDI Parts -
5N0 035 341A MDI Module
000 051 446C iPod Cable (Audi 4E0 .... will NOT work)

Parts for Golf w/o CD Changer center console - (71N is anthracite color code)
1K0 863 323A 71N CD Changer Center Console
1K0 863 328A 71N CD Changer Insert
1K0 864 255 CD Changer Air Duct

MDI harness connector and terminals (1 each is required except 000 979 009 which requires 5)
8E0 972 112 Housing
000 979 009 Terminal (1 wire with 2 terminals, 7 are required on the MDI side, 3 on the RNS side, so 5x total)
000 979 133 Terminal (1 wire with 2 terminals, 1 is required for CAN bus t-splice on RNS side)
000 979 134 Terminal (1 wire with 2 terminals, 1 is required for CAN bus t-splice on RNS side)
000 979 225 Terminal (1 wire with 2 terminals, 1 is required for Power/Ground t-splice on RNS side)
000 979 226 Terminal (1 wire with 2 terminals, 1 is required for Power/Ground t-splice on RNS side)
893 971 634 4 connector housing for power/gnd/CAN t-splice
4B0 971 994 4 connector housing (mate) for power/gnd/CAN t-splice

6 feet UTP (CAN)
6 feet 3 conductor shielded audio cable
12 feet 18ga wire (power & ground)

Aux in on console -
1K0 863 323L 71N CD Changer Center Console with aux in hole
5M0 035 345 blank cover if you don't want aux in port OR
1K0 035 724B Aux in port
1C0 973 119B Connector housing for aux in port
000979009 2x (3 terminals needed for aux in port)
Aftermarket GPS/head units that will work and other issues
Some aftermarket double din nav systems that fit are the Pioneer AVIC-F90BT, Kenwood DDX812. There are also made in China copies of the OEM units like the AVC-9000 or Waywell WD6050 that exactly match the factory interior, even down to the buttons. Rosen also makes a factory look GPS system. The copies also have MFSW or MFD compatibility but have no hard drives or satellite radio capability. They use SD cards for memory.
The advantage of buying one of the OEM style copies or another an aftermarket double din headunit instead of ordering the factory RNS 510 is value and more features. For less money, you can get backup camera, bluetooth for your mobile phone (2010 VW have standard bluetooth), and a better stereo. These options are available as OEM retrofits to the Jetta/Golf , like rear view camera or parallel parking assist (pictured below) with plug-play functionality, but they cost as much as buying an aftermarket unit. For example, the OEM backup camera is hidden under the VW symbol on the trunk and comes out when you put the transmission into reverse....but adding the camera, wire, and motorized VW symbol costs over $700!
The disadvantage of non factory equipment is that some won't be integrated into the design of the dashboard, won't display on the dashboard's highline multifunction display (MFD+), and you have to self install. Some have complained about the software integration as well. The Chinese OEM copies (about $500) exactly match the interior, will display on the MFD+ and work with the MFSW but they run off windows CE. Here is a demo of the Waywell Chinese copy. Of note - you can add a cheap backup camera but they're normally stuck onto the license plate and you have to manually select them instead of displaying when you put the car in reverse.


Ease of installation, value, quality, looks/integration: choose 3 of these preferences because no navigation option has all 4. The OEM doesn't require installation, is a quality unit, has a hard drive for memory, but is expensive. The aftermarket units are cheaper and have better add ons but are either: not compatible with the MFSW/MFD+ and don't look factory, or work with MFSW/MFD+, look like factory, but because of their modability and windows CE operating system, could be more problematic. They also don't have sat radio or hard drives.
Aftermarket bluetooth
If you have don't have bluetooth or have 9w2 bluetooth, you can add fiscon basic plus. This is an aftermarket bluetooth with full MFD+ compatibility. It also adds gauges like actual water temperature and boost to the MFD display. *Note, the gauge units are metric (bar instead of psi, C instead of F). Other options are the 9w3 highline bluetooth. The 2011 TDI models will all be equipped with the new 9w7 highline bluetooth. See 1000q: mk5 mk6 bluetooth FAQ for more details.
OEM add ons
Other available OEM add-ons: backup camera, parallel parking assist (guide brackets on backup camera shifts in response to steering wheel), play TV while driving. The backup camera came with the system on the Tiguan. The RNS510 head unit is also available on the Touareg. It is an essential safety device since it increases situational awareness while backing up. Many children are injured or killed by cars backing up so be careful to not get tunnel vision when operating a vehicle. In other words, don't stare at the screen while the car is in motion - you should also check your side mirrors and maintain awareness of nearby pedestrians, etc. Here is a picture of the parallel parking guide. As you turn the wheel, it moves the guide brackets. Just remember that you should always know the basic dimensions of your car.
Below is a screenshot and a video of the rear view camera/parallel parking assist in action



Another OEM add on is the DVD in motion module. This lets you play video while the car is in motion. Obviously, observe all laws applicable to you when driving. The driver's full attention should always be on driving. NOTE: a free dvd in motion hack has been discovered - while it may not work 100% it shouldn't damage your head unit. See Free VIM module hack in the TDI forum for more details.

Also remember that you can also retrofit the RNS 510 GPS to your VW later. After the cost of installation, you're not saving any money since the price to buy it later is more expensive than the invoice price of adding it as an option. Make sure the dealer loads the map data when you take delivery of the GPS! Early RNS 510 were even delivered without map data! At this time, the best way to get map data is from a dealer ordering it from Navteq to prevent use of stolen GPSs and map data. Disclaimer: do not buy, borrow, trade, copy, your DVD nav map data since it is copyrighted material! Any torrents you find of map data are illegal so don't download the maps!
Note - If you retrofit one, make sure to buy a North American one since Euro doesn't have the same AM, Sirius XM, or HD radio signals and the maps are different! All add-on accessories should work. Make sure you get the security code or else you bought a paperweight! Note - the Jetta sportwagen station wagon is called the Golf Variant or Golf estate in Europe and may just become wagon or sportwagen in the future.
Note - the 2009 Jetta TDI loyal edition did not have the RNS-510 as an option. It had an optional older MFD2 navigation. See 1000q: MFD2 FAQ for more details. You can retrofit the RNS510 into the loyal edition or other mk5 CAN BUS cars with the correct modifications.
---
Related links:
1000q: 2009 and 2010 VW Jetta TDI buyer's guide 2009-2010 Jetta sedan FAQ, options, info, msrp, invoice price
1000q: 2009-2011 VW Sportwagen specific TDI buying guide
1000q: *revised differences between 2009 and 2010 and mk5 and mk6 VW TDI
1000q: 2010 and 2011 VW Golf TDI FAQ and buying checklist
1000q: 2011 new mk6 Jetta TDI buying guide
1000q: 2009-2010 VW Touareg buying guide
http://forums.vwvortex.com/zerothread?id=3647765 installation procedure and pictures
http://forums.vwvortex.com/zerothread?id=3586182 more pictures of the RNS-510 head unit
http://www.kufatec.de/shop/index.php/cat/c26_Golf-V-5---Golf-V-5-Plus.html German site, good english
Find more info: