How to activate park light function on mk5 VW Jetta TDI, Golf, Rabbit, or GTI
difficulty: 1/5

back to 1000q: mk5 Jetta "how to" list
Introduction
This article shows how activate the park curb light function on mk5 2005, 2006, 2007, 2008, 2008, 2009, and maybe 2010 Jetta and VW Sportwagen TDI.
This function is already active on European cars and may be active on some early mk5 body style cars. This will turn on the parking lights on one side of the car for better visibility when the car is parked. In Europe, they often leave this light on for short periods because they have really narrow streets. It'll run down the battery so be careful when using it.
To test if it's enabled, with the car off and the key out of the ignition, move the turn signal stalk up or down to signal left or right. If one side of the parking lights turn on, you have it enabled. Here is what it looks like in the front when the turn signal is set to "left" (left side illuminated, right side isn't). In the rear, the taillight on that side is also lit. When you open the door, you'll hear the "headlights on" chime even though the headlights aren't on.

To shut them off, move the turn signal back to neutral.
To turn on both parking lights when the car is on, you need a euroswitch. See 1000q: Euro switch install on VW Jetta TDI for details.
Parts
1 ross tech VCDS cable and a computer
Procedure to enable parking lights on VW Jetta:
Plug the VCDS into the OBD2 port and start the software/turn the car key to "on". Below are some screenshots. Click on "Select" to get to the control modules.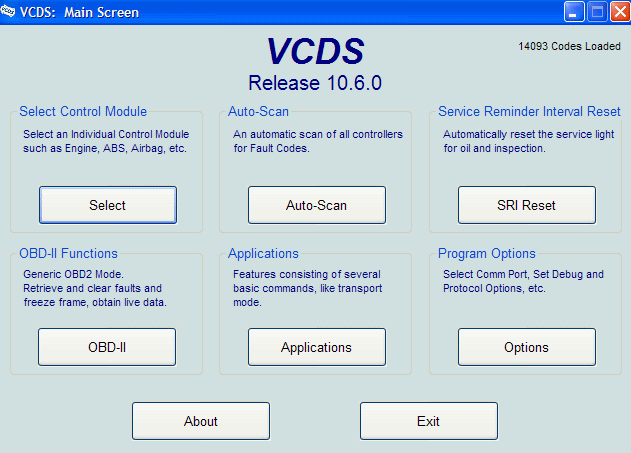 Click on "Cent. Elect". This is the central electric control module CECM.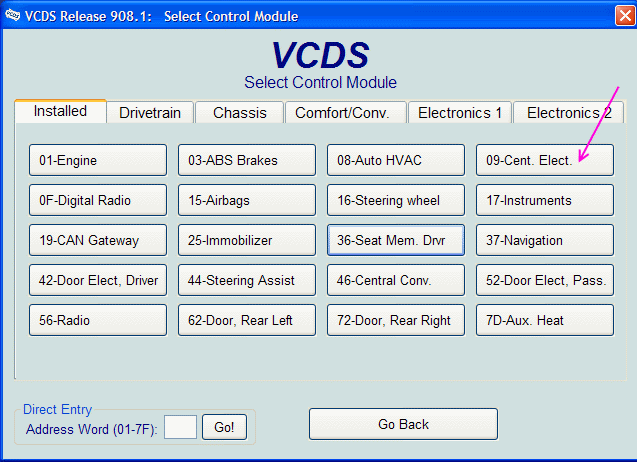 Click on "coding" and you'll see the screen below. Click on "long coding helper" to bring up the helper screens.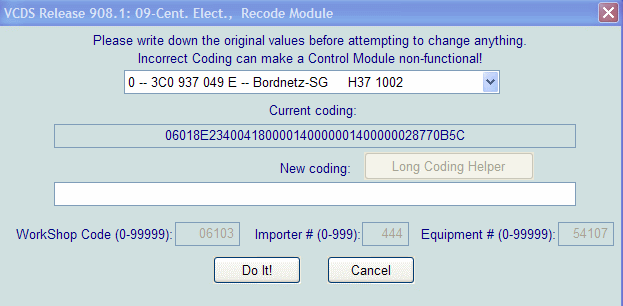 Go to the right until you reach byte 17 or the one that shows the options below. When you check off the boxes, the long coding helper changes the numbers for you. The long coding is #1, the long string of yellow numbers at the top. Make sure bit 6, parking light function inactive, is unchecked. Close the long coding helper and it'll copy/paste it into the previous screen where it says "new coding". Click "Do it!" to enter the new code. If it's saved then it says coding accepted. If it's not saved or invalid it will not say that the coding has been accepted. Always write down your original code before doing any modifications! Always take screenshots before changing the coding!

If it didn't work, you have to change your instrument cluster coding to Great Britain. As a byproduct, it'll also disable the door open chime. See 1000q: UK cluster and door chime disable for more details.
Do you have more questions about parking lights, OEM HID headlight retrofit on your VW Jetta TDI? Please ask in the forums or search the site: