Overhead console removal, sunroof switch repair, and dome light replacement- mk5 Volkswagen
difficulty: 1/5

back to 1000q: mk5 Jetta "how to" list
Introduction
This article shows how to remove the overhead console and replace the lights or sunroof switch on mk5 VW
My VW Jetta's sunroof was occasionally cracking open by itself so I knew it was time to clean/repair the sunroof switch. VW/Audi sunroof switches have been doing this since the 90s. You can also use this article to remove the sunglasses holder or clean out the dead bugs on the overhead lights.
Also shown is dome light replacement.
Parts
trim removal tool or plastic pry
T20 torx screwdriver
Procedure to remove the overhead console
Pry down the middle panel using trim removal tools or an old credit card. (You don't have to remove the sunglasses holder, this picture is used in another writeup, just pry off the hooks at the top if desired). Remove the 2x torx screws under the middle panel and the overhead console will come down.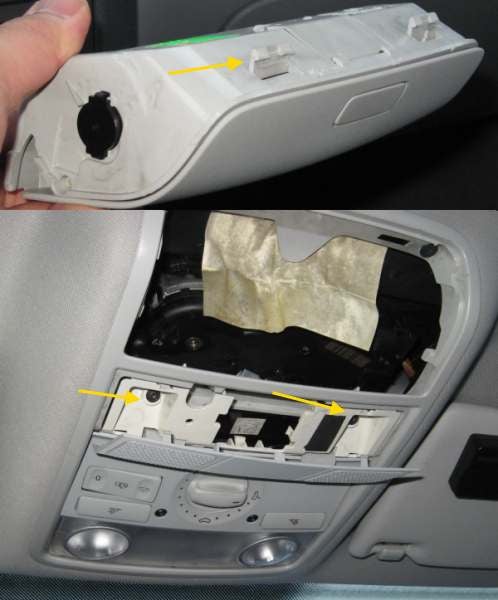 Unplug the blue plug and sunroof plug by releasing their lock buttons. (ignore the yellow arrows, pic is used in another writeup). You can change the light bulbs now if that was your goal.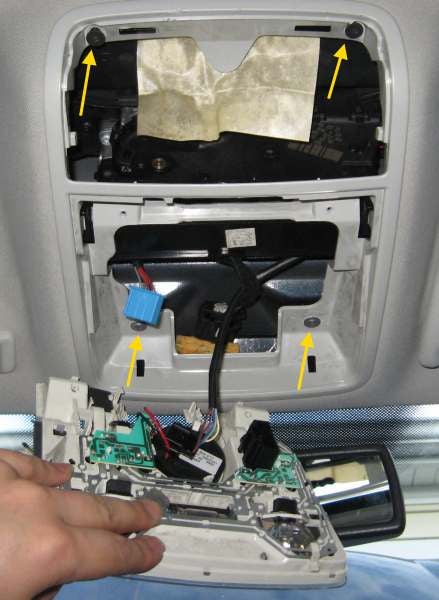 Sunroof switch repair:
Unplug the sunroof switch and pry the back cover off.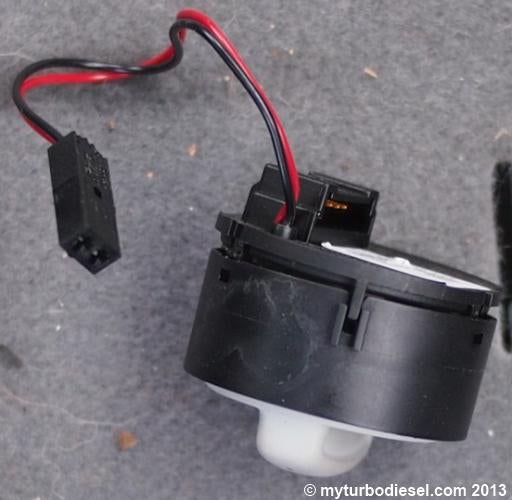 Clean the carbon contacts and while pressing the spring base so it doesn't snap off (the 3 white dots on the left half), slightly bend the spring fingers so they make better contact against the carbon switch. Make sure the large u-shaped spring is as shown as it provides some spring to the dial. If you didn't read your owner's manual or buying FAQs on this site, the switch can be turned beyond the right most position (comfort position) to open the sunroof all the way. That spring provides some resistance to turning it all the way. It will have greater wind buffeting in this position.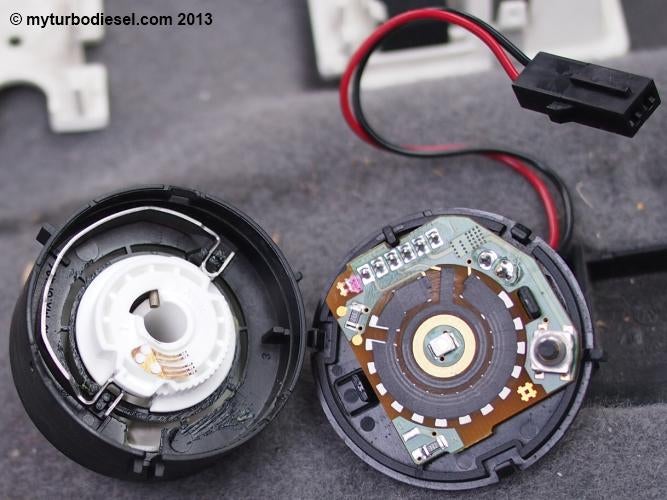 To remove and clean the console lens, look at the back and release the hooks holding the panels. The clear plastic ring goes into the console's 8 o'clock position (in the picture) and lights the sunroof switch surround. Removing that panel makes prying the lens off easier. Mine had a dead spider hanging out in there and I wanted to clean it out.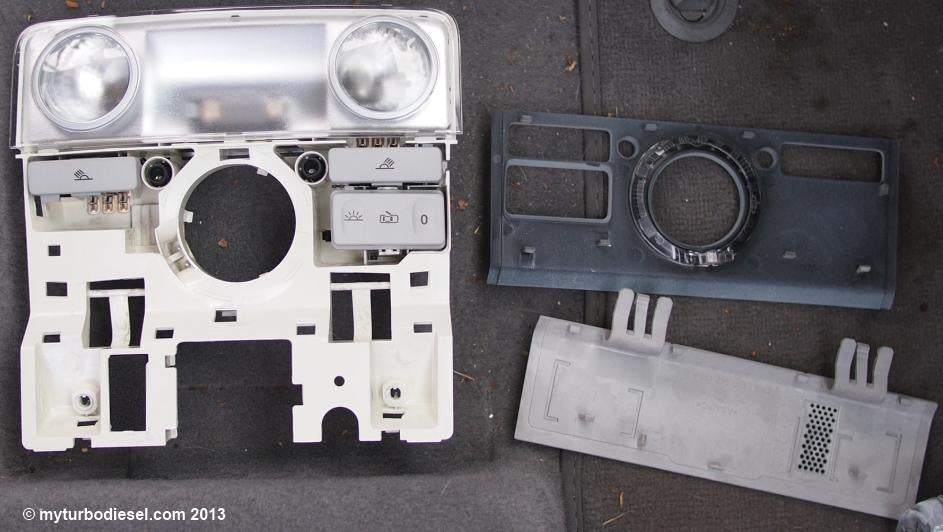 How to remove the rear dome light bulbs or lens
Pry off the plastic lens. You can replace the light bulbs now but if you wish to remove the entire assembly there's 2 hooks at the rear of the light that hold it in place (white arrows). Release the hooks and the plug underneath (visible in next picture).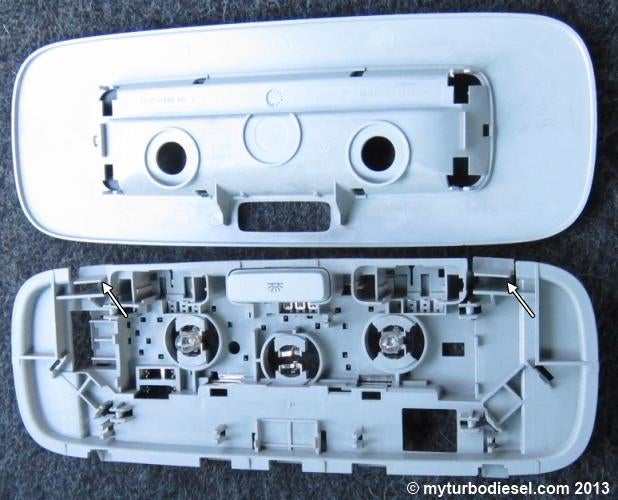 Here's a picture of the hole and plug. This picture is also used in the headliner replacement article so ignore the other stuff.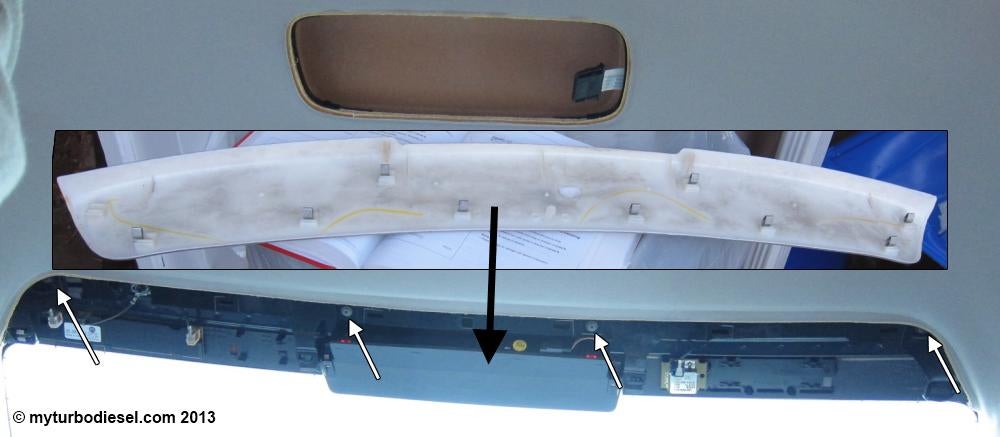 Installation is the reverse of removal.

Do you know what some of these climatronic codes are? Please share in the forums.