How to enable easy entry/exit memory seat function and reset or use the power seats
difficulty: 1/5

back to 1000q: mk5 Jetta "how to" list
Introduction
If you unplugged the battery on your VW Jetta TDI, the seat must relearn the limits of seat travel. If you have power memory seats you can also set them to move when you pull the key out of the ignition and open the door for easy entry/exit.
Once the seat relearns the travel limits you can use the memory function. Move the seat to the desired position and press the memory seat button. Within 10 seconds, hit seat button 1, 2, or 3. You will hear a door chime. This means that the position has been stored.

If you had this option (outside of North America) or have a 2005.5 with package 2 (driver's power-memory seat), you also have highline door modules. 2006 and later don't. It tilts the passenger side mirror down when you shift into reverse for easier curb viewing. You have to set the mirror adjustment knob to right.

If you unplugged the battery you also have to reset the window one touch operation and the steering angle sensor. See 1000q: window and steering reset.

Parts

1 ross tech VCDS cable and a computer

Procedure
How to reset the memory seat function relearn
Move the seat bottom all the way forward and then press the forward button again. Tilt the seat front all the way down and then press it again. Then tilt the seat back all the way forward and press it again. This should enable the memory seat function. It may chime 3 times.
How to enable easy entry and exit memory seat function.
Plug the VCDS into the OBD2 port and start the software/turn the car key to "on". Below are some screenshots.
Click on "Seat Mem. Drvr".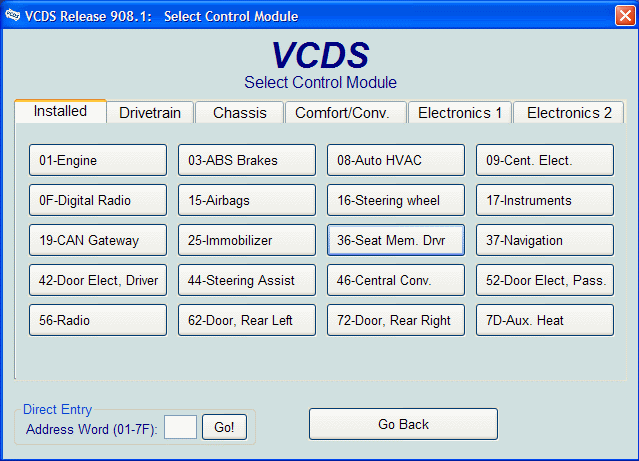 Click on "adaptation" in the below picture.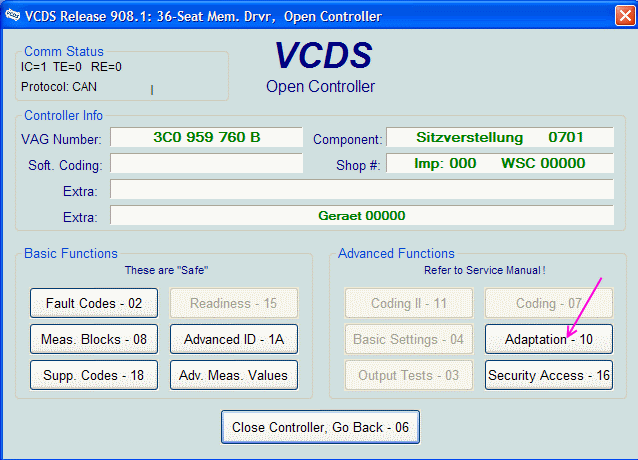 Enter "60" in the channel field or hit "up" 60 times. If the stored value is "0", easy entry is disabled. Hit the lower "up" button to change the new value to "1". Hit "save". Enter adaptation again and double check to see that the stored value is now "1".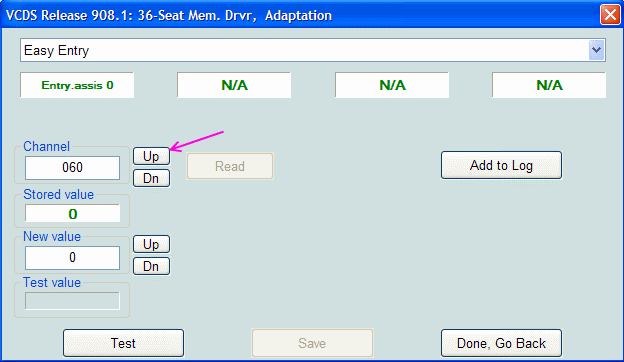 Would you like more information about using VCDS? Please ask in the Volkswagen Jetta TDI and VW Golf TDI forum.