Fiscon e-mfa or Volk-L installation on VW Jetta or Rabbit
back to 1000q: mk5 VW Jetta and Golf FAQ and "how to"
difficulty: 1/5
Introduction
This article shows installation of an aftermarket e-mfa module. Installation of the OEM Volk-L on your Volkswagen should be very similar.
The e-mfa is a box that plugs into the wiring harness and displays additional gauges on the MFD/MFI (full screen Multi Function Display). It does not require any splicing - it's direct plug-play. See 1000q: VW Bluetooth FAQ for details on the Volk-L bluetooth module 1k0 051 437, 1k8 035 730, 1k8 051 730 a (1k8 035 730a), and 1k8 035 730 b (1k8035730b, for 2009). This article is more for installation procedure.
If you have the half screen display, nothing will show up on it.
The installation and pictures are by fixmy59bug, thanks!


Here's an example of how it will look. You can change what is displayed on the MFD. Some functions:
Speed.
Instead of always pointing straight up (regardless of what the actual water temperature is), you can see the actual water temp.
Oil temperature.
Turbo boost (in bar, not psi)
Engine RPM.
Battery voltage.
Fuel capacity remaining (liters)

The modules come in e-mfa (additional gauges only), fiscon basic (bluetooth), and fiscon basic plus (basic + e-mfa). These modules only work with red Multi Function Displays up to 2009. If you have a 2010 or later with white MFD, it will not work. It will not work in addition to fiscon bluetooth because they use the same plug and fiscon already includes the gauges. It will work in addition to OEM VW bluetooth. For information and installation of OEM VW bluetooth modules, see 1000q: OEM VW Bluetooth FAQ.
Parts
1 E-MFA module or Volk-L module (direct link)
Procedure
Remove the top A/C Vent. In my case, that requires removing the OEMPlus upper storage bin. Remove the rubber liner and the two screws, remove the tray and center vents.



Do NOT lift the center vent assembly too high as you do not want to damage the wires. Unplug the hazard switch by sliding the blue locking tab back. It is kinda tough near the end, but eventually it will pop off. Undo the two pin Passenger Air Bag light.

Remove the two top screws that hold the radio and A/C trim in place.



Remove the 4 screws that hold the radio in place. Make sure you have the radio security code before unplugging the radio or else it won't work when you install it.



Here's the module you will be installing: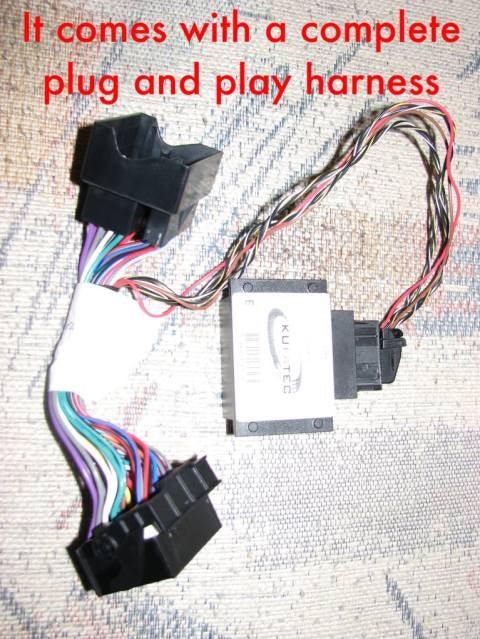 Stuff the module in back behind the A/C Controls. There is plenty of room back there.



Reinstall the radio, A/C trim, center vent, and dash tray (or upper vent). Remember all the screws. It will drive you mad if you find an extra screw (or two) when you think you are done.

Once you get the E-MFA (or Fiscon*) installed, you can turn your car on, reactivate the radio, and scroll through your MFA screens to activate the E-MFA.

Press the menu button until you find this screen:

Hit down, then hit OK and you will be blessed with this screen:

If you use the up button, you can change between the boost modes and Battery voltage. If you use the down button, you can change between engine RPM's and Fuel capacity remaining:

I have also been asked how quick the reading changes on the E-MFA. So I made a video as I accelerated on a freeway.

Here is another video showing the gauges (German text).

Here is another installation video for another model bluetooth.
For more information on the Volkswagen Jetta bluetooth or performance modifications, google search using the box below or ask in the myturbodiesel.com forums.