How to disable the door open chime on mk5 VW Jetta, Golf, GTI, GLI
difficulty: 1/5

back to 1000q: mk5 Jetta "how to" list
Introduction
This page shows how to disable the door open chime on mkv VW and set the instrument cluster to UK (GB)
This mod will disable the door open chime. You can see if a door or trunk is open on the MFD screen in the instrument cluster so it's kind of redundant and annoying. This mod is also required to activate the four high beam headlight mod, see 1000q: 4 headlights for details (your car must have factory HID or retrofitted OEM HID, see 1000q: HID retrofit for details.)
Long story short, you disable the door chime by changing the instrument cluster's software code from America to Great Britain. No physical part is altered or removed, changing the code just makes the instrument cluster think that it's a UK cluster. You can change it back with no problem if you sell the car or don't like it. This also removes the "accept" screen when you turn on your MFD2 GPS. See 1000q: MFD2 FAQ for more info on the GPS system.
If you have the OEM MFD2 nav system, it will also cause the FM radio stations to jump around when you scan radio stations up or down. You can still tune them in using the manual knob or go directly to them with the preset buttons. If you have the RCD 510 premium 8 touchscreen radio, the FM station scan is fine.
However, this also change your temperature from F to C, changes your mpg gauge from US mpg to UK mpg (UK gal is bigger than US gal), 12 hour clock to a 24 hour clock (military time). These can all be adjusted back to US settings through the MFD menu, see 1000q: MFD settings for more details. If your instrument cluster doesn't have these options you can't change them back unless you go back to an American software code.
Parts
Procedure to disable door chime on VW Jetta or Golf
Plug your VCDS into the obd2 port and start the software. Make sure the green LED on the cable is lit. Click on "Select" to go to the modules.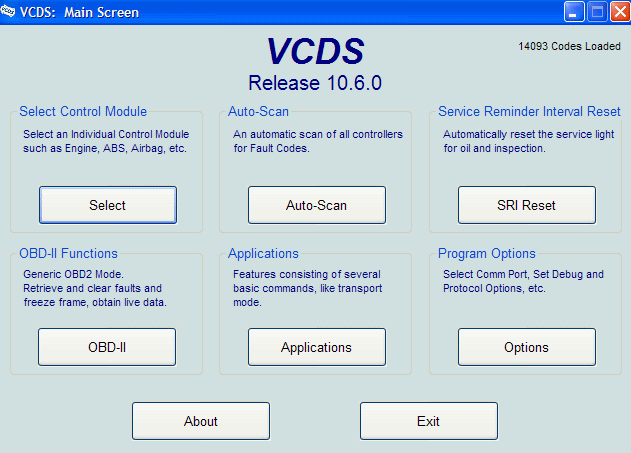 Click on "Instruments".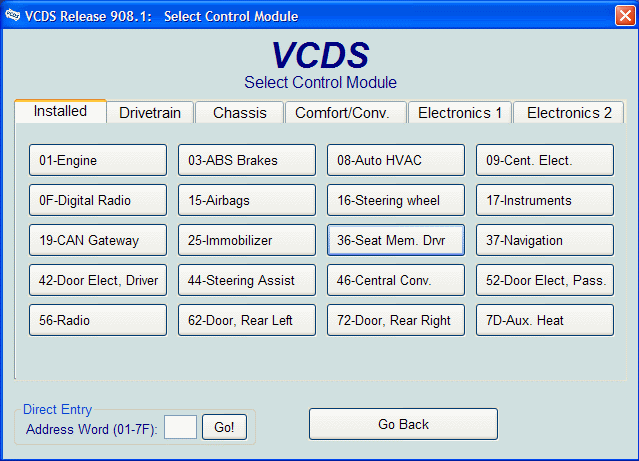 Click on "Coding" to change the "Soft. Coding" number shown below.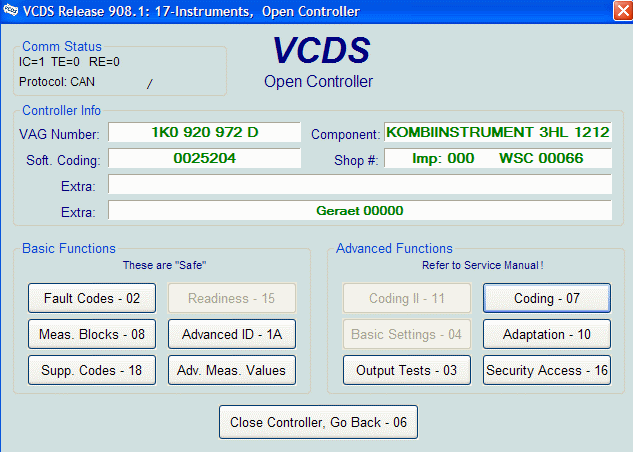 Change the 3rd digit, in this case "2" which means USA to "4" to change the cluster code to a GB cluster. Also see the helper box on the left. This disables the door open chime. From this screen you could disable the seat belt warning but I wouldn't. You can adjust a fast speedometer from this screen as well. For background information on how to use the Distance Impulse Number and side effects, see 1000q: fast speedometer adjustment.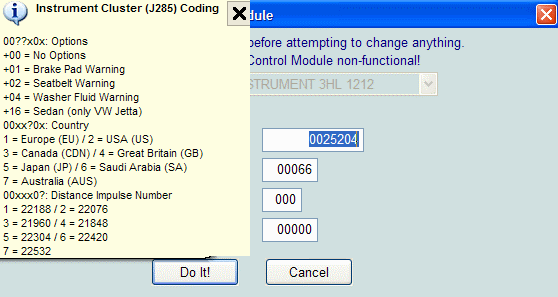 Click "Do It!" to save and close/exit the module. That's it! When you open the driver's side door, it will still show a left door open on the MFD display even though UK cars are right hand drive.
If you have any questions about this procedure, feel free to ask at the myturbodiesel.com forums or search the site below: