Cabin interior air filter replacement with charcoal activated filter on VW Jetta, Golf, and Audi A3 TDI 2005.5-2010 and newer
difficulty: 1/5
back to 1000q: mk5/mk6 VW "how to" list and FAQ index

back to 1000q: Audi A3 TDI FAQ and "how to" list
Introduction
This article shows how to replace the active carbon interior cabin air filter on a Volkswagen Jetta, Golf, or Audi A3 TDI.
I recommend an activated charcoal filter because it catches odors. It should come in a plastic bag to keep it fresh. My original air filter had a different part number from my replacement part number. The original OEM filter also had a valeo/micronAir part number so don't be afraid of an OEM-supplier equivalent filter. It's the exact same thing. My new filter also had a foam gasket around the edge.
Parts
1 cabin air filter VW# 1k1 819 653 with suffix (b or aoe or a) air filter from kermatdi
screwdriver
vacuum cleaner

Procedure
Look under the passenger side glove box and remove the 2 screws (white arrows). The screws are plastic and can strip so use a wide and thick screwdriver tip. 2010 and newer cars should use thumb screws with a raised center edge and can be removed by hand. (thanks for the tip bobt2382!)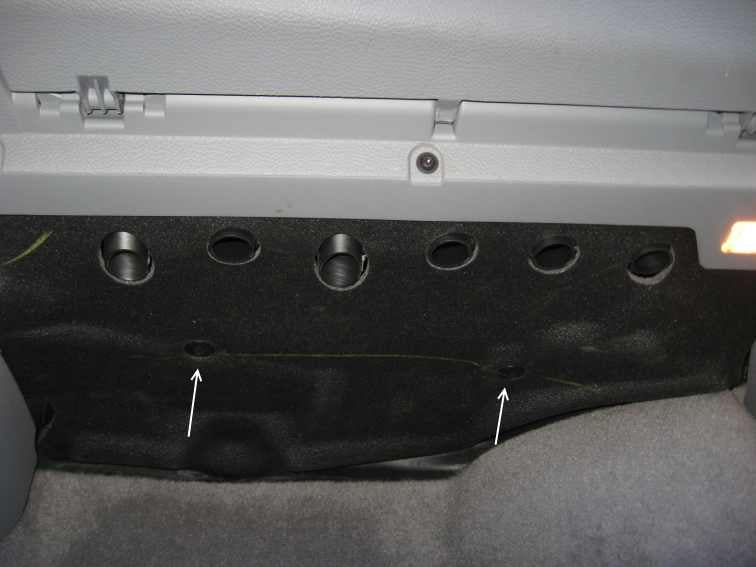 Remove the black foam cover and slide the filter door to the right.

Pull the new filter out and vacuum all the dirt and leaves inside the filter housing. Put the filter door through the foam holes on the new filter and slide it back in. Don't overtighten the plastic screws or else they will be impossible to remove next time.

If you have any questions about the carbon activated filter vs. the plain filter parts, feel free to ask in the forums linked at the top or search below: