2009 and 2010 Jetta TDI sedan and Cup edition buying checklist, FAQ, reviews, and TDI forum - page 1
Also see 2009-2010 Jetta TDI buying checklist page 2

Introduction

This article shows new pricing, options, and other misc info specific to the 2009 and 2010 VW Jetta TDI sedan and details on the TDI cup edition. For 2009-2014 VW Jetta sportwagen (Golf wagon), see 1000q: 09-14 wagon buying checklist. Because there are many other diesel VW models and trims available in Europe and Asia, this article is written with a focus on the North American market and the TDI. For the mk6 Jetta, please refer to the FAQ for that buying guide.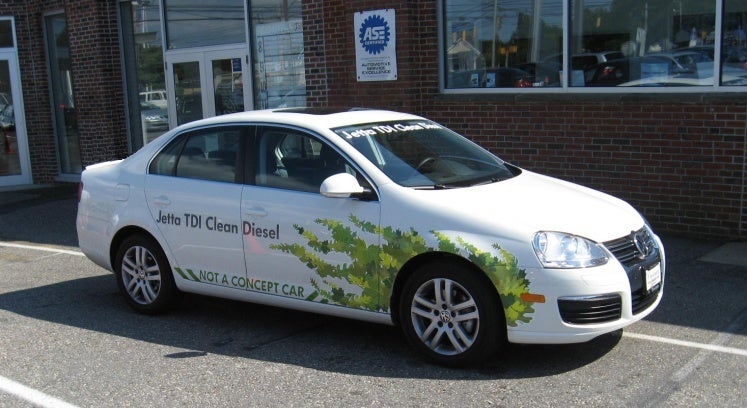 The basics
The 5th generation (mark5/mk5/mkv) VW Jetta TDI was the biggest, safest, and most powerful Jetta TDI that VW has offered (until the mk6). If you consider the Jetta Cup edition it's also the best handling out of the box. However, the additional weight and features raised the price and decreased fuel economy compared to earlier Jetta. The 2009-10 Jetta TDI was slightly decontented compared to the earlier 2005.5-2006 Jetta TDI due to foreign exchange rates, manufacturer profitability, and marketing goals but it had more features than the new body style Jetta for 2011 and newer. (see 1000q: 2011+ VW Jetta TDI buying guide for a detailed pictorial list of the differences). Many call the body style shown here called the A5. A5 means it's the 5th generation of the "group a" car, the Jetta or Golf. The new 2011 VW Jetta TDI is the A6 chassis.
The engine was all new for the North American market and makes more power while being cleaner than earlier TDI. Due to the emissions system, the car emits less CO2/mile and has a cleaner tailpipe than similar gasoline powered cars!
The only TDI wagon available new or in the 5th generation is the 2009-2014 VW Jetta sportwagen TDI (this is the correct spelling of the station wagon model). Because the wagon took a different development track due to the transition to the mk6 6th generation and has different options, see 1000q: Jetta sportwagon TDI buying guide if you're interested in a wagon. The bumpers, headlights, and interior are different but the engine and the rest of the body are about the same. In Canada they changed its name to the Golf wagon. Also see 1000q: differences between the 2009 and 2010 TDI for a detailed list of updates and differences between the 2009 and 2010 models. This is because of rolling changes to the mk6 generation.
If you want an SUV you can also see the 2009-2010 VW Touareg V6 TDI, 2011+ VW Touareg TDI, or Audi Q7 V6 TDI.
The car pictured above is a demo- Loyal Edition 2009 VW Jetta TDI. More about this special edition below.
Jetta TDI vs. Golf TDI vs. Audi A3 TDI
For the Golf, see 1000q: 2010 Golf TDI buyer's checklist. For the Audi A3 TDI, see 1000q: 2010 Audi A3 TDI buying checklist, reviews, and FAQ.
Size comparison of Jetta sedan TDI vs. Jetta wagon TDI vs. Golf TDI vs. Audi A3 TDI

2010 Jetta TDI sedan
2010 Jetta TDI sportwagen
2010 Golf TDI
2010 Audi A3 TDI
curb weight (lbs)
3230 man (3285 DSG)
3230
est 3020
unknown, about 3350
length (in)
179
179
165
169
width (in)
70
70
70
70
max cargo room (cu ft)
16 (trunk only)
67 +roofrack
46
56
drag coefficient
.31
.31
.304
.33
*Front head, leg, shoulder room are all very close. Front and rear wheel tracks are all the same.
Why not a hybrid like the Prius? Prius vs. VW Jetta TDI comparison and review
There's some cross shopping between hybrids and TDI because of fuel economy but if you look closer, they really do have a very different character. I've driven the Prius and owned many TDI - driving feel and handling, design, and size (station wagon) are all very different. The Jetta sportwagen has 67 cu ft of maximum cargo room plus a roof rack vs. the newest Prius with 40 cu ft. For general details on why a Jetta is a good choice and why not a hybrid, see 1000q: general TDI buying guide and checklists. Since the introduction of the TDI in 1996, the EPA fuel economy ratings for TDI tend to be slightly low compared to real world driving. Even after accounting for variation between cars, drivers, and test conditions, TDI really shine on highway mpg. But a diesel isn't about the best fuel economy or lowest cost per mile! The new Prius will get better fuel economy than a new Jetta but I still believe that the Jetta TDI sedan and wagon are excellent choices due to the combination of safety features, fuel economy, resale value, handling, and cost. Ultimately, the best car for you is a car that matches your needs, not mine. It comes down to your values and what you want in a car and your economy. Even still, Autoweek magazine said, "For comfort, quiet and highway handling, our drivers found the TDI had significant advantages over every other car in the test. It would have been our choice, in other words, for an easy daytrip on the interstates, regardless of fuel economy. And we topped the hybrids by driving with just a little attention to fuel economy, not making it an obsession." Ultimately, your mileage and experience may vary depending on your driving style and other factors. If your choice of car were based solely on money, buying a well maintained, used, compact car like a Civic will cost far less in depreciation, sales tax, and lifetime fuel costs compared to buying any new car! And if fuel economy were everything then ride a bike!
To highlight the comparison between Prius and Jetta TDI, there's no Prius sport but there is a Jetta sport - it's called the TDI Cup edition and features GLI (like a Golf GTI but the Jetta) sport suspension, seats. brakes. and interior. Below is a thumbnail image with ordering info for the TDI cup edition (click for large view). For detailed information on the TDI cup edition, see below. Below right is a video review of the Jetta TDI and Audi A3 TDI vs. the Insight and Prius.

2010 VW Jetta TDI cup edition details and features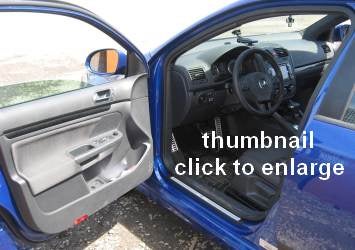 The 2010 Jetta TDI cup edition was a end-of generation special edition named after the TDI cup race cars. The cup race cars were non street legal racing-only cars that had full roll cages and racing safety equipment, racing only tires and suspension, and other misc racing parts. To the best of my knowledge, the race engines were physically the same engine that go into street legal Jetta but they were tuned to 170hp and the software was modified for removal of emissions equipment.
The major changes vs. the regular Jetta are the option of laser blue (an excellent color that was discontinued for 2010 in normal cars), 18" "Charleston" alloy wheels, GTI interior (GTI seats, black cloth headliner and interior instead of leatherette vinyl, black interior trim instead of silver), GTI suspension, GTI brakes, and TDI cup edition side decal. The body kit featuring the front bumper, rear bumper, and side sills are optional. A mat kit or rear spoiler are also optional. If it has the DSG transmission, it has paddle shifters on the back of the steering wheel.
To the right is an interior thumbnail showing some of the changes and differences vs. the regular Jetta TDI, click to enlarge. It's a common misbelief that the cup edition has a GTI steering wheel. In fact, the steering wheel is a TDI cup edition wheel with gloss black insert. The difference is that the GTI steering wheel has a flat bottom and larger side bolsters. It's easy to swap the steering wheel, see 1000q: steering wheel swap for details.
A total of 1501 TDI cup editions were produced in the following colors and transmission options: (thanks 1Guy1CupEdition for the info)
Black: 579 produced: 250 manual, 329 DSG
Candy White: 485 produced: 171 manual , 314 DSG
Salsa Red: 251 produced: 89 manual, 162 DSG
Laser Blue: 186 produced:78 manual, 108 DSG
Both cars here have laser blue paint with the body kit (front + rear bumpers and side sills). The front bumper side grilles are non functional - the intercooler is behind the front grille opening. Here are a few shots of the car showing some highlights. The front grille slats are gloss black instead of the standard car's chrome "tongue" grille and the taillights are smoked red. The car has black window trim instead of the standard chrome. The side decal is standard on all cup edition but can be removed. The first car has 17" black aftermarket wheels and the second shown below has the stock silver/black wheels.

This car also has the optional spoiler. The 18" wheels have pretty thin sidewalls so you can switch to 17" wheels if your roads are too rough. See 1000q: tire, wheel, and gearing calculator to see the correct sizing and wheel offset. As a general suggestion, 17" wheels with offset of about 45-50 and tire 225/45 will work. 225/50 will also fit depending on wheel offset and width but it'll raise the car and make the gearing slightly taller.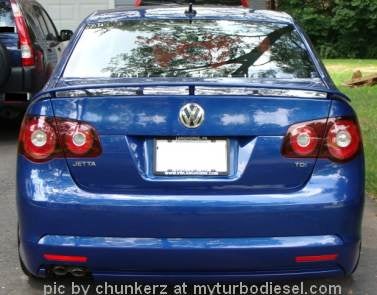 The interior has cloth GTI seats. These have taller side and bottom bolsters and plaid inserts vs. the regular Jetta and manual backrest tilt instead of electric tilt. The picture on the right shows the 115V household outlet in the rear of the center console and the rear armrest/passthrough/cupholder. Like the regular Jetta, the rear seats fold down 40/60.

Below left is the stock front alloy wheel. The tires are 225/40. Below right is an aftermarket 17" wheel with 225/50 tires. The front and rear have no problem with brake clearance on 17" wheels. The brake rotors on the cup edition increase from the stock 288x25 mm rotor to 312x25mm in the front. The rear rotor increase from 260x12mm to 286x12mm. The front calipers are the same as regular TDI except they're painted red. The rears are physically different calipers from regular TDI and are also painted red. The suspension is a little stiffer than the regular Jetta. The car isn't much lower but the side sills do make it look much lower. The side sills make it more difficult to jack up the car because they are so close to the jack points.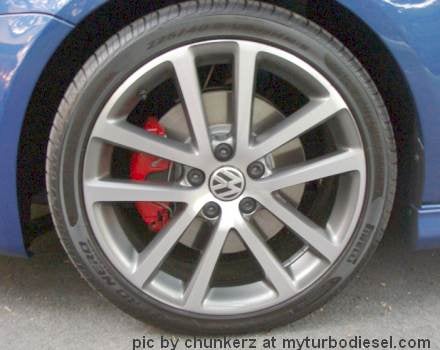 Below left is a video review of the Prius vs. Jetta TDI (diesel fuel is now less expensive than gas, the video was made when diesel was more expensive).

Video reviews of the WV Jetta TDI from edmunds.com and cars.com

Some customers had taken delivery at $1500 UNDER invoice + delivery (+ local tax, license, fees, added options, etc) on 2009 models. Don't worry, they still make money even if they sell below invoice because invoice isn't normally what the dealer ultimately pays for the car.
Average prices out the door after everything had been in the $21,000-28,000 US dollar range when new.
Jetta TDI (and all 4 cylinder light diesel passenger car engines) do not use urea injection like Mercedes Benz adblue additive to meet emissions. No pee jokes, please!
2009 pricing
Invoice price on a 2009 base Jetta TDI sedan was $21,004 w/manual transmission, $22,103 w/DSG transmission. MSRP was $22,270 w/manual, $23,370 w/DSG.
Invoice price on a 2009 base VW Jetta Sportwagen TDI was $22,503 w/manual, $23,602 for w/DSG. MSRP was $23,870 w/manual, $24,970 w/DSG.
Delivery was $650 (all prices are in US dollars).
Official pricing for 2010 VW Jetta sedan TDI Add $750 destination to car price (mandatory) (prices for US only)
The TDI costs about $2200 more than a similar gasser model. The TDI has additional features over the gas model because of the trim level and had a $1300 income tax credit. In CT and other states (see tax info below for qualifications) with a sales tax exemption for high mileage cars, you also save about $1400 in sales tax. (This has since expired) Depending on options, etc., this could make the TDI cost less than a gas VW.
9w3 bluetooth, heated seats/windshield washer nozzles are standard and included in the MSRP on 2010 VW Jetta TDI
| | | | |
| --- | --- | --- | --- |
| | MSRP | invoice price | notes |
| 2010 VW Jetta TDI manual | $22,830 | $21,370 | 6 speed manual |
| 2010 VW Jetta TDI DSG | $23,930 | $22,469 | DSG is automatic, see 1000q: DSG FAQ for more details |
| | | | |
| Media Device Interface for ipod integration | 199 | 176 | option code uf8 |
| RNS 510 navigation system | 1790 | 1581 | option code pni, see 1000q: RNS 510 FAQ for description and functions |
| sunroof | 1000 | 883 | option code 3fe |
| 17" alloy wheel | 450 | 398 | option code pji |
| rear lower side airbags | 350 | 310 | option code 4x4, head rear curtain airbags standard |
Below is a table comparing MSRP of the VW and Audi TDI. The MSRP of the Audi includes the $825 destination fee so all VW MSRP are 4 door, DSG transmission with $750 VW destination fee included to make a direct comparison.
Comparison of 2010 VW Golf TDI vs. 2010 Jetta sedan, VW Jetta sportwagen TDI and Audi A3 official pricing (4 door, DSG transmission, destination included)
2010 Golf TDI
2010 Jetta TDI sedan
2010 Jetta TDI sportwagen
2010 Audi A3 TDI
MSRP
$24,809
$24,680
$26,465
$30,775
All cars come with 3 years/36,000 miles of free maintenance in the US. Just remember that nothing is free, this cost is just shifted into the purchase price.
Make sure to tell all drivers of your car to only put diesel in the fuel tank! If you accidentally put gasoline in it, immediately stop and tow it to a mechanic!
Tax credits and sales tax exemptions with a VW Jetta TDI
See 1000q: Tax credits and exemptions with the VW Audi TDI for detailed examples and explanations. These have since expired but I've left the page up for reference.
Biodiesel in the new VW Jetta TDI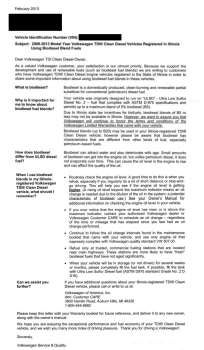 The engine itself will run well on biodiesel. However, how biodiesel effects the self cleaning emissions filters and engine oil isn't known. VW only allows up to B5, or 5% biodiesel. They cannot void your car's warranty because of biodiesel use! Laws vary but generally speaking, if they refuse a warranty claim on the engine or exhaust system claiming the fault was caused by biodiesel, you might have to fight the manufacturer and prove that they are responsible for the problem and/or that the fuel is not responsible for the problem.
The 2009+ TDI common rail engine and emissions system has not had long term, large scale real world tests with high percentages of biodiesel and the main concern is how biodiesel will affect or clog the DPF. The other concern is engine oil dilution. Regular diesel easily evaporates out of the engine oil whereas biodiesel tends to accumulate more. After combustion, a little extra fuel is injected during the "self clean" post injection regeneration cycle which is burned up in the exhaust filters and catalytic converters. Burning this fuel in the exhaust filters raises their temperatures and burns up the captured emissions. Biodiesel's flash point is higher than regular diesel. This emissions system is one of the reasons why the new TDI has very little diesel odor and low emissions. It's possible that biodiesel use could cause excess regeneration cycles and it is not known how this will effect the car. For more basic information about biodiesel and VW, see 1000q: intro to biodiesel.
Because the self clean cycle injects this extra fuel after combustion, there is some concern that the biodiesel will get into the engine oil and dilute it. Regular diesel evaporates easily out of the engine oil whereas biodiesel tends to accumulate. A little biodiesel can be easily tolerated but the long term effects of this are not yet known on the new common rail TDI engine only. Some states have bio fuel mandates and in response to Illinois having some biodiesel in the fuel, VW will cover up to B20 in TDI registered in Illinois. To the right is a thumbnail of the letter they sent out Feb 2013.
This post combustion injection will also slightly lower fuel economy. It's hard to tell exactly how much fuel economy is lowered but it does occur every 400-600 miles, or about once a fuel tank. Future aftermarket modifications could include disabling this injection and removing the DPF or bypassing the DPF on the Jetta. Check your state and federal emissions laws before modifying your emissions equipment - it's illegal in the US. See 1000q: DPF FAQ for more on this system.
VW 2.0L TDI engine fuel line recall in Oct-Nov 2011
There was a fuel line recall during late 2011 to replace the fuel lines and/or install dampers on all the unaffected engines. The fuel injectors induced a harmonic in the fuel lines which weakened the metal. In a few cases, the lines split or leaked. As a result, all lines were replaced or had dampers installed to change the vibration of the metal. Here is what it should look like if the recall was done. All later cars had these installed from the factory. If you remove these, the fuel lines may weaken and leak over time.

Extended warranty on the fuel pump June 2015
In June 2015, VW extended the warranty on the high pressure fuel pump (HPFP) to 10 years or 120,000 miles. Click the thumbnail below to read the letter.
More FAQ, options, and ordering info before you buy
DSG vs. manual
DSG transmission is the only "automatic" transmission available. It's often referred to as tiptronic but almost all non-manual transmission mk5 TDI are DSG. The exception is the Tiguan (if they ever release a TDI version in the US). A DSG is an automatically shifting manual-like transmission. Towing is limited to 1000 lbs in the TDI, 200 lbs tongue. For unknown reasons, the original weight limit for towing a trailer without brakes (wagon only) was 1650 lbs but was lowered. The gears inside the transmission look somewhat like a manual transmission instead of an automatic transmission's planetary gears and torque converter. Compared to a manual transmission, everything else being equal, expect slightly lower fuel economy due to greater weight, DSG fluid parasitic losses, and other factors. Ultimately, the difference in fuel economy will probably only cost about $12/month more for the DSG, so don't let a small mileage difference dissuade you from state of the art transmission technology. See a video explanation and pictures of the DSG transmission at 1000 answered questions: DSG FAQ.
Bluetooth
Jetta TDI sedans get 9w3 bluetooth which has outgoing call, phone book, and voice control capability. Jetta/Golf wagons get 9w2 bluetooth which is like Volk-L which can only pick up incoming calls. You can still use voice control to place outgoing calls after pressing the bluetooth button if your mobile phone like an ipod or android has voice control capability. See 1000q: mk5 Bluetooth FAQ for more details.
The Jetta sedan and wagon are made in Puebla, Mexico and shipped by cargo ship or train to the US and Canada.
Note about the changed EPA fuel ratings for 2010
The engine has no functional differences for 2009 vs. 2010 but the manual transmission did. The EPA increased the fuel economy rating for DSG from 29/40 to 30/42. Strangely enough, the manual is still rated at 30/41 but the gearing was lowered to increase fuel economy. Below are the gear ratio differences between the 2009 and 2010s highlighted in gray. The transmissions use final drive #1 for gears 1, 2, 3, and 4, and the other for gears 5, 6, and reverse. This is why 4th and 5th manual transmission gears have the same (or almost) ratio. If you want to calculate rpm in any given gear, see 1000q: tire wheel gearing calculator. Your mileage may vary!
| | | | | |
| --- | --- | --- | --- | --- |
| gear | 2009 manual | 2009 DSG | 2010 manual | 2010DSG |
| 1 | 3.77 | 3.46 | 3.77 | 3.46 |
| 2 | 2.09 | 2.05 | 1.96 | 2.05 |
| 3 | 1.32 | 1.30 | 1.26 | 1.30 |
| 4 | 0.98 | 0.90 | 0.87 | 0.90 |
| 5 | 0.98 | 0.91 | 0.86 | 0.91 |
| 6 | 0.81 | 0.76 | 0.72 | 0.76 |
| final1 | 3.45 | 4.12 | 3.45 | 4.12 |
| final2 | 2.76 | 3.04 | 2.76 | 3.04 |
The biggest change on the 2009 Jetta vs. earlier TDI is the new 2.0L 140hp, 236lb-ft torque common rail TDI engine. This engine is comparable in torque to a 6 cylinder engine in daily driving with the fuel economy of a small 4 cylinder engine. See 1000q: direction injection, pumpe duse, and common rail for a comparison to older TDI technologies. This common rail and emissions technology is state of the art for passenger car diesels and results in more power, more efficiency, better emissions, and quieter, smoother engine sound than ever before. Although diesel fuel prices are higher than gasoline prices, you will still save money over the long term compared to a similar new car.
Loyal edition 2009 VW Jetta TDI or special edition
The loyal edition TDI was a low production number, limited edition 2009 VW Jetta TDI that is sedan only. Any customer could order a loyal edition. They stopped production in July 2008 (in the 27th week of production) and they've all been sold. The VW Jetta TDI loyal edition adds a premium sound system (The amp is under the driver seat) with aux in, sunroof, front lower lip spoiler, and rear trunk spoiler, and costs an extra $450 over the regular TDI. This is a good deal since the sunroof alone is $1000. However, if you order the navigation system on the loyal edition, you got the DVD-in-the-headunit MFD2 GPS navigation system without the touchscreen that was also used on older Jetta. See 1000q: RNS 510 FAQ for more info on the newer touchscreen headunit. Loyal editions were built in both 6 speed manual and DSG, some became demos. The demos were loyal editions that were DSG, white, and had the stickers on it. A demo is shown at the top of the page.
The loyal and demo have a TDI badge insert on the steering wheel. Later non loyal/demo have a blank spot in the insert position (see below pictures for more details).
Here is a picture of the interior of a 2009 demo loyal edition sedan. It comes with premium satellite radio, DSG transmission, and standard multifunction steering wheel w/TDI badge. Later non-demo/loyal cars have a blank badge like the above picture instead of the TDI badging. 2010 Jetta TDI got a new steering wheel and touchscreen radio (shown below right).

The RNS-510 GPS navigation system (not available on the loyal edition) is touch screen based, color, and uses a hard drive to store music and map data. Aftermarket add-on accessories for the RNS 510 include back up cameras, AV input, and DVD players. Many of these add-ons are VW Euro only parts or were options on more expensive models. Pictured below is the newer RNS510 navigation. See 1000q: RNS 510 FAQ for more info on the touchscreen headhunt. Note that dual zone climatronic is shown because this picture is of a gas Jetta, it also has the multifunction steering wheel (standard on sedan, N/A on sportwagen). See the below pictures for invoice and retail pricing of the options. The OEM GPS navigation for 2011 VW TDI is the RNS 315 and is much cheaper so if you decide to buy it later as parts you can always do so (you just need to add the GPS antenna). See 1000q: RNS315 GPS navigation for info on that system. The RNS 510 will continue to be optional on Passat CC, Tiguan, and Touareg.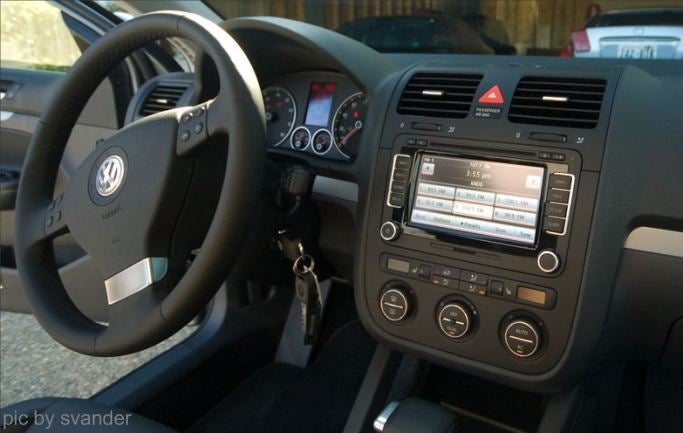 Estimated mileage by third party testing is 38 city, 44 highway for the TDI. Over 50 mpg highway has been confirmed in real world driving but don't expect this unless you do all highway driving and drive slowly and smoothly. EPA testing is rated at 29/40 but has always proven low on previous TDI. Expect about 40 mpg in mixed real world driving and as always, your mileage may vary! Major factors effecting mileage include individual driving style, car build quality variations, and fuel quality. Also expect mileage to increase during engine break in by as much as 10-15%. Part of the lower expected mileage compared to earlier TDIs is heavier weight, emissions treatments, and a more powerful/thirsty engine. EPA testing methods were also changed but this penalized real world vs. EPA est. diesel car mileage.
Here are some more video reviews of the new 2.0L Jetta TDI. The video on the right is a virtual walkaround by a dealer. See below for another virtual walkaround and a video of the panoramic sunroof on the sportwagen.
Review of the Jetta sportwagen TDI vs. the sedan.

Have another question about the Jetta TDI? Post your question at the myturbodiesel.com forums.
Below are the shock absorber shipping locks that should have been removed when the car was delivered to the first owner. Although they should have been removed by now, you never know. Even a major car magazine had these left in on their long term tester.

Continued on page 2 - includes the engine oil TSB, bluetooth info, dealer initial computer settings and delivery inspection

Can't find what you are looking for here? Search the myturbodiesel.com FAQ and forums: