2005 (2005.5) 2006 VW Jetta TDI buying checklist, FAQ, and VW Jetta TDI forum
back to mk5 Jetta TDI FAQ and "how to" list
Introduction
This articles shows common problems, maintenance checks, base vs. package 1 vs. package 2 trim details, on the (2005.5) late 2005 VW Jetta TDI, 2006 VW Jetta TDI, and 2006.5 special edition and diesel edition Jetta TDI.
The only 5th generation (mkv/mk5/a5) passenger car TDI sold in North American was the Jetta. The Touareg was also available as a V10 and V6 TDI but it's a SUV and at $50-70,000+, served a different market than the Jetta. There were mk5 Golf/Rabbit and Passat diesels in other markets but not in the US or Canada. Although the early mk5 Jetta TDI was built from 2005 to 2006, they are called the 2005.5 or 2006 because there were also mk4 Jetta sold as 2005 models. VW also extended the production run for 2006 models until the end of 2006 (they normally start building next year's models the summer before) and changed the trim. These 2006 models are often called 2006.5 or special edition VW Jetta TDI or diesel edition Jetta TDI. This is because new emissions standards began Jan 2007.
If you want to buy a 2010-12 Golf TDI, click on this link. If you're interested in the 2010-12 Audi A3 TDI, click this link. This guide covers the model year 2005.5-2006 TDI only. For the 2009 or 2010 VW Jetta TDI sedan, please see 1000q: 2009-2010 TDI sedan buying guide. For the 2009-2012 TDI wagon, see 1000q: wagon TDI buying guide. Also see 1000q: 2011+ VW Jetta TDI reviews and FAQ for info on the newest mk6 Jetta.
If you find the tips on this page helpful, please use the donation button at the top so that I can continue to keep publishing great articles for free. The Bentley service manual is about $80 and I hope the tips here save you from making an expensive mistake. Thanks in advance!
The 2005.5-2006 VW Jetta TDI were the most luxurious Jetta available and use the same body as 2009-2010 Jetta TDI. You could option them higher than the 2009 2010 Jetta or the decontented (to bring down the price point) mk4 2011+ Jetta. They weren't 50 state emissions legal when new but you can buy and register them as a used car in any state and Canada. More features and safety devices increased weight and lowered fuel economy compared to earlier generation cars. What's a fair price to pay for one? Check your local classifieds, ebay, and blue book for a fair price ranges. A fair price depends totally on mileage, condition, maintenance, options, etc. Although diesel fuel prices are higher than gasoline prices, you will still save money compared to an identical gasser VW, especially when considering resale values.
You may also be shopping for a used Prius because they also get great fuel economy. However, the driving experience, feel, and size are all very different. For example, you can't get a manual transmission or DSG gearbox on any hybrid. If you want a new car there are Jetta TDI station wagons. For more on why I prefer TDI over the Prius, see 1000q: general TDI buying guide and checklists. It's not all about the best fuel economy or lowest cost per mile! I believe that the Jetta TDI sedan and wagon are an excellent choice for most people due to the combination of safety features, fuel economy, resale value, handling, and cost. As Autoweek magazine said in a comparison, "For comfort, quiet and highway handling, our drivers found the TDI had significant advantages over every other car in the test. It would have been our choice, in other words, for an easy daytrip on the interstates, regardless of fuel economy. And we topped the hybrids by driving with just a little attention to fuel economy, not making it an obsession."
Here is a video review of the Prius vs. 2009 Jetta TDI (diesel fuel is now less expensive than gas, the video was made when diesel was more expensive) - it has the newer CBEA/CJAA common rail engine but the chassis is the same.

Why buy a 2005.5 or 2006 VW Jetta TDI instead of a newer Jetta?
As shown below, earlier cars had higher options packages than the newer mk5 09-10 or mk6 2011+. Early cars could be fully optioned in the highline trim, later 2009-2010 cars could only be optioned to about the mid level package in the US. Only Canada had the highline option in 09+ cars. The new mk6 Jetta is also equipped to the mid level package but since VW wanted to lower the price point, they removed a number of features to get it there.
The 2009-2011 Jetta sedans and sportwagens (called Golf wagon starting in 2010 in Canada) use the same basic body as the 2005 or 2006. The first reason to get an older car is economics: older or higher mileage cars have already had most of their depreciation and if you refresh the suspension/bring all maintenance up to date, you'll have a car that is almost identical from a brand new TDI except for the engine/driveline. The 2010 Golf hatchback uses the new mk6 body, see 1000q: 2009 vs. 2010 VW TDI revisions for more details.
Early cars have also proven to be responsive to current power modifications. A chip can give about 140-170 hp and 230-260 torque! See 1000q: basic power modifications for more details. While the newer cars could make more power, they are too new to have any long term tests and also have complex emissions treatment systems.
| | | |
| --- | --- | --- |
| | Early mk5 Jetta TDI - 2005.5-2006 | Late mk5 Jetta TDI - 2009-2010 |
| Engine type | 1.9L pumpe duse BRM engine, 100hp 176 lb ft torque | 2.0L common rail CBEA/CJAA engine , 140hp 236 lb ft torque |
| Emissions | standard diesel catalytic converter | self cleaning DPF filter, does not use urea injection, very clean exhaust pipe even compared to a gas car |
| Biodiesel (>5% official VW limit) | biodiesel has been successfully used long term | biodiesel is not tested long term and may cause problems |
| Misc engine | camshaft wear common problem | quieter, more powerful, and cleaner emissions |
| Power mods | aftermarket chips, fuel, and turbo mods tested | aftermarket chips, fuel, or turbo mods not tested long term |
| Transmission | 5 speed manual or 6 speed DSG | 6 speed manual or 6 speed DSG |
| Options | see below, could be base up to highline option package | see 1000q: 2009-2010 TDI buying guide, only optioned as mid level package |
| Interior | leather memory power seats optional | vinyl leatherette only, no power seats |
| Fold flat front passenger seat | available on package 1 and 2 | not available |
| Body | sedan only | sedan or station wagon |
| Navigation | MFD2 DVD navigation | RNS510 hard drive touchscreen nav |
| Dashboard MFD display | all 2005.5, all special editions, and 2006 w/package 2 had MFD+ | All had MFD+ which shows mpg, temp, radio station, etc. |
| Radio | 6 CD in dash changer (in armrest w/MFD2 navigation) | premium radio in loyal edition only (amp under the seat), standard radio w/6 CD in dash changer in all others, ipod connector in the center armrest for 2009, full MDI adapter for 2010, see 1000q: ipod adapter compatibility for more details on these |
| Climatronic | dual zone auto climate control standard for all 2005.5 and 2006 w/package 2, adds sunlight sensor vs. manual | not available w/TDI, manual climate control |
| Wheels | steel or alloy | alloy only |
| Soundproofing | louder engine | quieter engine, foam and felt around the engine for soundproofing |
| Maintenance | 80,000 mile timing belt (manual used to say 100,000) | 120,000 mile timing belt |
| misc differences | plastic battery box cover, 2nd 12V outlet, chrome button on p-brake handle, trunk storage side compartment, 3 ring binder for owners manual, choice of dashboard color, active head restraints that move forward in a crash. | Some loyal edition may have some of the options to the left, later cars have paper battery box cover and none of those options on left. All have anthracite (light black) dashboards. Has 110V (household type) AC outlet in center console. Passive head restraints protect better in testing but can literally be a pain in the neck - they tilt forward. |
As mentioned above, leather memory power seats are only available on early cars. Note - if someone disconnected the battery the power seat memory must be relearned. See 1000q: mk5 Jetta power seat relearn for details. Later cars had standard vinyl v-tex leatherette. If the seat surface is solid it's leather. All VW leatherette is perforated for breathability. The advantage of vinyl is lower cost and greater durability. Leatherette won't dry and crack the same way leather can but in my opinion, it still feels rubbery. It also has no odor. Leather has a higher quality feel and leather smell. Leather "moves" softer and and just feels different. The disadvantage of leather is that it should be kept out of strong sunlight to prevent drying out and has to be regularly cleaned and conditioned to keep soft. In any case, unless a stranger was sitting naked on the seats they probably wouldn't notice it wasn't leather because leatherette is fairly high quality stuff. If you want leather, power, or sport seats on your 2009+, any leather seat from another 5th generation Jetta or Golf is swappable and they all have side airbags. See 1000q: power seat swap for more details. You may have to change the airbag wire harness and use a VCDS computer tool to change the airbag setting. Other options are the plaid sport seats from the GLI/GTI or sport seats from the R36 Golf.
One small change early vs. late is the anti-whiplash headrests. You can adjust the headrest tilt in early Jetta, later Jetta have headrests that are fixed in the tilted forward position. These aren't active headrests, VW just fixed their position forward after 2007.
Aside from the quieter engine, VW also changed the plastic wheel well liners to a felt like material which dampen tire noise a lot, added foam blocks around the engine, and a felt cover under the oil pan to dampen noise.
The reason for items being discontinued or Not Avail. on TDI trim on the 2009+ models is cost. The early mk5 Jetta TDI were the most expensive Jetta that VW has made. The cars were too expensive to build and customers were turned off paying up to $30,000 for a fully loaded Jetta (even if was equipped like Audi A4 from a few years ago) and as a result, later cars only had some of the features available on early mk5. VW learned their mistake and the new mk6 Jetta has been decontented.
The dashboard was also available in different colors the first year. After 2006 it was anthracite (light black) or black (black-black).
You can add xenon HID headlights and foglights to the Jetta TDI. OEM HID headlights from the GTI/GLI can be purchased for about $900 from sites such as ecstuning. A good aftermarket headlight is the Hella Dynabeam for $1100. It's not the OEM HIDs but is made by the same manufacturer (Hella) and is high quality. It also uses a sensor to swivel 15o into turns. You can also purchase used OEM HID housings online. Do not attempt to use the stock non-HID housings with a xenon light kit from ebay. HID bulbs must be matched to their projector and housing to prevent dangerous glare and blinding oncoming traffic. See 1000q: HID swap or 1000q: foglight retrofit for details.
Power upgrades and chip tuning for VW Jetta TDI
One chip tuner who specalizes in TDI is KermaTDI. They also do chip tuning for the newer 2009+ models. While the 05.5-06 only comes from the factory with about 100 hp, a basic chip tune can increase this to about 125 hp and 225 lb-ft torque. This is similar in power to the newer 09+ engines. While there are differnet levels of chip tune, a stock engine also varies slightly in power according to engine health, ambient conditions, and build variance.
2005.5 and 2006 VW Jetta TDI option packages and trim level
Because of rolling changes, the options package list below is a guideline only. Earlier mk4 Jetta trim levels were called GL, GLS, early mk5 Jetta trim levels were called base/package 0, 1, 2, Special Edition, 2009+ TDI only came in "TDI trim" but the regular Jetta trim levels are called S, SE, SEL. In Canada, they have trendline, comfortline, and highline. As a general rule, package 0 have VINs that begin with 3vwr. Package 1 begin with 3vws, package 2 begin with 3vwd, special edition 2006.5 begin with 3vwc.
Package 0 Jetta TDI (base car)
The first year of the new body style (2005.5) included heated seats/side view mirror, auto headlights, auto rain sensing wipers, auto dimming rear view mirror, climatronic (dual zone auto climate control), premium sat radio with 6 cd changer, adjustable footwell lighting, puddle lights on the side view mirror, and homelink. All early 2005.5 come with a full screen MFD (multifunction display). MFD+ is shown below right. 2006 cars had some of these options phased out or rolled into higher options packages but you might find some of them present on random cars as it was phased out. The base 2005.5 may have had steel wheels. All base cars for 2006 had "bioline" alloy wheels. See 1000q: 16" 5x112 VW wheel gallery for pics of the bioline wheel. Package 2 2005.5 Jetta had highline door modules which gave you highline side view mirror function. This moves the passenger side mirror down when you shifted into reverse so that you could more easily see the curb. Later cars didn't have this. See 1000q: MFD menu for details.
Here's an example of the windshield rain-light sensor that was only on 2005.5 cars. To use auto wipers, leave the stalk 1 notch up from off. You can set the windows and sunroof to close if it rains but it's not enabled from the factory. See 1000q: rain sensor convenience closing for how to enable this. If you don't have the sensor, you can add it. See 1000q: auto wipers/headlight retrofit for details.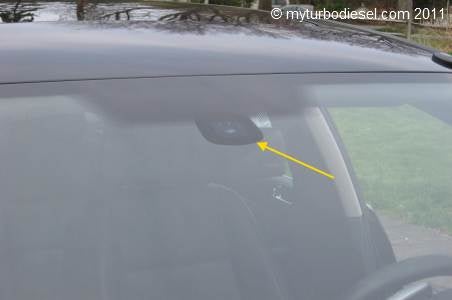 *Although all 2005.5 had the full screen MFD+, the MFSW (multifunction steering wheel buttons) was not standard. If there was no MFSW, the MFD+ was controlled with a stalk on the steering wheel. You can add a MFSW, see 1000q: MFSW swap for more details. Press and hold the up or down arrow to access the menu.


If you have this amp under the driver's seat you have the hi-fi sound system. If you don't you have the standard radio. It's very difficult to add the premium OEM system because you have to rewire the entire cabin so if you want a better system, go aftermarket. If you have the hi-fi system and want an even better system, the Dynaudio amplifier from the same generation VW Passat is plug-play.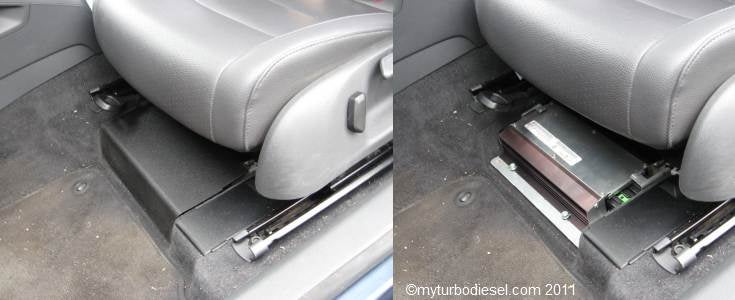 Package 1 Jetta TDI
Adds sunroof, alloy wheels, heated vinyl leatherette seats (has a perforated surface) and windshield washer nozzles as part of the cold weather package, premium radio. 2006 did not get climatronic. 2006 package 1 (non special edition) cars have the half screen MFD (full screen MFD+ was standard on 2005 base cars and 2006.5 cars).
Package 2 VW Jetta TDI
In addition to package 1, adds leather seats and power + memory for the driver seat with lumbar adjustment (no perforated surface as seen below), climatronic (auto dual zone climate control), bluetooth, MFD+ highline display (shows mpg, adjustable cabin functions, etc), and MFSW (multifunction steering wheel). 2005.5 package 2 cars also had power passenger seat w/lumbar adjustment (both sides shown below), a manual rear window mesh sunshade, homelink, and "tamo ash" wood interior trim - these were phased out for 2006 package 2 cars. If it doen't have the power passenger seat it will have the fold flat feature shown at the bottom of the page.


Here is the tamo ash wood trim found only on 2005.5 VW Jetta TDI with package 2. It's found on the doors, center console ashtray area, and "automatic transmission" DSG shifter knob.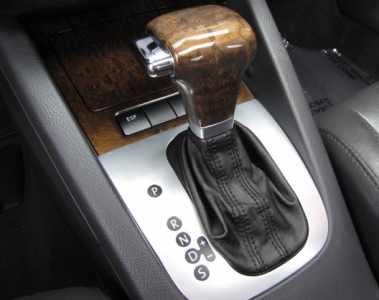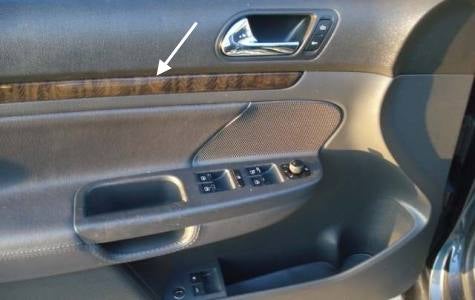 Here is the 2005.5 only manual sunshade. If you wish to retrofit it, the shade's VW part number is #1k5 861 325 (1k5861325). The left and right hooks are #1k5 861 301 (1k5861301) and #1k5 861 302 (1k5861302). There's also a "cap" listed but I'm not sure what it's for. You need a left and right cap: #1k5 861 849 (1k5861849) and #1k5 861 850 (1k5861850). You must add a color suffix to each of these part numbers when ordering (y20 for grey, 7g8 for beige, or 71n for anthracite (light black) ). See 1000q: VW part numbering system explained for more instructions on combining part numbers.

2006 Jetta TDI Special Edition / SE / 2006.5 diesel edition Jetta TDI
The 2006 VW Jetta TDI special edition are sometimes called 2006.5 or diesel editions because they had a "diesel" badge on the front fenders. Like many auto badges the diesel badge is stuck on with tape so it's possible yours could have fallen off or been removed. They're called 2006.5 because there was an emissions standard change for Jan 2007 so VW had a long production run of the 2006 to make up for the lack of model year 2007 cars. They had manual vinyl leatherette seats, cold weather package (heated seats, windshield nozzles), 120v outlet, rear trunk lip spoiler, alloy wheels, MFD+ (full screen) instrument display, MFSW (multifunction steering wheel), rubber floor and trunk mats, 6 cd changer radio, 115V outlet in the console, and the diesel badge on the front fenders. Some late builds had a tire pressure monitor.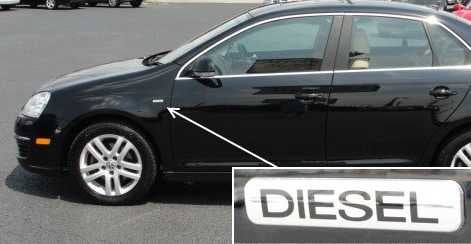 Highline package 3 VW Jetta TDI (Canada only when equipped with TDI engine)
I'm not exactly sure what was included in this because Canadian packages were a little different. I think it included all options except the optional navigation. It was like package 2 but it may have included 17" alloy wheels. Canadian VW are currently called trendline (base), comfortline (midlevel), and highline (loaded).
In the US, package 3 was only available on 2.0T engine Jetta and the packages were a little different from TDI.
Package 1 added climatronic, leather interior, wood trim, power driver's memory seat. Package 2 added xenon headlights and 17" wheels. Package 3 car added power front passenger seat, premium sound, rain sensor/auto wipers, homelink, puddle lights under the side mirrors, and a manual sunshade. In any case, the packages for TDI cars were different.
Biodiesel in the new TDI vs early Jetta TDI
The official limit on biodiesel on a TDI is 5% or B5. Many people have successfully used biodiesel with no long term effects with the pumpe duse engines. The 2009 has not been tested with high percentages of biodiesel and the main concern is compatibility with the emissions treatments and engine oil dilution. The early 05.5-06 TDI do no use any emissions treatments other than a standard diesel catalytic converter and does not use the common rail post combustion injections for emissions and may be a better choice for running biodiesel. For more basic information about biodiesel and VW, see 1000q: intro to biodiesel. The 2009 Jetta catches soot and emissions in a filter during normal driving. The filter normally burns up a little during normal driving but if it's full, the car computer puts the exhaust into "self clean mode" by using a post combustion squirt of fuel to burn up in the filter and clean it out. If you do only short trips and avoid highway trips which heat up the exhaust, this causes excess cycling into self clean mode and can result in clogging or damage of the filter. See 1000q: DPF filter FAQ for more info on this system that's only on 2009-2010 Jetta TDI.
DSG transmission is the only "automatic" transmission available.
Some call it tiptronic but all non-manual transmission mk5 Jetta TDI are DSG. The gasoline Jetta aren't DSG because they aren't TDI. A DSG is an automatically shifting manual transmission. Towing is limited to 1000 lbs in the TDI. The gears inside the transmission look like a manual transmission instead of an automatic transmission's planetary gears and torque converter. Compared to a manual transmission, everything else being equal, expect slightly lower fuel economy due to greater weight, DSG fluid parasitic losses, and other factors. Based off the official ratings, the difference in fuel economy will probably only cost about $12/month more for the DSG, but in reality it's well within variation of drivers/cars. Read details and see pictures of the DSG transmission at 1000 answered questions: DSG FAQ. The article also includes the most current notes on the DSG recall.
Common issues, problems, and immediate maintenance checks when buying 2005 or 2006 VW Jetta TDI
Please see the VW Jetta TDI forums if you would like to add to this article or ask a question.
The 2005.5-2006 TDI engine uses a timing belt. The original change interval was 100,000 miles but VW appears to have shortened it to 80,000 miles. The job should also include replacement of the water pump, timing belt tensioner, and all rollers. Some VW dealers, especially in states where the TDI was not available due to emissions, may not be knowledgeable with the TDI engine. Ask around for a TDI expert before going to the dealer. Dealers not experienced with TDI engines have damaged engines in the past due to lack of experience and bad techs. Expect to pay about $1,000 at the dealer for this service. Any engine that uses a timing belt must have the belt changed on a regular basis. Cars that use chains also must have the chain replaced (at a longer interval than most people own the car) at a greater cost so for cars that are in service for very high miles it's a wash. Here's how to change it: 1000q: BRM timing belt change - part1
The 2009 and newer Jetta TDI engine uses a 120,000 mile timing belt but it cannot be used on the 2005-2006 because it's totally different.
Any diesel engine having a certain type of mechanical malfunction could cause it to race and self destruct. Since diesels are throttled by fuel and not air, if they eat their own engine oil, it causes a feedback cycle where the engine races faster and faster. If the car is in gear it will also accelerate. Keep the car safe and under control and shut off the ignition as soon as it's safe and practical. Do not restart the engine if you have a runaway; tow it directly to a mechanic. Read more about a diesel engine runaway and some causes at 1000q: runaway engine FAQ.
If you are thinking of buying a 2004-2006 TDI, do a camshaft inspection. Some have had excess lobe wear. This is not something that most mechanics would cover during an inspection. Before doing the next timing belt service (2004-2006 cars only), remove the valve cover and inspect the camshaft to determine if it needs replacement. See 1000q: camshaft inspection for the detailed procedure.
The oil change should be done every 10,000 miles when using diesel rated synthetic engine oil for pumpe duse engines. Most suggest 5w-40 because the slightly thicker oil may protect the camshaft better. Since some cars are still under warranty or extended warranty, you must use "pumpe duse" engine oil that must meet VW oil standards: 505.01, 506.01, or 507.00 to keep your TDI engine warranty intact. Keep all receipts. Because this is an engine oil specific to newer VW diesels, the easiest place to buy it is from an online supplier or the dealer. While other engine oils will work, not using pumpe duse approved oil may give the dealer grounds to not honor warranty claims on the engine. See 1000q: pumpe duse engine oil for more details about this oil and 1000q: engine oil change for the procedure.
Change the fuel filter before every 20,000 miles. Due to running changes during production, there were 3 fuel filters used and 1 of them is not compatible with the other two. When ordering a fuel filter, try to include your VIN number. Look at the fuel filter housing before ordering because this is the only 100% way to confirm what filter you need, not the VIN. There may have been some left over parts during the changeovers. See 1000q: A5 fuel filter change for pictures and details.
EGR (exhaust gas recirculation) cooler sometimes fails. Sometimes the valve leaks. If you see black soot at the back of the engine bay oncentrated near the EGR cooler it's possible the car has this problem.
The tandem pump can leak diesel fuel. The pump is at the driver's end of camshaft and pumps vacuum and fuel. The lift pump (in tank electric fuel pump) can also fail. No fuel = engine stops.
The bolts on the valve cover can become loose, resulting in an oil leak on the back of the engine. Use a T30 torx to snug them up to about 7 ft-lb. The door skin bolts can also become loose.
Some early cars used the sachs clutch. Many are defective and can result in early wear. See this .PDF TSB (manual transmission only) for details. Some dual mass flywheels, both manual and DSG transmission, (see 1000q: clutch FAQ for more details) failed or decided to liberate themselves from the engine with spectacular results. A slipping belt/soft grinding noise, chattering clutch engagement, or rattling at idle could be from a failing DMF. Excessive chatter or hard starting up a hill could also be from a bad flywheel or clutch.
If you have a DSG transmission (auto), the transmission fluid and filter must be changed every 40,000 miles. See the below transmission section for more details. The DSG DMF can also fail. If you have a manual transmission, change the gear oil every 60-100,000 miles. See 1000q: manual transmission gear oil for more details.
The parking brakes (they are also the rear brakes) are often misadjusted. Securely raise the rear of the car, chock the front wheels, make sure the car is safe and secure, and spin the rear wheels by hand with the parking brake off. You may feel light touching/scraping but the wheel should spin freely. Always use the parking brake when parking since this sets the rear caliper ratcheting self adjusters. Remove the center console to adjust if the parking brake is too tight. See this article for the adjustment: 1000q: parking brake adjustment.
The driver's side door wiring harness is often broken from use and poor design. Peel back the rubber boot to inspect for cracks in the insulation. See 1000q: door wiring harness inspection and repair for more details.
AC condensor problems are more common on this car than usual. There is no AC clutch because a valve inside the compressor serves this function.
VW quirks, non priority maintenance, and other misc. things to know about your late 2005 (2005.5) 2006 Jetta TDI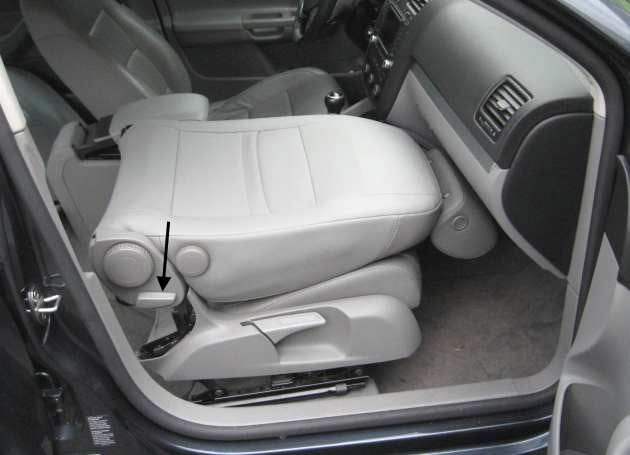 Because of the newer technology on the mk5 cars, there are many car settings that must be set up during new delivery. CAN BUS technology cars (mk5 VW) come from the factory in sleep mode to prevent battery drain. Sometimes these setting are never configured (dealer error) or reset later. Some examples are the power seat and the power windows/sunroof remote functions. The window pinch protection can even be turned off. These options can be adjusted with a VCDS diagnostic tool (used to be called vag-com) or the dealer can do it.
An example of this is the power seat controller to activate the power seat memory. It has to learn the boundaries of the seat travel. See 1000q: memory seat relearn for the detailed procedure.
Climatronic is not only dual zone auto temperature control, but also adds a sunlight sensor. When the windshield wipers go on it automatically blows some air at the windshield as well.
Which iPod adapter you can use on your 2005 or 2006 Jetta depends on which radio you have. See 1000q: VW ipod, aux in, and mp3 cable adapter compatibility for more details.
If your passenger side seat is not power it should have a fold flat passenger seat. It's handy for loading long items or using as a table. To fold the seat, use the lever indicated right. If your car doesn't have the lever it doesn't have this feature.....
......The rest of this article including the topics below is for forum members only. Join our free community to view much more content! Once you have completed your account, the rest can be viewed here, all for free!
Transmission issues and clutch problems on 2005 2006 VW Jetta TDI
Do you have additional info about what changed on the 2005.5 - 2006 VW Jetta TDI or would like to add to this article? Post your comments in the myturbodiesel.com forums Can't find what you are looking for here? Search the myturbodiesel.com FAQ and forums: