How to replace the VNT actuator on a BEW TDI engine (modification required)
back to 1000q: pumpe duse mk4 "how to" list and FAQ
difficulty: 2/5
Introduction
This article shows how to replace the turbo actuator on a 2004-2006 mk4 TDI engine with BEW engine code
The BEW engine uses a Garrett turbocharger VNT-15 with a smart actuator, the G500 sensor. The difference on the smart actuator vs. earlier engines is the sensor which detects actuator position. First read 1000q: VNT replacement/testing for background on how the VNT system is controlled and general information on how to test/replace it. This article is specific to the VNT actuator for BEW engines.
A common problem is the wires going into the actuator breaking. First inspect the wiring and see if it can be repaired. Here is a thumbnail (click to enlarge) of the original BEW actuator.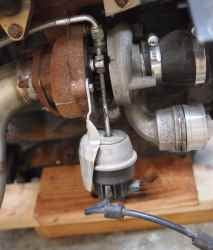 The replacement actuator is not a direct fit. It requires modification to fit the BEW engine but it's all that is available. The only other option is to replace the entire turbo at much greater cost. VW or Borg Warner does not sell the original actuator by itself.
If you have a Kermatdi tune, they can program it so that you can use the cheaper non-smart actuator for ALH engines.
In case you found this article and you have a BRM (mk5 Jetta 2005.5-2006) engine, do not use this actuator. BRM need a "reverse" actuator for Borg Warner turbos. Use the CBEA/CJAA actuator (09+ engine) with a custom bracket. There is no direct fit actuator.
For support on this article please post in this forum thread by user motox502, this article archives his post.
I avoid any actuator sold by

since it's almost certainly a cheap copycat part. I also had a bad experience with this seller so never again.
Parts
1 smart VNT TDI actuator from kermatdi.com
1 Ross tech VCDS cable for datalogging
Procedure
Here is a VCDS datalog showing blocks 003 and 011. The codes thrown were P0234 Boost Pressure - Regulation Limit Exceeded (Overboost Condition) and P2564 Turbocharger (TC) Boost Control Position Sensor (G581) - Signal too Low.


I inspected the N75 valve and vacuum lines with VCDS and made sure that it was working properly. I then hooked up a Mityvac to make sure the vacuum actuator was working. As I applied vacuum, I would hear a crunching noise like the spring inside the actuator was broken. I then used my VCDS to monitor block 43 channel 2 to make sure the sensor on the actuator was working correctly. As I applied vacuum, it would only go from 80-100%. So after seeing that the actuator was having troubles moving and the sensor wasn't reading correctly, I decided that this was my issue.
Since I'm on my final year of getting my mechanical engineering degree, I definitely don't have the money for a new turbo. I found a few small write-ups (Thanks to this site!) on retrofitting a Garrett Smart Actuator and it looked very simple. Ordered one up from KermaTDI for $180 and picked up $3 in hardware from the store. Drilled off the old bracket and bolted it up to the new actuator. I then extended the rod to the length of the old one using a coupler and threaded rod. Installation went very well and now my turbo is boosting perfectly!!! Just wanted to say thanks to the guys that previously made this work and documenting it on here and saving me a bunch of money!!! Car has never ran this great since I have owned it! Here are a few pictures of the install and the new log.
The after log:

If you have any questions about the VNT actuator on the BEW engine, please post in this forum thread by user motox502..