2010 - 2013 Audi TDI buyer's guide with reviews, mpg, invoice price, MSRP price, and FAQ
see page 2 for reviews, common complaints, yearly differences, and tax credit info
Introduction to the Audi A3 TDI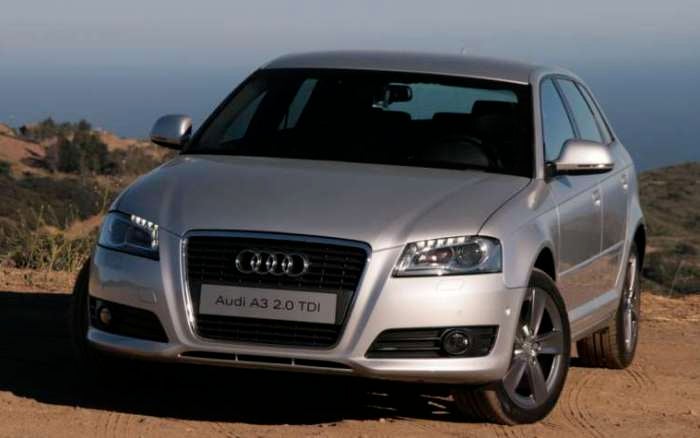 The Audi A3 TDI sportback aka. 4 door hatchback is the first light Audi TDI to be sold in North America. The Audi Q7 TDI is also available but it's a large SUV and uses a V6 TDI engine. The Jetta, Golf, and Audi A3 TDI share the same 2.0L 4 cylinder turbocharged diesel engine with 140 hp and 235 lb-ft torque (about 140PS and 320 Nm metric). So why buy an A3 TDI instead of a Golf TDI? Real world reviews suggest that the Audi A3 TDI mpg should get about 35-40 mpg average mixed driving, the same as a VW Jetta or VW Golf with the same engine/transmission. What gives the Audi A3 TDI a $29,950 ($30,250 for 2011) base MSRP price vs. $22,000 for a 2010 VW Golf TDI? There are plenty of differences beyond the badge!
VW/Audi is trying to shape diesel as a choice that combines economy and power through their advertisements and engine choices for North American TDI. The Audi A3 TDI is an example of that. Dedicated fuel economy cars like the first generation Honda Insight or the Toyota Prius are designed around maximum fuel economy, not handling or driving pleasure. They're built on their own bodies with their own sheetmetal optimized for fuel economy. VW/Audi diesel cars are built on bodies shared with their gasoline engine models and lose some potential fuel economy but also share the good handling and road feel. German cars are designed to be stable on the Autobahn and it's reflected in reviews of VW/Audi cars. My main complaint is that VW/Audi uses the more powerful TDI engines in the US instead of the less powerful but more economical TDI engines available in Europe like the 1.6L TDI.
2013 is the last year for the current style Audi A3 TDI. The A3 will come back in 2013 as a model year 2014 and sedan only instead of the wagon/hatchback body style. For the 2014+ Audi A3 TDI, see 1000q: new style Audi A3 TDI buying guide and checklist
Official pricing of 2010 Audi A3 TDI
MSRP: $29,950
Invoice: $27,853
Delivery/destination: $825
Below is a table comparing 2010 MSRP of the Audi TDI vs. VW TDI models. Because the Golf is offered with 2 door and the others have a manual transmission option, all cars below are optioned as 4 door, DSG transmission with $750 VW destination fee included to keep the comparison even. No other options are added to the MSRP. Of note is that the higher price of the A3 TDI over the A3 2.0T gas is cancelled by the income tax credit. The 2010 Audi A3 TDI will get a $1300 tax credit. Since it's after June 2010, that amount is cut in half. After Dec 2010, there is no tax credit.
Comparison of 2010 Audi A3 vs. 2010 VW Golf, Jetta sedan, Jetta sportwagen TDI official pricing (4 door, DSG transmission, destination included)
2010 Audi A3 TDI
2010 Golf TDI
2010 Jetta TDI sedan
2010 Jetta TDI sportwagen
MSRP
$30,775
$24,809
$24,680
$26,465
Pricing of 2011 Audi A3 TDI
MSRP: $30,250
Invoice: $28,134
Delivery/destination: $875
2010-2013 Audi A3 TDI compared to 2010 Golf TDI and the gas A3
Compared to the base 2.0T gasoline engine A3, the TDI is slower but may feel faster due to the low end torque and turbo power curve. Diesels relatively fast for the horsepower rating because the power band is down low where you normally drive instead of high like a gasoline engine. Most drivers use, and notice, torque more than horsepower. Tested 0-60 mph ranges from 8.7-8.9 sec (varies according to test conditions). Diesels and turbo engines are very responsive to power modifications so it could be modified to be even faster than a gas A3 and feel much faster because of torque. (Similar modifications on a gas A3 would also make it faster). Stock performance will be similar to the Jetta/Golf TDI because they use the same 2.0L TDI engine and gearbox.
Looking at the chart below to compare the known specs, the A3 TDI hatchback / sportback is about 12 inches shorter with 56 cu. ft of maximum cargo room vs. the Jetta sportwagen with 67 cu ft plus a roof rack (compare to the newest Prius with only 40 cu ft). Front leg room, head room, and weight are very close in the A3-Golf/Jetta. However, the A3 has 1" lower ground clearance. Front head, leg, shoulder room are all very close. Some spec pages may say that the A3 is 9" wider because they include the width of the side view mirrors. Front and rear wheel tracks are all the same.
Comparison of A3 vs. Golf, Jetta sedan, Jetta sportwagen dimensions
2010 Audi A3 TDI
2010 Golf TDI
2010 Jetta TDI sedan
2010 Jetta TDI sportwagen
curb weight (lbs)
unknown, maybe 3450?
2994 (man) -3041 (auto)
3230
3230
length (in)
169
165
179
179
width (in)
70
70
70
70
max cargo room (cu ft)
56
46
16 (trunk only)
67 +roofrack
drag coefficient
.33
.304
.31
.31
Other than the dimensions, the biggest obvious difference is the level of options available in the Audi A3. Even if you buy loaded a VW Jetta or Golf TDI, you still couldn't add power driver seat, LED running lights, 18" wheels, Alcantara suede seats, engine block heater (US), or auto dual zone climate control. Some of these could be added aftermarket but the cost to retrofit them would be about $2000 for HID headlights, $500 for a power seat, $1000 for 18" wheels, $$$ for fitting an Alcantara suede interior at an upholstery shop, and the auto climate control couldn't even be added without extreme work.
You can also add the sport/titanium package on Audi A3 - this is similar to getting the GTI suspension on a Golf. The Golf TDI can only get the mid line suspension.
The Audi A3 is about 150 lbs heavier than a Jetta sedan/wagon. To make up for the weight and add braking capacity, it has the same brakes as a VW GTI standard (312mm front, 280mm rear).
There are also small differences which you can't see in pictures like the feel of some of the interior plastics, slightly better components like HID lights vs. the VW HID lights, and dealer service. VW has class leading interiors but Audi's interiors add very slightly higher quality materials.
Another option is European delivery in Ingolstadt. They give you 1 night stay in a hotel and a factory tour. You get 14 days insurance and registration across Europe, some restrictions apply. You can pay extra for up to 90 days insurance/registration. Then you drop it off at a port and pick up the car at a US port. The dealer determines the final price but you could save up to 3% off the price of the A3.
The navigation system and radio are Audi specific parts. The A3 gets the Concert headunit and Bose 10 speaker system (with subwoofer and center speaker) with Audiopilot noise compensation, the VW TDI gets the premium 8 touchscreen radio standard (no sub). The Golf gets an optional Dynaudio radio w/300w 8 speaker system, no subwoofer. The reason only the new Golf gets the new Dynaudio is because although the exterior of the door cards (the door panel w/armrest, switches, etc.) look similar, the interior of the mk6 body Golf door panel is very different due to new assembly modules.
2010 VW TDI have bluetooth standard (USA, optional in Canada) but the Golf and wagon have only basic bluetooth - call receive and talk only. The bluetooth in the Audi A3 (premium plus trim only) also has phonebook and outgoing call capability through the car's memory.
Multifunction steering wheels (MFSW) to control the Audi driver information system display (called DFIS on Audi, MFD+ on VW) are standard on the premium plus trim only even though they are standard on all VW TDI. The VW/Audi displays are basically the same and show temperature, mpg, distance traveled, radio settings, GPS directions, etc. (See below for a video demo - it now uses a MFSW instead of a control stalk). The Audi will also have additional soundproofing compared to VW but because the new Golf TDI gets 6th generation (mk6) revisions, the Golf could be comparable to the Audi in quietness. The A3 has standard dual zone automatic climate control, the VWs get a classic 3 knob setup.
Comparison of other misc features
2010 Audi A3 TDI
2010 VW Golf TDI
2010 Jetta TDI sedan
2010 Jetta TDI sportwagen
body style
refreshed for 2008, all new for 2012 or 2013
all new for 2010
reliable, same since 2005, all new for 2011
cosmetic refresh for 2010, will probably carry into at least 2012
interior
leather (optional alcantara suede w/titanium package)
black cloth only in USA, optional leather in Canada
leatherette (vinyl) only in US
leatherette (vinyl) only in US
standard radio
10 spkr Concert w/sub
premium 8 RCD 510 touchscreen radio, no sub
premium 8 RCD 510 touchscreen radio, no sub
premium 8 RCD 510 touchscreen radio, no sub
CD player
single, 6cd in glv box optional
6cd in dash standard in USA
6cd in dash standard
6cd in dash standard
optional radio
optional Bose adds noise compensation and slightly better speakers
new Dynaudio light advanced 300w, no sub
optional navigation
Nav+, no touchscreen, uses MMI knob dial to control
RNS 510 touchscreen
RNS 510 touchscreen
RNS 510 touchscreen
wheels
17" std, 18" optional
17" standard in US, 16" in Canada
16" std, 17" optional
16" std, 17" optional
HID xenon lighting
standard w/LED running lights, standard fog lights in premium plus
HID optional, standard fog lights in US
not avail.
not avail.
Audi concert (standard radio) pictured below left, navigation picture below right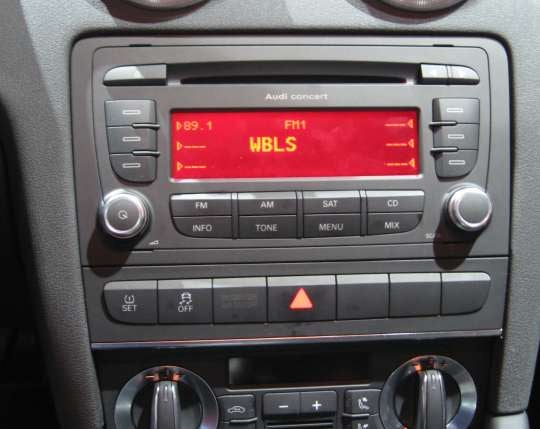 So is the Audi A3 TDI better than the VW Golf TDI or Jetta TDI or A3 gas?
It depends on what you want and need, not what I want! Read the specs above and test drive them yourself. I try to avoid editorial content in FAQ pages but if I wanted a basic car I would get the Golf since it has the all new chassis. If I wanted a fully loaded car the Audi A3 is best. Since I can't stand manual seats due to my back, I would get the Audi but since I know how to work on cars I could always add power seats to the other cars. If I wanted a car for hauling, the sportwagen is great, especially since it has no fuel economy penalty over the Jetta sedan. You may also want to consider the new VW Passat TDI.
Leather seats and steering wheel are standard on the Audi. (Leather seats aren't available on VW TDI in the US but they are optional in Canada on highline trim). The optional Alcantara interior (comes with titanium package) is shown below. Alcantara is a brand name synthetic suede. Compared to natural suede it's easier to clean, UV light resistant, has a slightly different graining, and is more durable. (The titanium package also includes shiny black door trim instead of silver trim).

The A3 TDI has standard HID/xenon headlights in premium plus. The premium (base) A3 doesn't but if you want to add them here is an OEM retrofit kit. Due to the expense, I would just get premium plus package. I've tried the HID/xenon headlights in the 2010 Golf TDI and Jetta GLI HID lights and the projector lens dispersion and cutoff pattern in the Audi is definitely sharper and smoother. This is one small example of the extra price of the Audi. The Jetta TDI does not have any optional HID. If you have a Jetta you could retrofit direct bolt-on OEM HID lights Jetta GLI or Golf GTI that had it equipped, see 1000q: GTI headlight retrofit for more details. The process of adding HID lights to a premium (base) A3 would be similar. The Audi also has LED taillights and signature Audi LED running lights in the front.
The A3 and Golf TDI (in the US) get 17" alloy wheels standard, Jetta get 16" alloy wheels standard w/17"optional. 16" wheels are standard in Canada for all VW TDI. A3 and Jetta/Golf with S-tronic/DSG transmission all have hill-hold assist - this holds the brakes on a hill so that you don't roll back when you take your foot off the brake.
The Audi A3 had a standard engine block heater in the US for 2010. After 2010 you have to buy the cord separately in the US, the part number is shown below. VW TDI had standard block heaters in Canada but never the US. I'm not sure if it applies to both premium and premium plus trim levels but check the glove box or trunk area for the power cord. The special plug and cord are shown below:


One end of the cable looks like this, the other has a standard household 110v plug.

Under the skin, all 2010 Golf TDI Jetta TDI and Audi A3 TDI share...
.....continue to page 2 with engine information, complaints, differences in 2010 vs. 2011-13 models, and tax credit information.
Have any more questions about the Audi A3 TDI? Please post your question in forums.